How to Target Savings through Contingent Labor Programs
December 15, 2017

By Krista Palmisano
Contingent Workforce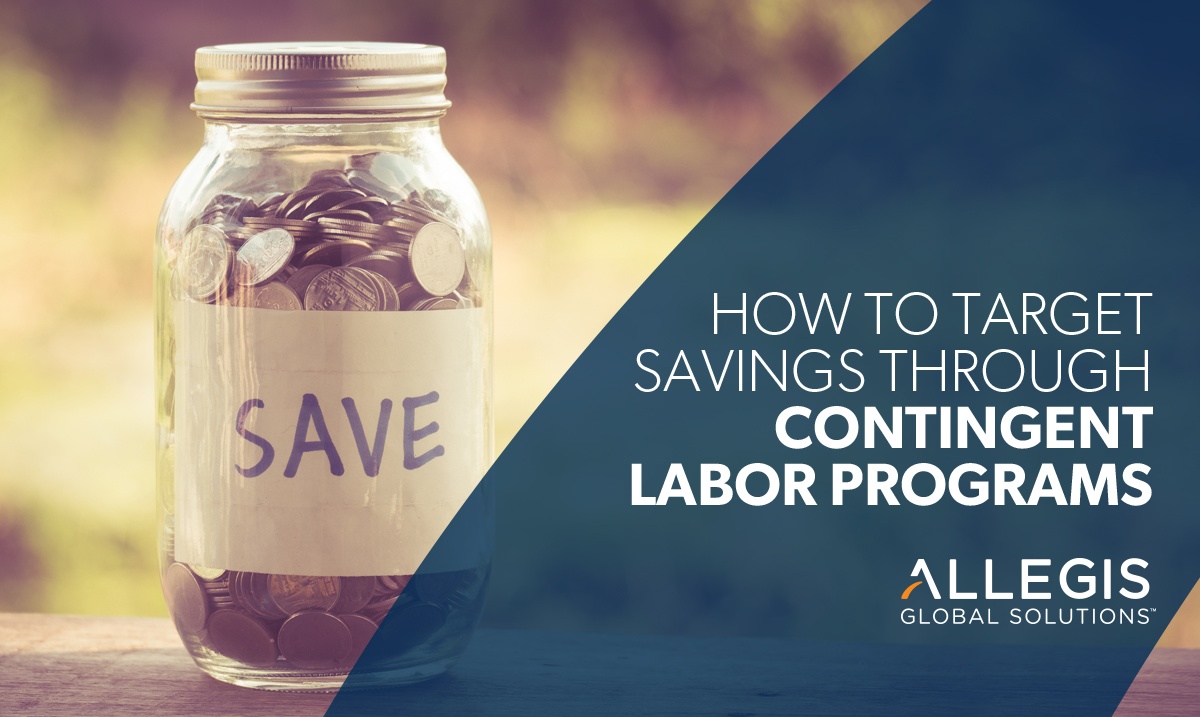 Given up to 50 percent of company operating budgets focused on human capital—with contingent staffing specifically seeing a 35 percent increase in procurement and contingent labor programs in the past 10 years—it is not surprising that organizations worldwide are looking for the most effective ways to manage and control costs related to human capital management.
With more than 15 years spent guiding clients through the ins and outs of contingent pricing and cost savings, AGS has helped companies target and achieve cost savings through their contingent labor programs, while guiding them against potential money pitfalls along the way.


Some of the biggest mistakes that companies can make regarding costs include:
Not understanding the state of the labor market or supply and demand

: With job openings at an all-time high and unemployment reaching record lows worldwide, employers can expect to see an increase in both supplier demands and supplier margins as suppliers decide where to spend their time recruiting resources in a dwindling supply of labor.

Trying to force savings with below market pricing

: Because of the large demand and low supply, companies trying to force savings in overly aggressive ways will simply see spend bubbling up in other areas. Extensive over-rate-card exceptions, rate creep, pre-identified workers, program avoidance, and the misuse of SOW all drive overspend into the millions every year. While large volume can buy companies a bit of pricing flexibility from their supply base, pricing has to be aligned to market to drive good sourcing behaviors.

Using strategies that don't work with human capital

: When methods historically reserved for non-human resources, such as reserve auction or low markup management, are used to force savings, they often lead to negative supplier and hiring manager behavior—ultimately increasing spend. These methods can often lead to the exact opposite behaviors that organizations are trying to instill (e.g. suppliers becoming subpar instead of strategic business partners).

Not paying attention to pockets of spend

: Unmonitored pockets of spend, such as business units that are excluded from rate management or the program altogether, can often result in overspend in an organization.
Using flat rate cuts or assuming workers can be reduced to rate card:

Lumping all contingent workers into a single category, reducing by the same percentage amount, or assuming that rate cards are accurately aligned to the market often leads to companies ineffectively cutting rates. Taking a one-size-fits-all approach to workers can lead to missed opportunities, overly-aggressive cutting, and possibly attrition.


How can a company expect to find and target savings around contingent labor?
Understand the market you are in

: Knowing what industries are hiring versus laying off, inequalities in the market, etc., can help you determine what you can expect from suppliers in terms of pricing. Utilizing local market analytics can provide stronger insight into individual markets—helping organizations to operate more cost-effectively.

Align your rates to market/drive good behaviors through competition, consequence, and rewards

: Setting targets for your supply base and rewarding those suppliers who consistently show they are good partners is a more effective way to drive cost savings than trying to force savings with below market pricing.

Allow trusted suppliers to negotiate wages and rates as needed/in compliance with your rate card:

Instead of forcing suppliers into the same bucket, allow them to do what they do best—manage their own margins and workers as needed to best service your account, while ensuring they are hitting the realistic savings targets set in place

Mandate your program

: Programs that are optional or exclude business units mean pockets of potential savings are being left on the table. It is imperative to set up a best-in-class program and insist hiring managers use it.

Cut rates intelligently (if needed):

Complete a thorough analysis with a subject matter expert who understands market pricing and knows how to properly implement rate cuts.


With cost savings being a key driver of contingent worker programs, it is imperative to have an MSP that truly understands how to drives savings, can help clients steer clear of pitfalls, and help build a best-in-class program with pricing that drives savings through positive supplier and manager behaviors.
If cost savings in contingent labor are of interest in your program, download our whitepaper 'What are the pricing models for a managed service provider?' and get in touch with AGS.