3 Workforce Trends Driving the Future of Work in Australia
June 14, 2023

By David Barr
Industry Trends, Contingent Workforce
The lasting effects of the pandemic on the global economy. Events and interventions happening continents away. Inflation and interest rates rising in the US and other large economies. These workforce trends effectively carry over to and impact other markets, and Australia is no exception.

Australia's economy is interconnected with global markets. And while Australia may not necessarily enter an economic recession, we are at a risk of entering what is called an earnings recession. Inflation is no longer constrained to shortages of components. It has even affected the overall prices of goods, and in turn, increased pressure for wage hikes. This means that earnings aren't meeting the increasing costs of overall goods and rising wage requirements of employees. We are already experiencing these effects in our markets: demand has started to slow down and we're seeing companies effectively downsising in order to meet revenue targets.
Now, despite all this, Australia is still slated for growth. In fact, average GDP growth rose to a decade-high of 3.6% in 2021-22, though these numbers are projected to fall to just 2% by the end of this year as the country catches up to the effects of the global markets rising inflation as well as the overall economic slowdown.

In this article I'll connect how global and national economic indicators are shaping the current workforce in Australia and the future of work, and strategies to consider and combat the challenges and opportunities that lie ahead.
Skills Gaps and Shortages Driving Skilled Migration, Higher Wages
Between March 2020 and December 2022, the number of employed persons increased, and the unemployment rate decreased to a historic low of 3.5%. According to the National Skills Commission, in August 2022, the total number of jobs advertised in Australia was 309,900, which was a 42% increase from the same time period in 2021.

The labour participation rate is sitting at 66 (ABS). Job postings decreased by 3.5% from September to December 2022, however, they remain significantly above pre-pandemic levels (National Skills Commission).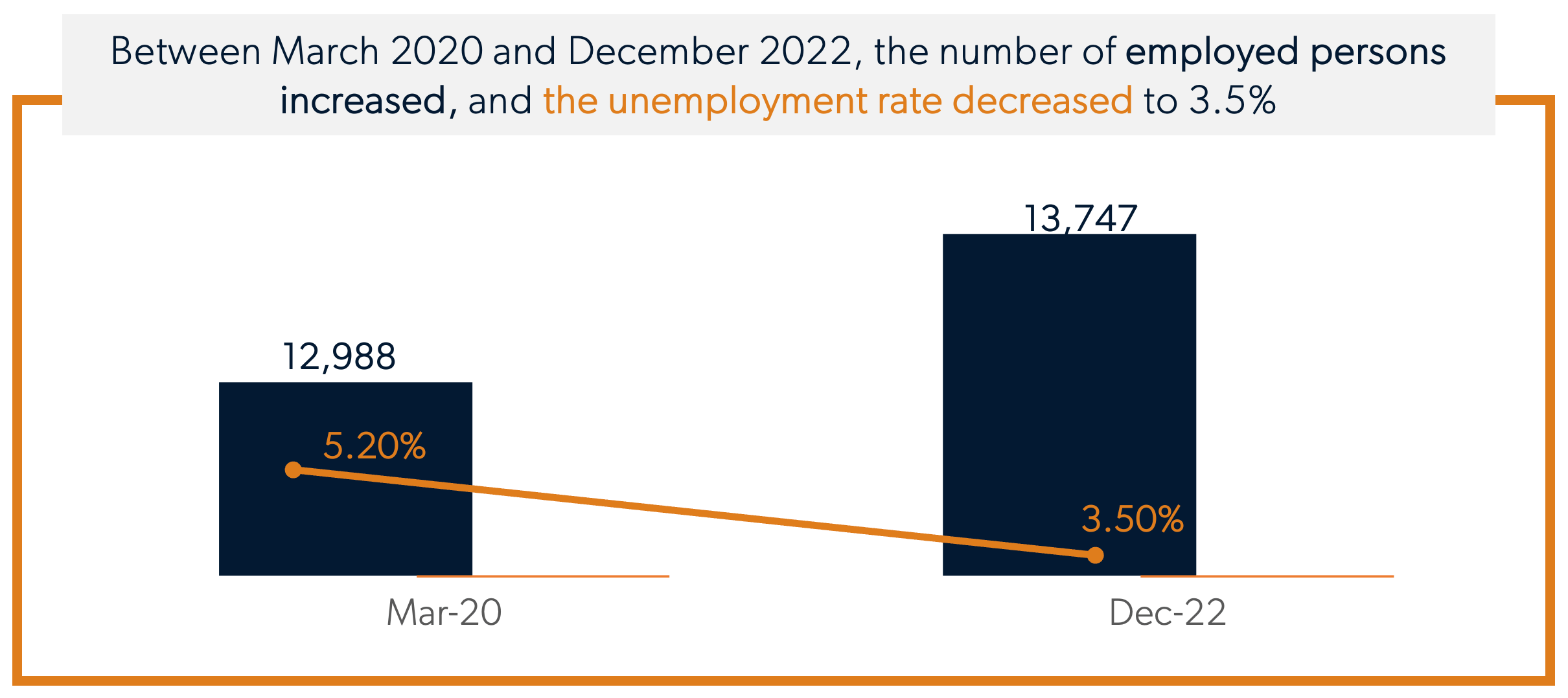 Note: Number of employed persons in the millions. Data Source: Australian Bureau of Statistics (ABS)
While a decrease in job postings demonstrates a slowing in demand, it's worth noting that certain sectors in the country continue to grow in demand. According to LinkedIn, in March 2023 alone, oil and gas had a growth rate of 75% in job postings due to the war in Ukraine and subsequently Europe's need for alternative resources. The government administration also increased hiring by 42%; hospitals and healthcare by 36%; education by 35%; and lastly retail by 34%.

In fact, almost one-third of Australia's job sector is facing a serious shortage of workers. The shortage in skills is one of the factors contributing to Australia's historically low unemployment rate. The National Skills Commission reports that the number of challenging occupations to fill jumped from 153 to 286 throughout 2022. Due to the immigration freeze in 2021-2021, the workforce shrank due to layoffs and lockdowns in 2020. Lost jobs were subsequently restored and filled by domestic talent as the economy recovered in 2022.

This in turn has prompted the Australian government to thoroughly review its migration policies for skilled foreign workers, even as far as fast-tracking worker visas for those that fall under the growing number of its skilled occupation list. Australia has plans to increase migration allocation with 142,400 skilled visas to fill shortages in occupations that need skilled workers. Some of the highly priortised jobs that can be granted a skilled visa in a few days include schoolteachers, childcare workers and childcare centre managers, aged and disabled carers, nursing support workers, counselors and psychologists, medical scientists, medical technicians and social workers.
Australia's Reliance on Contingent Workers is Growing, Causing a Compliance Scramble
As of August 2022, there were approximately 1.1 million people working as independent contractors or freelancers in Australia, which is equivalent to around 8% of the total workforce.

There are many reasons why individuals choose to be contingent workers, whether it's flexibility, autonomy of work, a pursuit of passion or simply a need to diversify one's experience. Employers also get the ability and flexibility to scale their workforce accordingly, capture potential cost savings as well as access a large pool of our workers with specialised skill sets.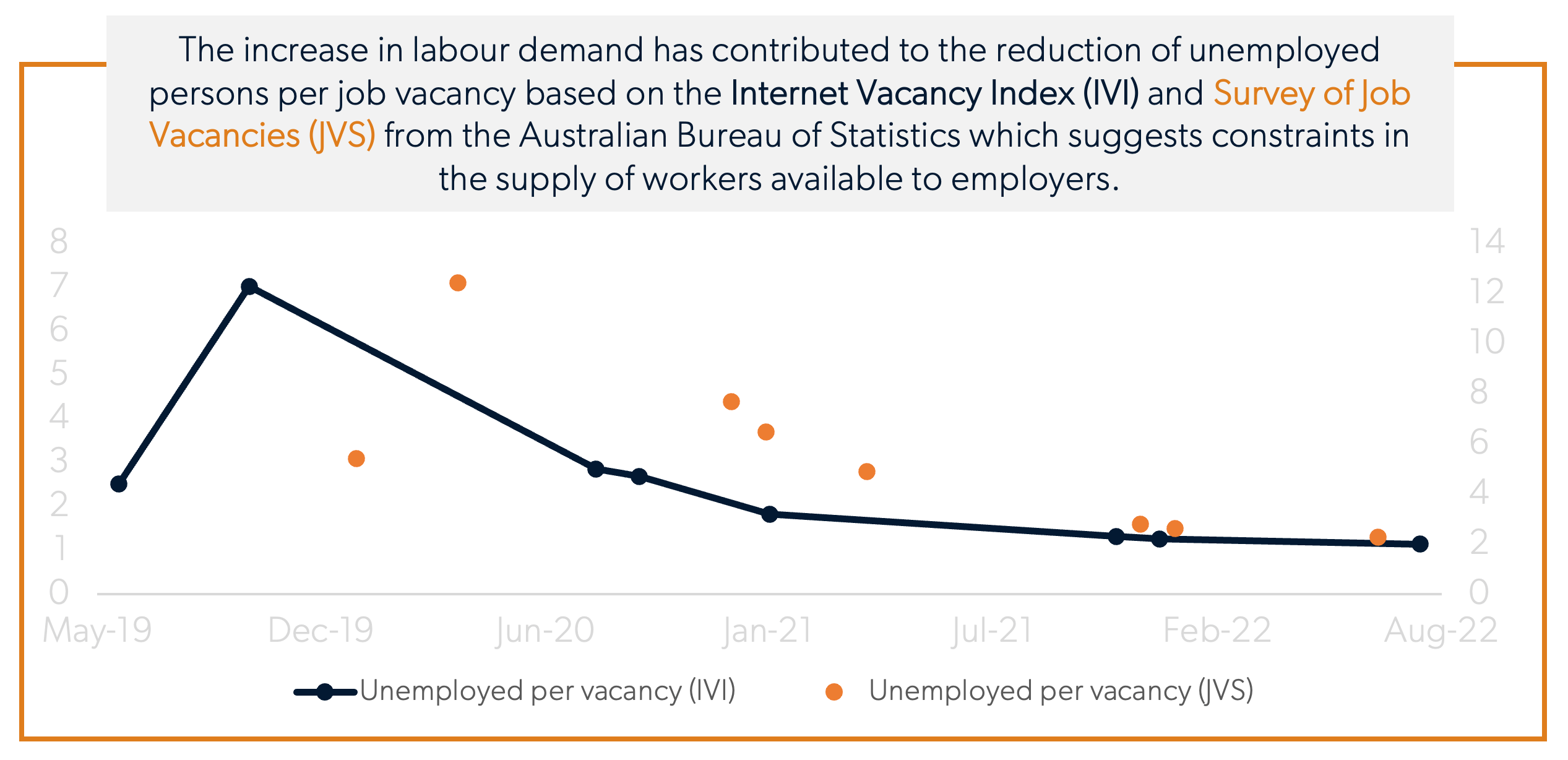 It is clear we are not going to go back to an "employee-only workforce" – the speed at which skills needs are evolving is too rapid. Skills needed today won't necessarily be required in the future. Thus, Australia is at an interesting inflection point in terms of the way we fundamentally organise companies and how to deal with these interim skills needs.

Governments, however, are struggling to effectively legislate the extended workforce. Some points of active discussion needed are around pay parity between contingent labour vs. full-time employees, collective bargaining opportunities and so forth. Legislation like the Fair Labour Amendment, passed last December, will have a profound change in employment rules and regulations in Australia. The trend toward more legislation, not less, will continue as the government seeks to balance fairness. As government looks at policy reforms, many business groups have expressed nervousness and concern around whether these changes could compound the issues many businesses are facing due to rising costs, chronic skill shortages and a complex labour laws.
Workers Prioritizing Flexibility and Wellbeing in Job Search
With a tight job market, employers are committing more attention to workers' wants and needs to attract and retain talent. Flexibility is critically important. Not only will working from home remain vital in Australia, we are now experiencing the demand for what is now called "hyper flexibility" in the workplace. Flexibility is no longer constrained to the workplace but also in the hours of work, autonomy in schedules or fewer days of work per week.

In terms of workers' wellbeing, it's no longer just about reacting to one's mental health but also taking proactive measures to ensuring that the work environment itself is free from mental stress and employees are being recognised for their efforts. Studies have shown that happiness and satisfaction at work go a long way towards worker retention.

With the skills shortage, efforts to hold on to talent and further invest through upskilling programmes will prove critically important in terms of strategic advantage. Workers also understand and value continual skills development opportunities.
Workforce Strategies Must Address Future Needs
With economic headwinds, historically low unemployment and changing cultural attitudes around work, Australia is certainly experiencing a significant amount of change. What we know is that with a skill shortage across sectors, companies need to adapt a strategic and future-focused approach when it comes to how to get work done.

It is also employers' obligation to provide a healthy organisational culture – one that addresses workers' needs and concerns – to retain talent. And looking to skills-based hiring and internal upskilling will prove critical to combatting labour shortages.

The smart use of data will prove essential to finding cost savings as well as identifying compliance risks due to misclassification. Workforce business partners informed and empowered by intelligent workforce platforms will prove as key differentiators in making more sophisticated workforce decisions particularly in transitioning the conversation from "Who do I need to hire?" to "How can I get the work done?"