Procurement Management & Services Spend: 4 Paths to Value
July 28, 2020

By Jon Kesman
Procurement Management
The Challenges Procurement Faces Today
Procurement leaders face more pressure than ever to balance business demands that often conflict with each other. Consider the expectations at play:
Cost Control: Traditional perceptions of their function as a cost-control gatekeeper remain common among business stakeholders.
Expanded Value: At the same time, companies look to procurement to deliver expanded and demonstrable areas of new value to the company. That proposition that requires risk and imagination that may conflict with the traditional, cost-first focus.
Flexibility: Added to the expectations is a new normal business environment following the initial COVID-19 disruptions. That new normal creates an increased emphasis on flexibility, cost, value, and performance for every resource that contributes to the business.
Seize the Opportunity for New Value in Procurement Management
In the race to evolve the procurement value proposition, one unmet need deserves attention: management of total third-party labor, including Statement of Work (SOW)-based engagements and outsourced services. The opportunity is large.


Total services spend is estimated at $21.6T of global business purchases (almost 60 percent), while direct materials is estimated at $7.5T (20 percent).
Services can be as much as 98 percent of a company's purchased inputs, as is the case in of the insurance industry, but average 58 percent.
By bringing this large portion of corporate spend under a strategic framework, procurement can influence many aspects of company performance, from reducing management burdens to raising services impact, boosting data-driven intelligence, and managing risk.
The following is a closer look at the opportunities and challenges procurement faces today and how to address them for a successful, value-driven strategy.

1. Reduce the contractor management burden
Contingent labor management provides great lessons in addressing services spend. In particular, many companies utilize a managed services provider (MSP) solution to optimize their contingent workforce.
Where each hiring manager independently leveraged different talent suppliers for their own needs in the past, an MSP program provides a unified strategy to replace that siloed approach. Under a single MSP program, companies achieve consistency in price, performance, and risk mitigation across the enterprise, while significantly increasing the level of visibility.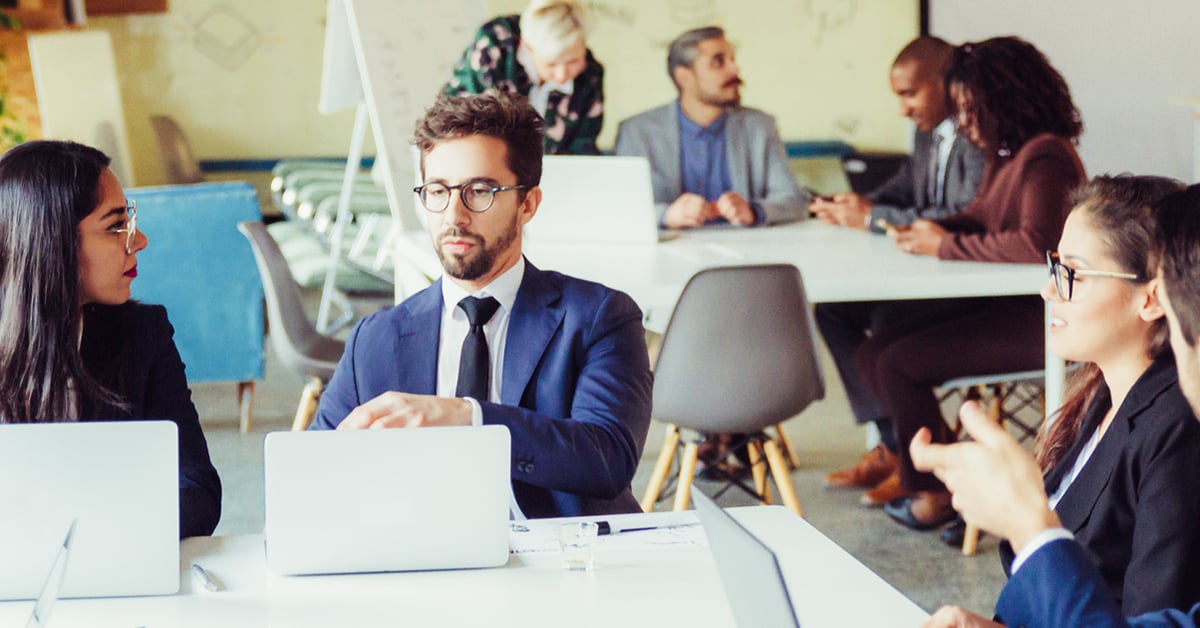 Procurement can deliver the same benefits in managing services. To be sure, managing services under a strategic program is no small feat, as contracts encompass many variables in delivery, type of work, and budget. Like the MSP, a services procurement partner can fill the management need, applying expertise and technology to deliver consistent results and free stakeholders from much of the work associated with engaging on SOW.
Consider the positive impact that a services procurement partner brings. Companies benefit from an informed approach to the most appropriate route to market, along with price parameters and a broad view to supplier capabilities.
No longer are managers or procurement leaders faced with chasing compliance and savings on a $75,000 SOW with a single supplier when capacity is stretched, and savings expectations are high. The procurement partner takes the burden from the organization and provides a reliable result across the services provider spectrum.
2. Boost procurement management impact through a better SOW strategy
Several factors contribute to the services procurement strategy, and measuring all factors is essential for achieving and demonstrating value to the business. Specifically, the company must focus on the traditional goals concerning the right quality, quantity, and price in the right place at the right time.
For easily bench-marked and measured materials or goods, these parameters can guide decisions that lead to a tangible positive performance outcome. But how does an organization gauge whether a strategic consulting project is of the right quality?
A services procurement partner tackles that difficult quality question in three ways:
First, it brings all services into one program, which provides consistent benchmarks for delivery and quality across all engagements.
Second, it applies market expertise drawn from experience in managing services to set the right goals, accommodate any variations for specific conditions, and establish performance parameters, with no guesswork.
Finally, the partner can utilize advanced technology for visibility into activity, costs, and delivery of services across the enterprise, identifying top-performing services, and under-performing contracts.
3. Unlock data for better engagement decisions
Advanced data and analytics capabilities let procurement look beyond the fundamentals of the bid-and-buy process for a deeper understanding of which services best support the desired outcome. Consider the possibilities:
What if there was information to know which suppliers are best suited to the type of engagement needed and how they have performed on similar work in the past?
And, what if procurement could construct a predictive "should cost" from a combination of market data, labor rates, and spend on similar services in the past?
The good news is many organizations can do these things with data they already have, but unlocking that data and its potential is difficult. Many procurement systems and spend reports do not have enough detail to interpret the unstructured data within contracts, statements of work, and proposals. Most organizations also lack the skills and capacity to structure that information, analyze it, and then use it to enable better buying decisions in the future.

Thanks to recent innovations, decision-makers can better capture data, use Artificial Intelligence to navigate unstructured information, and make informed decisions that engage the best services to achieve desired outcomes.
In a properly structured SOW, there can be over 200 points of data, and almost all of it can be structured to enable analytics that can inform better decisions and category strategies. The right services procurement partner leverages the technology and the data science expertise to bring those decisions and strategies to life.
4. Increase compliance and reduce cost
In addition to inefficiency, unmanaged services contracts also bring unwanted risk. That risk comes in two forms, starting with compliance risk in the area of worker classification.
Misclassification: If a supplier in an engagement is not fully vetted, that provider's workers may fall under the definition of independent contractors. This misclassification of workers can lead to a wide range of issues, from increased tax obligations (e.g. from the IRS in the US, and due to IR35 regulations in the UK, as well as similar regulatory mandates in other countries) to benefits, liability, and a host of other challenges with significant cost and delivery implications.
Cost control: The second area of risk concerns cost control. Left without enterprise-level management, many contracts continue beyond their original time or scope through low-level extensions that fall below thresholds for procurement involvement. Smaller-scale expenditures over time can easily exceed the original budget, with work that is confined to a certain department or function that could otherwise deliver more value if scaled to serve a larger part of the organization.
Overlapping Concerns: Finally, the issues of cost and worker classification can overlap. For example, an SOW may be used to engage a contractor that is better acquired through a staffing supplier in the MSP program. As a result, the company is exposed to compliance risk and likely experiences rate inflation simply because it is based on an SOW. Such misclassification can contain significant savings if uncovered and routed to a more appropriate engagement structure and associated pricing mechanism.
Together, risks related to compliance and costs require long-term attention at the corporate level. Through its unique position as a third-party resource dedicated to monitoring and managing contractor engagement, the services procurement partner addresses both risk challenges.
Procurement can identify and address potential long-term cost overruns quickly through its services partner, and it can demonstrate that processes are in place to address the specific regulatory demands of engagement.
Moving Forward: Procurement's Growing Role as a Business Advisor
Over the past decade, procurement has made great strides in evolving its role from one of cost-controller to strategic business enabler, asking the right questions and directly connecting challenges with the resources best fit to solve them. At the same time, many stakeholders maintain outdated views, and more need to be reached to buy into the value of the procurement function and its associated processes.
One report found that organizations felt procurement was being held back by a narrow focus on cost-savings and a lack of influence. It further cites that in the eyes of many stakeholders, procurement is seen as a blocker.
To overcome these perceptions, a services procurement strategy that leverages a capable partner represents a valuable change to legacy processes, leveraging dedicated expertise, data, and technology to make smarter contract decisions.
Through a strategic approach to engaging services and managing contracts, procurement can accomplish goals related to smart, fiscally responsible, risk-averse decision-making. The results are improved buying decisions that will delight stakeholders who can achieve desired outcomes when they need them, freeing them to pursue core objectives.
High user satisfaction translates to a growing recognition as a talent and business advisor — a key goal for today's evolving procurement function.