How to Measure the Maturity of Your Workforce Strategy
November 15, 2022

By Cat Halliwell
Industry Trends, Universal Workforce Model
Organisations around the world are experiencing the pressures and strains of the global workforce crisis. Simultaneously, it is becoming clear that traditional methods for talent acquisition (TA) and workforce management are no longer effective ways to get work done.
As the global leader in workforce solutions, Allegis Global Solutions (AGS) developed the Universal Workforce Model™ (UWM) framework to consult clients on how to apply a holistic, outcome-first approach to getting work done and position them to navigate the continuously shifting skills landscape.
The UWM is based on three defining features (task- over role-based workforce design, the workforce business partner and an intelligent workforce platform). Further, the methodology for mapping the journey to a full UWM capability includes a workforce maturity assessment that AGS workforce experts leverage to understand both strategic and tactical capabilities. AGS also creates a plan that drives insights and actionable recommendations based on both quantitative and qualitative data, from a thorough workforce assessment strategy, which will define a unique workforce acquisition blueprint.
In this article, I will explain how AGS takes a data-driven, consultative approach to understand the gap between how an organisation currently operates to how it needs to operate to meet its business goals. This method is based on the organisation's feedback and insight and is overlayed with AGS' best-practice recommendations. Then, to make it real, I'll share highlights of a client case study to illustrate the process.
Engage and Evaluate
The goal of the workforce maturity assessment is to gain insight into an organisation's current- and desired future-state capabilities and the related urgency relative to achieving its business strategy and objectives. ​This approach specifically focuses on the challenges companies may face in meeting their permanent recruitment and extended workforce needs.
The methodology ensures that organisations begin the journey with an agreed understanding of areas of strength and opportunities to drive improvement. This approach provides a simple starting point, drills down details and reveals actionable tasks. Data-driven results characterise a methodology that leads to a comprehensive plan to move the organisation forward in the areas that will have the greatest impact. The workforce maturity assessment consists of an exercise to rate the organisation against 64 best-practice statements, designed to garner business sentiment around four major categories with 16 subcategories. ​Inputs from clients reveal a nuanced analysis and consultant-driven conversation:
Workforce Acquisition: Do you have the ability to hire the right talent into your organisation across all workforce categories?

Reputation Management: Does your external and internal employer brand help drive candidate attraction, engagement and employee retention?

Organisational Readiness: Does the infrastructure (tech, data, internal collaboration) of your organisation support your workforce requirements and aspirations?

Process and Governance Do you have the right structures in place to minimise risk and optimise workforce efficacy?
Putting the Workforce Assessment Strategy into Practice
To help explain how the assessment works in practice, let me share how AGS applied it to guide one client to determine its primary workforce strategy goals and then prioritise the actions needed to reach them.
Our client's chief human resources officer (CHRO) realised that there was an opportunity for the company to achieve its objectives by doing things differently. After discussing the UWM framework with an AGS leader, the CHRO began understanding how this comprehensive approach could help identify some causes of the workforce-related challenges the business was facing and provide insight/recommendations as to how these could be addressed to drive the business outcomes that the organisation was looking to achieve.
The assessment dashboard and associated gap analysis provided insights into the perception of key stakeholders as to the current capability of the organisation as it relates to key workforce topics. The assessment also ascertained the desired level of capability required by the business for the organisation to achieve its objectives.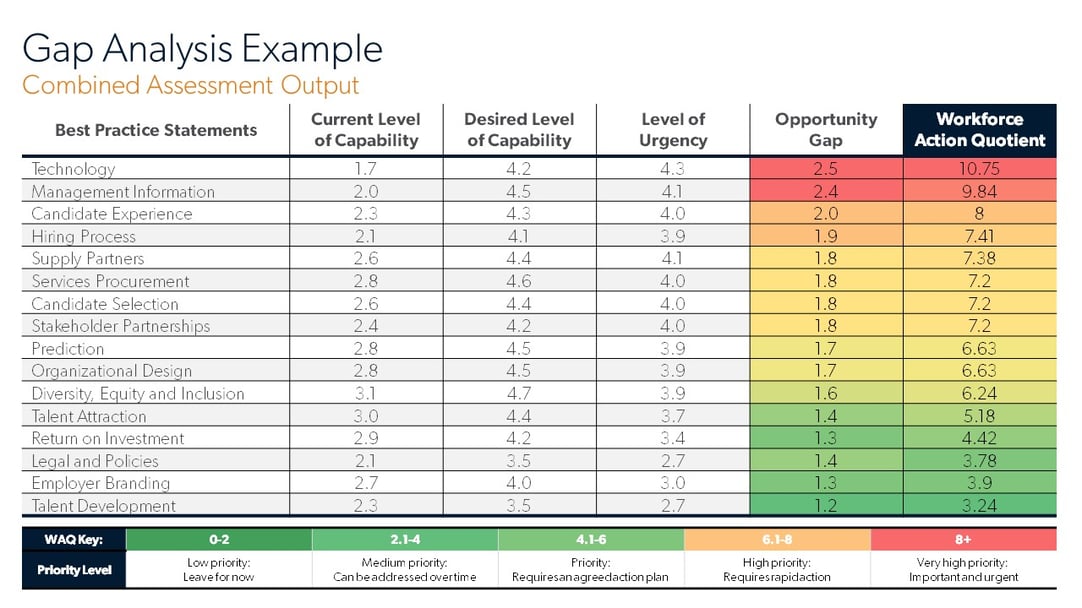 In order to ensure accuracy in our analysis, AGS sought input from a cross section of the organisation, including all business units and central functions. Six senior executives were invited to one-to-one discovery sessions conducted by an AGS executive director of service excellence. During these sessions, we sought to gather information and ratings from respondents relating to the 64 strategic statements across four major categories.​
A representative sample of hiring managers across the organisation also received an invitation to provide their responses to 64 tactical statements across the same four major categories.​ This allowed us to ensure a holistic view whilst focusing our questioning through the lens of the respondents.
Based on these discussions, we gathered over 5,000 data points, along with sentiment commentary that was further analysed, a resulting gap analysis and a detailed prioritisation of needed actions to achieve the client's workforce strategy objectives.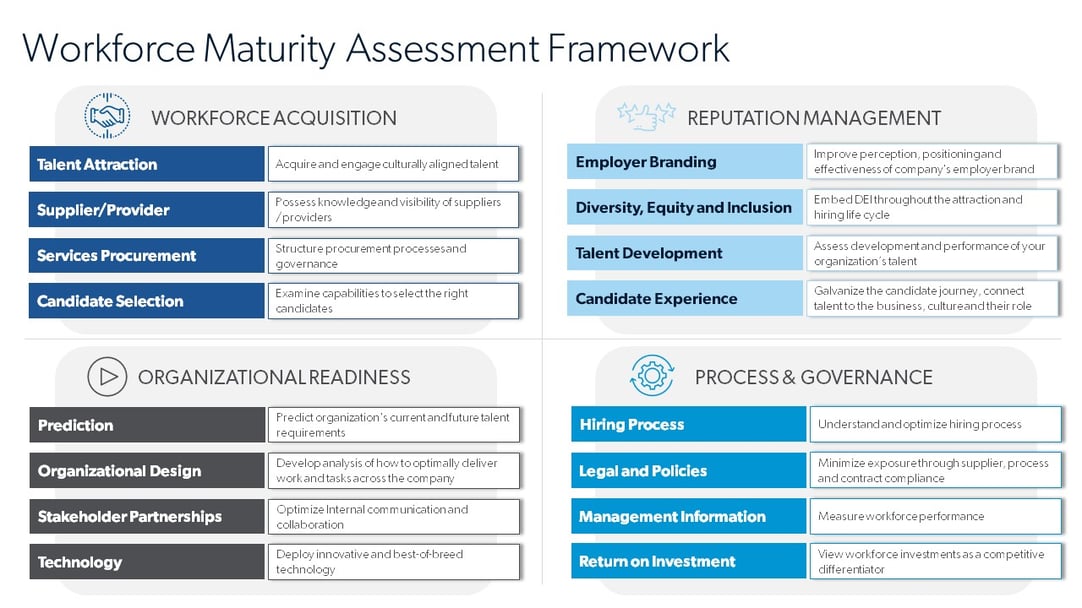 Workforce Assessment Reveals Prioritisation of Needed Strategy
For this organisation, we identified the following areas of greatest opportunity following completion of the workforce maturity assessment:
Technology

with specific items, such as access to consistent tools, training and adoption, and a lack of integration, are the major areas for improvement.

​

A lack of actionable insights and

management information

is also an area of opportunity, linked to a data-led strategy aligned to business objectives. Currently, the business decides on how to appoint resources prior to assessing the impact of the engagement model. ​

By improving the

candidate experience

, with a focus on candidate engagement, the journey throughout the hiring process, onboarding and their overall market reputation, this client could be more desirable compared to their competitors.

The

hiring process

, including both procurement capacity and recruitment team expertise

,

is a limiting factor in the ability to add value with low

-

level confidence. Additional focus

is

also required on rate card management and market benchmarking.

Whilst there is a

preferred list of

suppliers/providers

in place, this has not been collated or optimised based on the business need and doesn't capture some of the more strategic suppliers that are engaged for

milestone-

related activities. A one

-

size

-

fits

-

all approach is applied to how the business appoints providers under

a statement of work (

SOW

);

little regard is given to aligning the process to the inherent level of risk.

There

is a

structured

procurement

process in place for other categories

;

however

,

this discipline is not maximised as it relates to

services procurement

,

and there is a lack of guidance around how to effectively structure engagements to maximise

outcomes

and minimise delivery risk

.

Further, very little is

known

about the success of these projects.

Candidate selection is also a high priority within the tactical hiring population, with many managers believing they do not get access to the best talent available to meet their needs, regardless of worker type.

​
These outputs represent a small sampling from the extensive 30-page document that we provided to the CHRO. We also reviewed our findings with the organisation's strategic leaders, which elevated workforce management as something that should be viewed as a key business value, recognising the ability of the workforce to impact the bottom line and open the door to conversations to drive real change within the organisation.
Making the Workforce Assessment Work for Your Strategy
A thorough workforce maturity assessment approach is an essential start to beginning your UWM journey. It fully illustrates what is happening with an organisation from a strategic workforce and a hiring manager perspective. And when you partner with a workforce solutions expert like AGS, your leadership will receive the required guidance on the types of conversations that need to happen to transform the business and earn C-suite buy-in to evolve how work gets done.
Assessments are also crucial to identifying the business and workforce management processes that hinder an organisation's ability to meet its objectives and engage in conversations that prompt change.
If you want to know more about how to address common strategic and tactical workforce challenges with the UWM, download our thought leadership framework using the link below.