Addressing the Workforce Crisis: Implementing a Task-Based Approach Within Your HR Target Operating Model
September 13, 2022

By Simon Bradberry & Bruce Morton
Procurement Management, Talent Acquisition, Contingent Workforce, Universal Workforce Model
When considering the state of the global workforce, it's safe to say that things will never be the same again. Just look at the facts. According to the US Bureau of Labour Statistics, the ratio of unemployed individuals for every vacancy in the US was 3.4 in July 2012, then steadily reduced until the pandemic caused an unemployment shock in April 2020.
At the onset of the pandemic, the ratio spiked to 4.9, before dropping rapidly to below 2.0 in September of the same year. The rate subsequently fell below 1.0 in July 2021 and sunk to an all-time low of 0.5 in March 2022. As of April 2022, there were 11.4 million job vacancies in the US (up 61% from the pre-pandemic level of 7.0 million in February 2020), with only half that number even looking for work. Statista reports the staggering reality that the civilian labour force in the US decreased by 2.3 million from 2020 to 2022.
US Job Openings Reach Historic Highs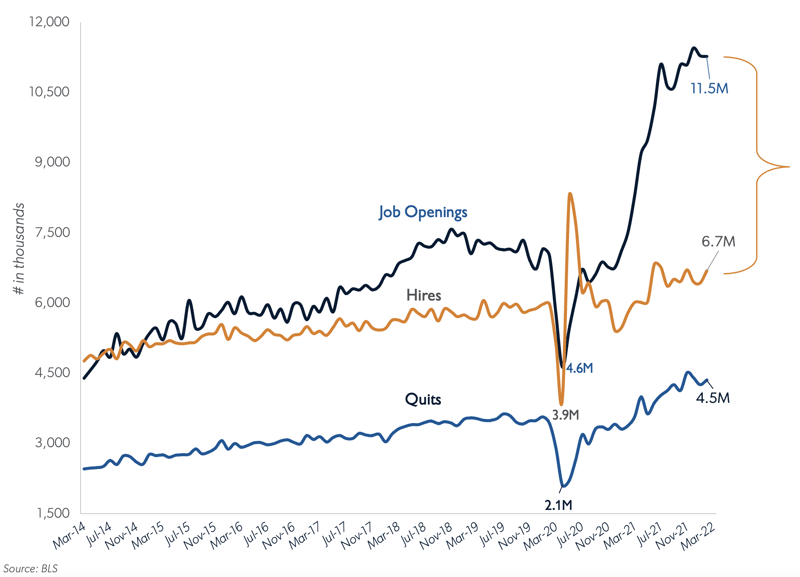 • 2014 - Hiring starts to not be able to keep up with job opening demand
• 2018 - 1.7M more job openings than hires, largest gap ever prior to COVID-19
Current Outlook
• Current job openings reached a historic high in March with 11.5M total jobs available to fill. This level exceeds the number of hires by 4.8M, creating an all-out war for talent.
• After hitting a seven-year low at the start of the pandemic, the quit rate also hit a record high in April at over 4.5M, reinforcing that this is an employee's market.
• The rise of quits coupled with the significant gap between the number of job openings and hires will further intensify the ongoing talent shortage.
• Employers will continue to increase wages to entice people to new roles and bridge the gap.
And it's a similar story in the UK. The April 2022 report, 'Coronavirus: Impact on the UK Labour Market', finds that there were 1.48 million fewer people employed in the quarter ending February 2022 compared to pre-pandemic levels in March 2020. Counterintuitively, unemployment in the UK was also down by 78,000 over the same period, with unemployment totals of 1.3 million compared to job vacancies of 1.29 million.
Marking some eerily identical workforce trends between the US and the UK, UK job vacancies were 796,000 in the last pre-pandemic quarter, which is the same 61% rise in vacancies seen in the US during the same time. Likewise, the rise in 'economic inactivity' of both countries measured at 5.2% for people ages 25 to 64.
Further, Deloitte's March 2022 Insight report articulates an almost identical top trend for both the US and the UK employers are finding it increasingly difficult to hire new workers with the right skills.
How do we explain this? As Lynda Gratton states in her book, 'Redesigning Work', 'the pandemic created a once-in-a-lifetime opportunity to rethink what we want from work and our working lives'. However, one unforeseen result of the pandemic is that millions of people of working age have left the workforce and have not come back.
The Struggle to Find Skills and Talent is Real, But There's a Solution
This situation is a challenge the workforce industry hasn't faced in our lifetime: employment is down (a lot), unemployment is down (a bit), vacancies are up (a lot), and there simply aren't enough available people with the right skills to fill the gaps.
Whilst every country has its own story and is at its own stage in this journey, the message is pretty simple: organisations can't find the people to get the work done, so companies are outbidding one another in a spiral of wage inflation.
Cue change.
Ready for some good news? The world may have changed, but it's the calling of this generation of human resources (HR), finance and procurement leaders to react. Here's how.
While we aren't presenting ground-breaking new research in this article, we have pulled together what we already know to outline clear, simple and transformational change in the way enterprises get work done and engage with the workforce. This is an evolution rather than a revolution, and the objective is easy to articulate and understand: a crystal-clear adjustment to the HR Target Operating Model (TOM) that the entire C-suite can align to.
We're going to draw together the well-trodden paths of Dave Ulrich's iconic HR model; the more recent work of Ravin Jesuthasan and John Boudreau in their books, 'Reinventing Jobs' and Work Without Jobs', and our own practical and extensive experience (over 70 years!) of working with many of the world's leading organisations in the US, Europe and Asia.
'Getting Work Done': A Case Study
In early 2022, a large health sciences organization grappled (like many other companies) with the need to hire large volumes of nurses, both as employees and in contract positions. Rather than submit to the 'it is what it is – we are in a talent crisis and pay rates are spiralling' mantra, AGS worked with the company to look through a different lens and deconstruct the way work was getting done.
This involved taking some common roles (e.g., nurses) and conducting time and motion studies of the work to deconstruct the work into tasks. This process revealed how much of a nurse's time was spent conducting tasks that required a nursing license versus those that didn't.
In one assessment, we found that the average time spent working 'top of license' was 30%, which translates to trying to hire three times as many nurses as necessary!
By redesigning how those other tasks were being done (i.e., receptionist-type work, taking temperatures, scheduling shifts, etc.) the company dramatically reduced the number of new hires required, while also achieving a massive lift in retention as nurses now focus on the activities they studied and are qualified to do.
Think about your organisation and how you structure some of your hard-to-find skillsets. How much time are those workers spending doing work at the 'top of license'? In other words, how much of the workforce crisis is unnecessary?
Jesuthasan and Boudreau explore the benefit of taking a business-focus to getting work done in their books. We won't make the point better than they do, but we observe an obstruction to success in the real world: most organisations agree that understanding the business need, an outcome-first approach and beginning resourcing with the task is a far better way to operate.
Yet, almost no one is doing anything about it because it isn't how things work today, and leaders don't know what practical changes to implement. As we detail in, 'The Universal Workforce Model™: An Outcome-Based Approach to Getting Work Done', the reality of recruiting resources is that it's instantly siloed into channels (e.g., permanent, contingent, SOW/consultant). Each channel has its distinct teams, reporting lines, processes, approvals, systems and data and is most likely set up to execute a transaction rather than serve as a true advisor to the business (even if the intention is to the contrary). Leaders know that change is needed, but don't know what to do next and can't clearly articulate their end goal.
Here's the answer:
What do you need to achieve?

What action do you need to take?

1. Elevate the role of identifying and hiring the workforce out of a transactional approach and make it business-focussed.

Introduce the role of the Workforce Business Partner, your guide to a more enterprising way to work.

2. Harmonise workforce channels (e.g., employee, contingent, SOW/consultant) to uncover all workforce options when deciding how best to get tasks and work done.

3. Enable the Workforce Business Partner to advise and give the business a single view of all workforce options.

Implement an Intelligent Workforce Platform, matching resources to tasks, regardless of workforce category, using comprehensive data.
Here's what it looks like:
Pre-Pandemic HR Target Operating Model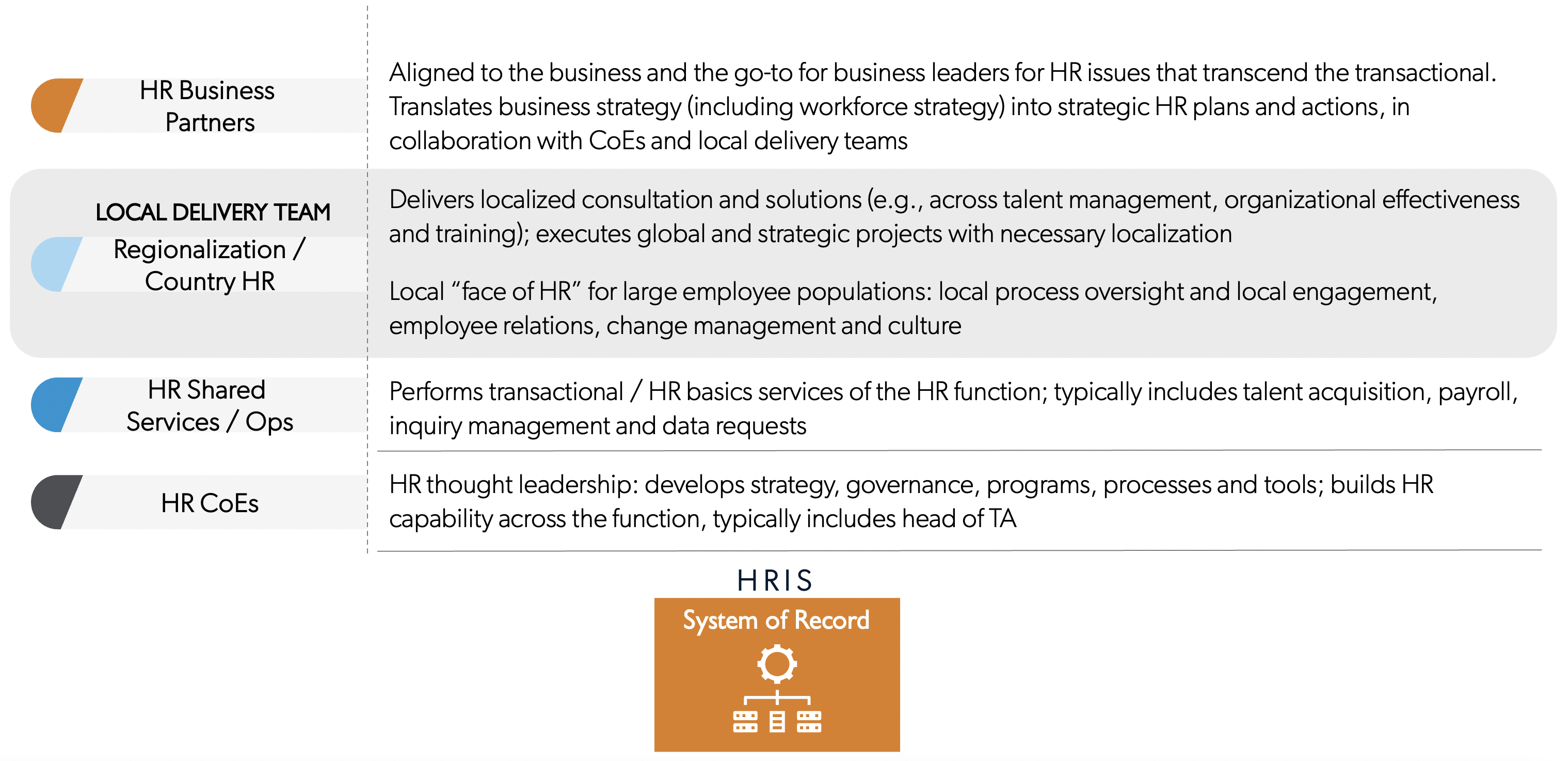 Post-Pandemic HR Target Operating Model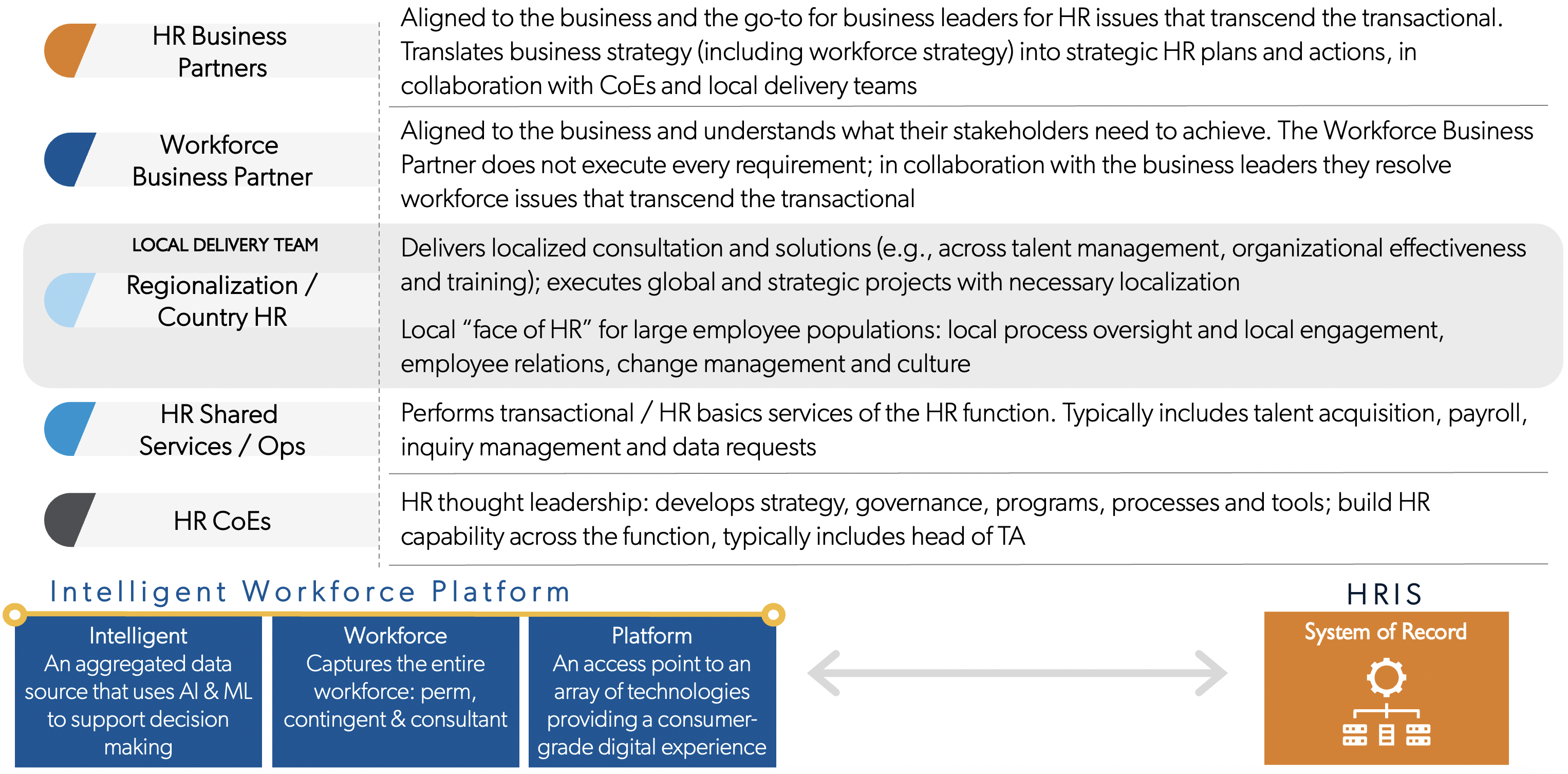 The 'mission critical' part of this is the role of the Workforce Business Partner and the harmonisation of workforce channels that this role facilitates. If we agree that adopting a business- and outcome-first approach is our route to addressing today's workforce challenges, then having a harmonised approach to getting work done and introducing the role of the Workforce Business Partner is essential. It is a logical and inevitable conclusion that harmonisation of resource channels is essential, and it is the key change to unlocking the workforce crisis.
We introduced the concept of the Workforce Business Partner in 'The Universal Workforce Model', where business leaders access all workforce options and with a deep understanding of the business' demands can advise on workforce options and solve the problem. With a Workforce Business Partner, engagement with the business leader can be 'what do you need to achieve'? rather than ''who do you want to hire?' This is the very definition of an outcome-first approach – starting with the task not the job. This result is only possible if you harmonise workforce channels at the start of the process.
To be clear, the Workforce Business Partner starts with the business need; they don't start with a request to hire. For most organisations, a change in HR structure and some internal realignment of workforce responsibilities is required. Yet it's simple to imagine. In the same way that most organisations have HR business partners who are functionally or regionally aligned, Workforce Business Partners would mimic this structure and act as a single point of access to business leaders of finance, operations, sales, etc. when they need to get work done.
The role of the Workforce Business Partner is a natural evolution of Dave Ulrich's HR model and one that is demanded by all the workforce changes businesses are witnessing. We see Workforce Business Partners becoming a highly in-demand role. They will be the rock stars of many enterprises within a few years.
We're all facing a workforce crisis, but the starting point to addressing it is within reach as we set our organisations up to face the future of work.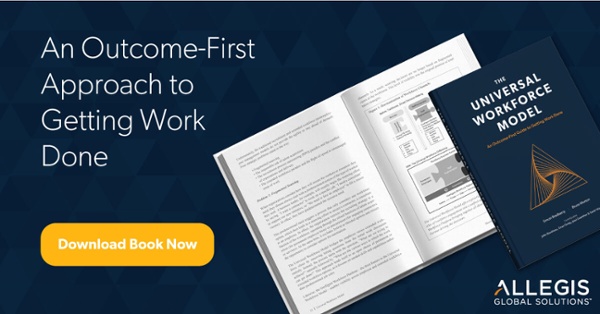 About the Authors
As co-authors of "The Universal Workforce Model: An Outcome First Guide to Getting Work Done," Simon Bradberry and Bruce Morton are thought leaders in the workforce industry.
Simon Bradberry, Vice President, EMEA Region, Allegis Global Solutions
Simon is a workforce transformation professional with more than 25 years of experience in workforce strategy and execution. His experience across business management, HR consulting, and the design and delivery of workforce solutions has given him a first-hand perspective in harmonizing the theory, strategy and operationalization of workforce strategies. A graduate of the London School of Economics, Bradberry has worked in human capital consulting and recruitment outsourcing in a variety of global leadership roles across EMEA and APAC.
Bruce Morton, Global Head of Strategy, Allegis Global Solutions
Bruce has more than 40 years of experience in the human capital industry and is well known as a global workforce design and talent acquisition expert. He has designed, implemented and managed some of the largest resourcing solutions across many different parts of the globe. Bruce has been recognized as HR Thought Leader of the Year by HRO both in EMEA and the US, appeared on the 2022 SIA Staffing 100 list and recently received a Lifetime Achievement Award from TALiNT Partners for his significant impact in moving the industry forward. In addition, he authored "Redesigning the Way Work Works."