What is a Workforce Business Partner?
May 31, 2023

By Simon Bradberry & Bruce Morton
Talent Acquisition, Contingent Workforce, Universal Workforce Model
Your workforce business partner unlocks the power of human enterprise for your company through their expertise, guidance and innovative solutions. As part of deploying the Universal Workforce ModelTM, a workforce business partner acts as a resource central to delivering results and is a strategically important member of your organization's workforce strategy teams.
Your business partner aligns to a specific company unit or function and advises leaders on business strategy and workforce designs. They pull from their proven experience to build collaboration across all stakeholders towards achieving goals. They draw upon a broad range of external market data and the organization's internal data to define and gain agreement on every strategy.
Technology, Data and Proven Processes Empower the Workforce Partner
Advances in human resources technology, such as in the Universal Workforce Model's Intelligent Workforce Platform, provide the scope of knowledge that empowers your workforce partner to perform tasks under one role that was not possible in the past. The Intelligent Workforce Platform combines multiple data sources that contribute to the tasks involved in executing the strategy for the Universal Workforce Model.
Advancements in two significant areas empower your workforce business partner: data and processes.
Innovations in Data and Technology
A primary driver for results is the data. The business intelligence provided by the data drives outcomes that achieve the tasks needed to engage the best resources and find the best cost options. As a result, useful business intelligence reveals hidden wins through the sea of data.
To understand all resource options, the Intelligent Workforce Platform draws the data into one source and applies smart analytics to that data. As a result, your partner can deliver informed and meaningful decisions quickly and effectively.
Advances in Process and Execution
The Universal Workforce Model is the second empowering development for your business partner. Combined with the Intelligent Workforce Platform, the process empowers several tasks into a single role that has access to the various job descriptions, business objectives as well as information about pay, performance or other workforce data across the organization.
Through the Universal Workforce Model, your partner is empowered to bring together the various silos in your organization with a full 360-degree view that allows for better overall decision making for achieving goals. The resulting decision process gives stakeholders across the enterprise a single reference point for driving their strategies to get work done. That single source is your workforce business partner.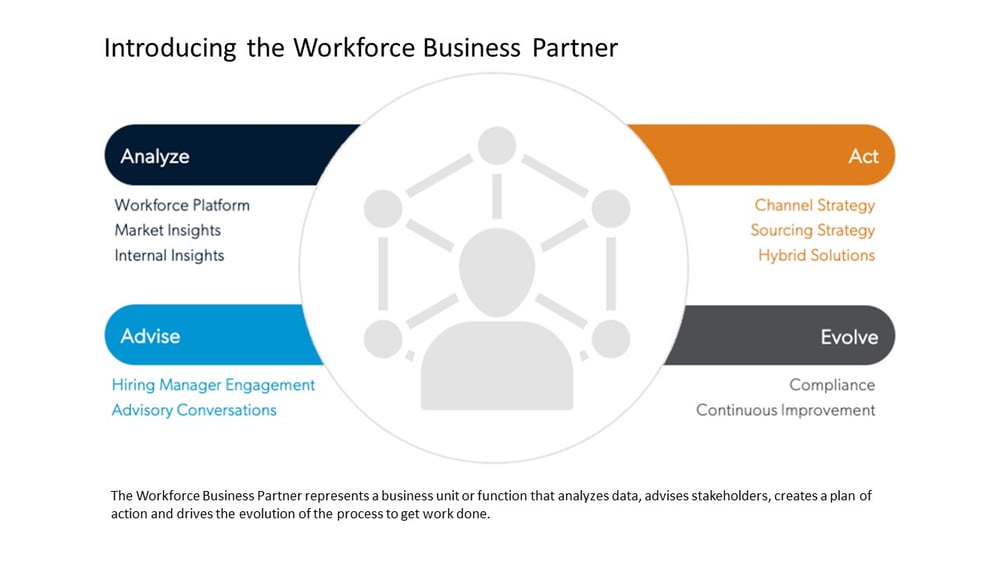 How the Workforce Business Partner Works
The core job of the business partner is to understand what the organization needs to achieve, how long work should take and how much it should cost. Based on that understanding, your workforce partner advises where to get the work done, what type of workers should do the work and where the opportunities are for automation.
They have a deep comprehension of their organization's business objectives and the ability to turn those goals into a structured talent architecture and framework.
Using several key focus areas, your business partner will evolve your strategy as circumstances change according to the organization's unique needs.
Deconstruction of the Work
Deconstructing traditional job descriptions and workflows to their essential components in order to get an idea of the work that needs to be done is an essential role for the workforce business partner. This process can reveal where there is redundancy, wasteful practices and opportunities for optimization.
With an understanding of the work and its processes, leaders then proceed by asking:
Do we have access to the talent (and the right type of talent)?

Are they being motivated and rewarded optimally?

Are we putting them in place to achieve the specific outcomes we need?
Your business partner can take the answers to these questions, evaluate the greater business needs using a wide-angle vision of the company and establish what must be accomplished in placing talent and how best to do it. This approach also informs future views on how work gets done. It keeps the focus on the business objectives, guiding and supporting the people working toward them.
Talent Process Innovation and Agility
Establishing what work needs to be done to achieve business objectives is just the start of deploying the Universal Workforce Model. Your business partner will also help ascertain how roles should be filled. The traditional method of just putting the same type of person in the same jobs may not be the best way to move forward.
For example, it may make sense to hire a long-time contractor who is familiar with the company as a full-time employee. Knowledge of company values and business goals may put that worker far ahead of a new hire's learning curve. On the other hand, filling a full-time position that has become more complex over time with just one person could be extremely limiting. Instead, a team of two or more contractors might provide a broader skill set to tackle intricate projects.
Your business partner has the vision, expertise and data to take stakeholders through the question-and-answer process and develop the best talent model.
Predictive Strategy Development for the Future
A consistently shifting market demands that organizations be prepared for what's coming in the face of changing business needs. Your business partner objectively assesses pitfalls and opportunities while planning for contingencies. They use data and analytics to make reasonable projections to prioritize departmental funding or seek talent exchange programs with leading companies in another field. This level of foresight and proactive strategy puts an organization ahead of competitors.
How Can a Workforce Partner Work for Your Business?
We hope this article outlines the role of the workforce business partner as a critical component of the Universal Workforce Model. Empowered by advanced technology, expertise, in-depth knowledge of your business and up to the minute market analytics, your business partner defines the importance of human enterprise.
Download the Universal Workforce Model book to learn more about the workforce business partner and how they can help you rethink how work gets done.
**Editor's Note: This article was originally published in "The Universal Workforce Model: An Outcome First Guide to Getting Work Done."