What are the different levels of Services Procurement (also known as SOW) Solutions?
May 01, 2017

By Jon Kesman
Procurement Management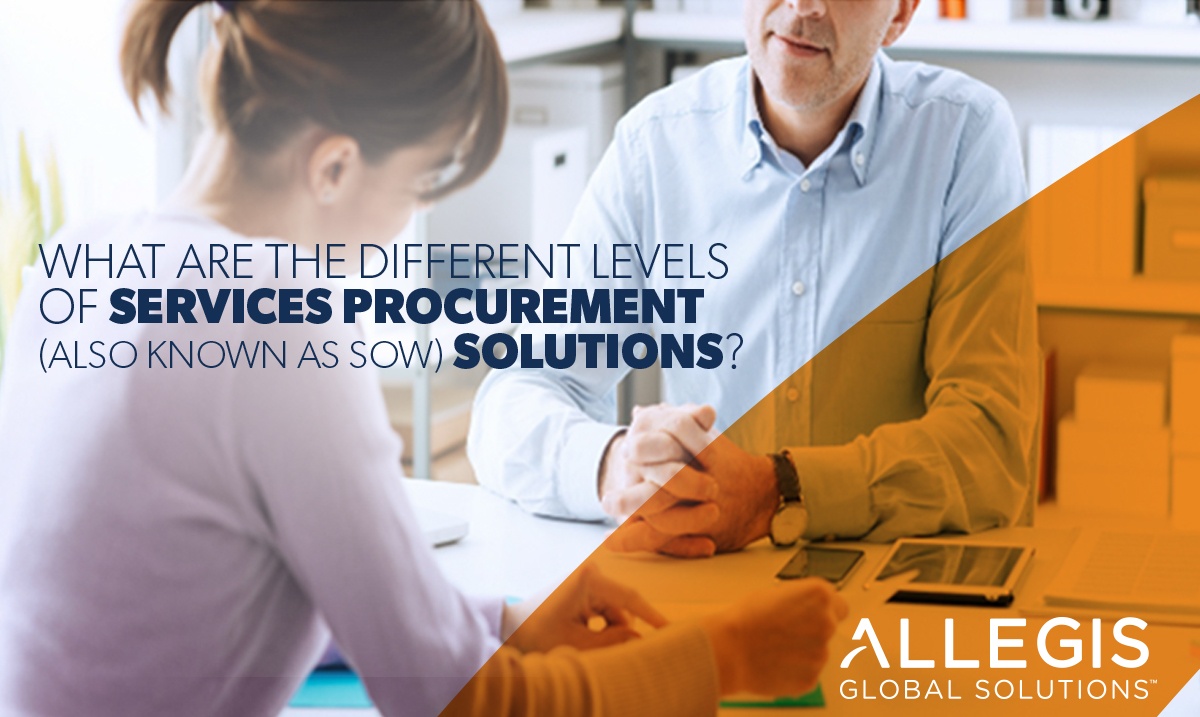 Achieving optimal efficiency and value within services spend categories can be a challenge, and in today's business environment where there is a big focus on total value, as well as a premium placed on internal resource capacity to manage this spend, there is much to be said for the benefits of outsourcing this procurement function to a third party.
At Allegis Global Solutions (AGS), we have developed a range of solutions that our clients can take advantage of, depending on the level of value and service desired.
Our services procurement solutions have evolved in recent years and we are now witnessing a considerable growth in appetite among clients wishing to free up their own valuable resources and also drive new or incremental value by outsourcing this function. We have a commitment to leveraging the latest technology to deliver clear benefits for our clients and we do this by offering three levels of solution:
Level 1 - Resource Management
Fundamentally, Level 1 of the services procurement solution is committed to visibility of resources. With a focus on Resource Management, it's important that organizations know specifically who all of their third-party labor is, and where they are located.
Key benefits of our Resource Management solution include:
Manage on-boarding and off-boarding activities of all supplier resources engaged via an SOW

Resource tracking and resource maintenance activities

Helpdesk function
Level 2 - SOW Administration
The second level of our services procurement solution is typified by a far greater focus on planning and improving insight for clients. Vendor Management Systems (VMS) and P2P systems enable AGS to provide better understanding of overall spending and areas for potential efficiency improvement as well as spend management opportunities.
At the same time, we are able to free up internal client resources by taking on more of the day-to-day functions.
In addition to the benefits of the Resource Management solution, key benefits of our SOW Administration solution include:
Increasing efficiency of the SOW contracting process through standardized intake, assisting with SOW project qualification and approval protocols, and ensuring speed to value

Tracking and compliance of time, milestones or deliverables, including SOW extensions and/or renewals

Managing supplier performance and relationships
Level 3 - Source to Settle
In our most comprehensive offering, this is where the services procurement solution becomes true procurement outsourcing, with a full-service offering that ensures companies can free up multiple internal procurement resources for other more strategic responsibilities. It allows us to support much of the tactical work while enabling your resources to focus on internal business alignment, strategy and supplier management that can deliver real and sustainable benefits.
In addition to the benefits of Resource Management and SOW Administration, key benefits of our Source to Settle solution include:
Facilitation of the competitive sourcing of strategic and non-strategic SOW projects

Management of the negotiation of rates and discounts; contract decisions for SOW projects

Provision of deep insight around what is being bought and what is being paid within what are often vague and general spend categories

Clearly, organizations at all levels of procurement maturity could benefit from working with us. You can find out more about our services procurement solutions by

downloading our Emerging Trends to Manage Your Indirect and Services Procurement Spend whitepaper

or by

contacting our expert team here

!