7 Tips for Successful Recruiting in a Recession
October 24, 2022

By Renee Gorman
Industry Trends, Talent Acquisition, Universal Workforce Model
It is no secret that the landscape of the US workforce is constantly changing, particularly in the wake of the global pandemic and as millions have quit their jobs – a movement deemed "The Great Resignation." Now, over a decade since the economy endured one of the worst recessions in American history, market analytics show we could be headed in that direction again.
Absent a crystal ball, the recruiting industry needs to prepare for whatever might happen next, even if that means staffing in a recession. Despite the labor market's strong run – with unemployment continuing at historic lows and staying well below average – a possible recession would certainly shift the dynamics in both hiring and job seeker success.
Recruiting full-time employees (FTEs) in any industry has seen the balance of power shift significantly from employer to employee over the past three years. The global pandemic provided a new landscape for changing employment market conditions, and no dip, spike or anomaly was spared. Now, as inflationary conditions continue, that bargaining power may be shifting back to the companies.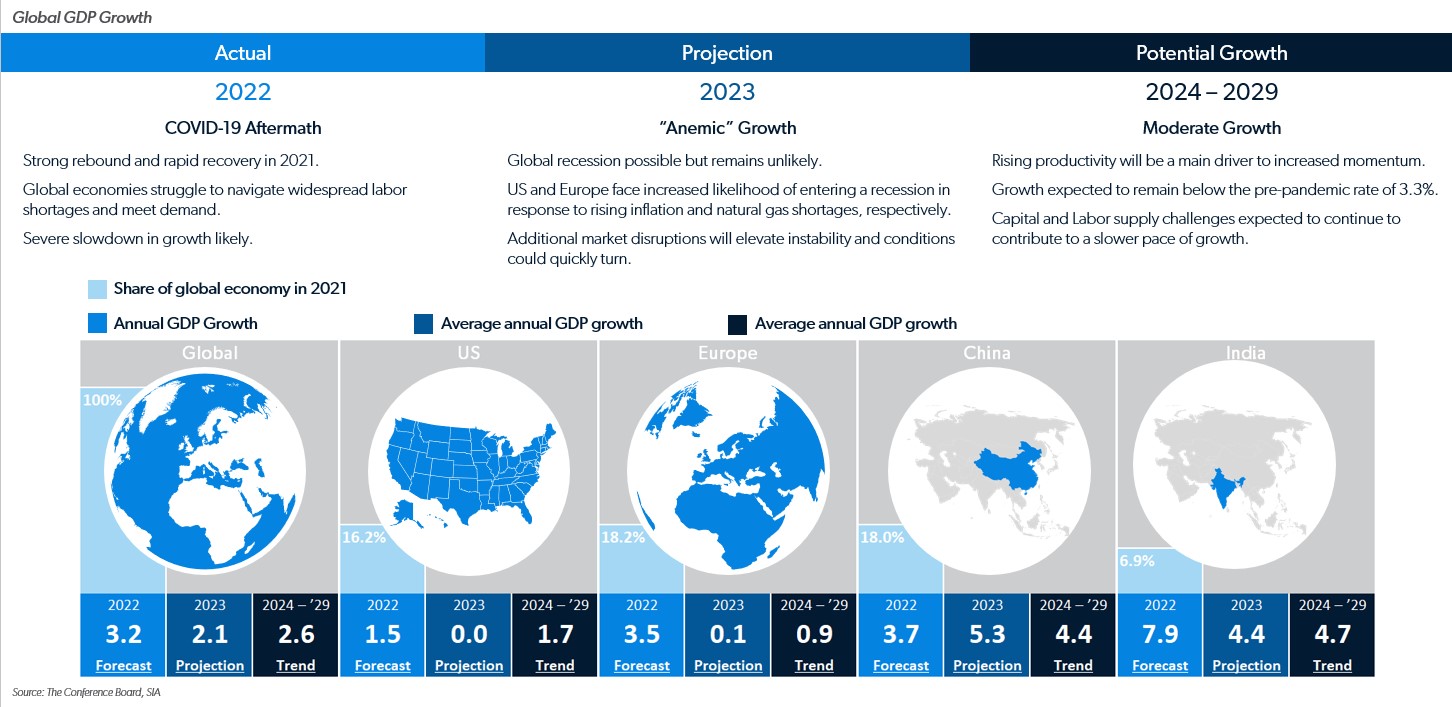 Recession by the Numbers
In March 2009, the number of unemployed Americans in the US increased by 694,000 in just one month, to a total of 13.2 million Americans, or 8.5% of the total workforce. Seven months later, that number rose to a recessionary high of 10.2% in October 2009.
Fast forward 13 years, and the Bureau of Labor Statistics (BLS) reports that the current national unemployment rate was 3.5% in August 2022, as employers added 315,000 jobs since the previous month. Further, the BLS reports that more than 47 million Americans resigned from their jobs in 2021, and a record-setting 4.5 million Americans quit in November 2021 alone (aka, "The Great Resignation.")
Millions of job openings are now being posted. And despite the looming potential of a recession, current inflation rates could entice disengaged workers to return to the workforce even as quit rates remain high.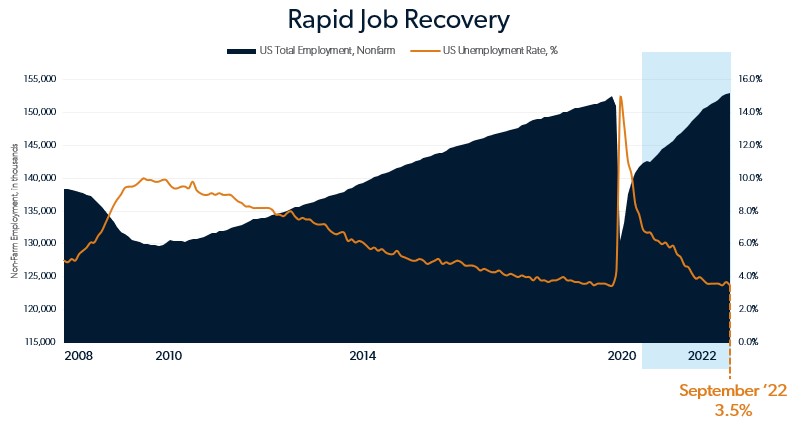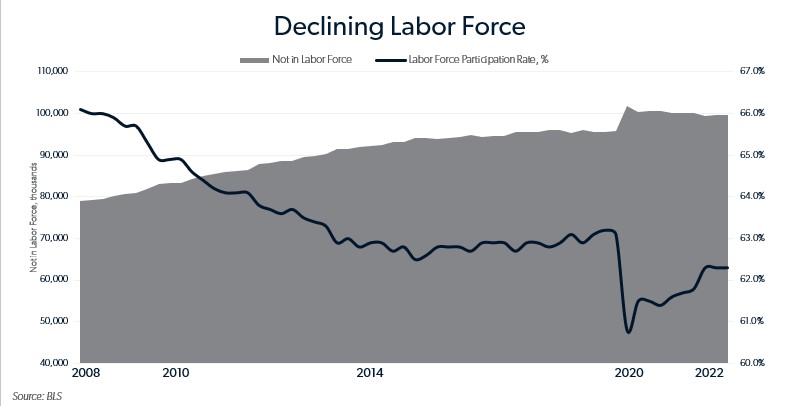 Bearing in mind inflation, rising interest rates and supply chain disruptions, the latest BLS jobs reports offer a cautiously optimistic outlook on economic expansion, likely attributed to the significant growth over the last decade. Although the US experienced one of the fastest economic recoveries in history in 2021, and unemployment rates are now returning to pre-pandemic levels, many workers have yet to reenter the workforce.
Workers opting for new roles are earning a much higher wage than those who stay in their current positions. As wage pressures continue to mount, workers are incentivized now more than ever to consider new opportunities. The current hiring environment also requires a focus on candidate experience and an enhanced "courting" process.
Rising talent shortages and the need for new, innovative ways of working, have created additional challenges for recruiting and HR professionals. This is where a focus on building compelling employer brand stories, as well as leveraging digital media, creative collateral and strategic campaigns can help provide an effective talent attraction strategy.
How to Prepare for Recruiting in a Recession
Regardless of the country you operate in or the economic conditions you face that can impact your ability to access and acquire great talent, here are some strategies to keep your approach to securing the skills you need agile and effective:
Focus on non-wage incentives. With the skyrocketing of remote work options since the onset of the pandemic, the tight labor market has become further squeezed. Broad employment opportunities have led many companies to compete nationally, even globally, for talent. With that said, employers should put a greater emphasis on employee retention and engagement strategies. As well-being and behavioral health benefits have become top-of-mind for job seekers, providing non-wage incentives is a critical consideration for companies looking to hire.
Meet people where they are. Without question, many job seekers seek remote and hybrid options. As Americans are discovering new places to live – i.e., outside of urban markets – employers must reevaluate their talent strategy. This latest, pandemic-induced talent shift now requires companies to meet people where they are.
Emphasize company culture. Remaining focused on your employer brand not only highlights your organization's values and reminds current employees about why they initially joined your company, but it safeguards your ability to maintain a steady talent pipeline. Recessions are, in fact, temporary, and you want to ensure your employer brand remains strong so you can continue attracting the best candidates well past the recession.
Embrace diversity, equity and inclusion (DEI) strategies. One critical component to bringing a brand to life includes looking at DEI as a business imperative, where executives are truly and authentically committed to having diverse workforces. They hold their people accountable and are honest about where they are today – and where they want to go. Do you have tailored sourcing strategies, structured interview processes and fair hiring practices? Are you cultivating a diverse community? When people look at your company, can they see themselves in it authentically? These are the questions companies must answer to attract and retain talent.
Offer competitive compensation. Though market-driven wages should continue to be a critical component of your recruitment strategy, it is also important for organizations to make their jobs "sticky," so employees don't want to leave for a bit more pay. Companies should make sure leadership is creating a welcoming and challenging work environment that offers a comprehensible career path for advancement while continuing to provide attractive benefits.
Focus on professional advancement. It is important for employees to not only feel valued but to understand how they fit into the organization's future success. Managers should have regular conversations with employees about their productivity, performance and what is required of them to advance to the next level. When employees feel management is invested in them, they will invest in the teams and stakeholders they support.
Enable digital hiring: Digital solutions are paramount to boosting engagement and nurturing strategy, and great technology enablement is critical for every workforce stakeholder. Recruiters need tools to navigate a vast digital environment. Hiring managers need intelligence, interviewing solutions and predictive assessments. Workers expect transparency and a consumer-like experience and interaction. Leaders require visibility and market data for sound decisions. Companies should incorporate a technology plan into their talent acquisition strategy to best build, strengthen and maintain a productive workforce. Relying on a workforce solutions business partner can aid and expedite this process.
How AGS Can Help You Build an Agile Workforce Strategy
The good news is that despite recessionary fears, market data shows there are still plenty of job openings, and worker confidence is strong. Nevertheless, we continue to live in an uncertain world. Recruiting today means being able to anticipate choppiness and being prepared to pivot as needed. So, to put the above action items into practice, companies should have a plan and a reliable workforce solutions partner like Allegis Global Solutions (AGS).
Redesigning all aspects of a business – including remote work, in-demand skills and rebuilding teams –needs to be considered in today's economy. At AGS, we believe the path forward requires new thinking about how work gets done and how it's managed. We're taking our clients on a journey to a harmonized workforce strategy and management through the Universal Workforce Model™ framework.
Talent acquisition has experienced rapid change, making agility a priority for teams under pressure to be experts in marketing and recruitment while juggling fluctuating hiring volumes. But with an agile, flexible approach, companies can more effectively scale operations and quickly adapt how they engage candidates to acquire talent and drive greater value to the organization.
But beyond that, effective recruitment requires visibility of the entire workforce, the ability to establish and measure employee talent acquisition effectiveness, as well as strategy and performance data for extended workforce impact. So, when we think about what's next, it's critical to break free from outdated workforce strategy models by answering a simple, yet not so easy, question: "What is the most efficient and effective way to get work done?" Only by breaking down jobs into their component tasks through work deconstruction can companies look beyond traditional definitions of work to empower people and achieve desired business outcomes. Contact us to learn more.
**Editor's Note: Our blog, What Happens to Recruiting in a Recession?, was originally published in February 2019 . This blog shares new considerations as of October 2022.