5 Reasons Every Employer Should Care About Recruitment Marketing.
April 10, 2018

By Belinda Walker
Talent Acquisition
The fact of the matter is – no matter what so many 'thought leaders' and 'influencers' would have you believe – that there's some truth to the well-worn cliché that "recruiting is sales." And that's OK – it's a comparison that recruiters really shouldn't run away from. After all, sales are the ultimate profit center, and represent the most critical function out there for the business and bottom line results for almost every employer.
Recruiters are tasked with a similarly imperative responsibility, finding top talent, which, as it turns out, requires many of the same skills as any sales job: the ability to sniff out new opportunities, the ability to engage with current and prospective candidates, the ability to build meaningful relationships with key stakeholders and, most importantly, the ability to efficiently and effectively close deals.
Recent changes to the way employers find candidates, and candidates find jobs, have seismically shifted the recruitment landscape. Candidates increasingly view recruiters less as relentless, aggressive sales people – even if, in fact, they often are – and more as "talent agents," effectively representing one of several opportunities top talent is likely simultaneously considering.
The New Rules of Recruitment Marketing.
In the past, differentiation came down to the offer itself, but today candidates are looking more and more for more criteria like "culture fit" or an employer's mission, vision and values. This change means that recruiting increasingly is becoming a marketing function, rather than a sales function, and while the best recruiters out there are largely still the best closers in the business, often, recruitment marketing alone can be enough to get the job done.
Making yourself into an employer of choice requires rethinking the role of marketing in your overall recruitment strategy, and which real world marketing skills recruiters need to thrive when it comes to attracting top talent today – and tomorrow.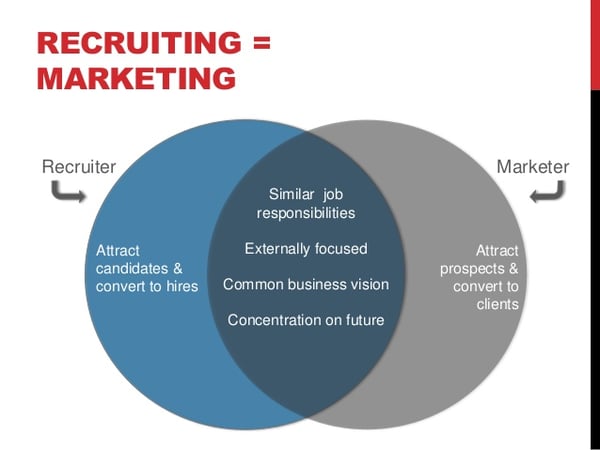 Here are FIVE reasons why ignoring recruitment marketing is one opportunity cost no employer out there today can afford – and why in this market, recruitment marketing matters so much.
RECRUITMENT BEGINS WITH BRAND.
Much like marketing, building an effective employer brand should the beginning of your recruitment roadmap; according to LinkedIn, companies with strong employer brands compared to the competition tend to see an average 43% decrease in their overall cost per hire.
This process should start with clearly defining your employer brand – think culture, purpose, mission and business priorities – and then leveraging that brand across the board, from internal communications to a company career site to external job postings. Your employer brand should be consistent, compelling and, most importantly, clear to candidates and current employees alike, no matter what medium that message happens to be on.
RECRUITING REQUIRES KNOWING YOUR AUDIENCE
Of course, any recruiter out there who doesn't know who they're actually trying to hire is at a significant disadvantage, but effective recruitment marketing can leverage sophisticated audience profiling, segmentation and candidate targeting to turn passive talent into active candidates – and new hires.
Defining your audience, from analyzing demographics to building personas, is one of the most important steps in any recruitment marketing strategy. With recruiters often responsible for vastly different and often disparate candidate profiles across their individual and company requisition load, this means building out a unique profile to capture and convert talent for every open position.
Segmentation can effectively help recruitment know where to target their messaging and marketing efforts; for example, 88% of emerging workers report that the right company culture is one of their most significant considerations when searching for a job, while 67% of experienced hires report compensation as being their most important factor.
Knowing what specific motivations drive candidate behaviors, and the ability to effectively identify and amplify the things that matter most to top talent, are a great way to stand out as an employer of choice worth choosing.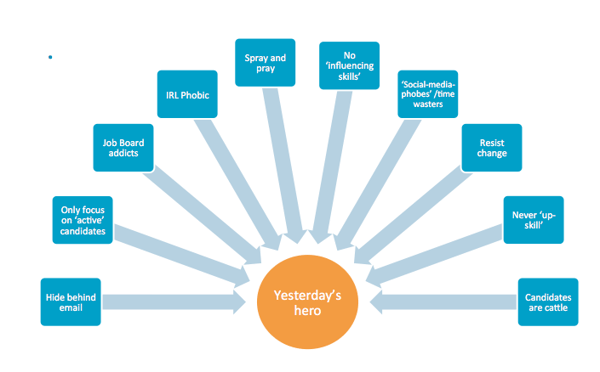 CONTENT IS KING IN RECRUITMENT, TOO.
Once you've effectively established a core employer brand, developed messaging and defined both your positioning as well as your target audience, you've got the basic ingredients required for the perfect recipe for recruitment marketing succe
ss. Using these foundational efforts as a departure point, it's essential to transform that core career messaging – things like culture, values, EVP, and so forth – into the content that will effectively drive your recruitment marketing program forward.
From job descriptions to social media, from targeted landing pages to emplo
yee testimonials or targeted advertising, you only have one chance to make a great first impression. Having the right content for the right candidate at the right time ensures that regardless of the medium, your message is always being heard.
With 72% of candidates reporting that they'd voluntarily accept less money if offered a position with a reputation as a great place to work, creating content can not only close candidates, but make a big impact when it comes to your business and bottom line, too.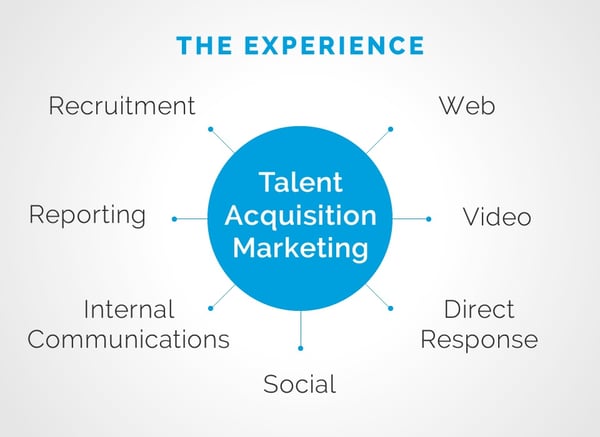 CANDIDATES ARE CONSUMERS.
Candidates are just like any other online consumer, only with a slightly differentiated call to action (and a bigger ticket buying decision than most other online purchases, honestly). This is why it's important to remember that with fully 90% of candidates beginning their job search online, your careers site should act as the hub to which every other spoke in your recruitment strategy should be tied.
Getting candidates to click is hard enough; with Talent Function reporting that candidates spend 1-4 hours researching employers before ever applying; of these, 65% reported that the company career site was the most helpful resource while doing their due diligence.
Turning these passive visitors into active applicants or converting candidates considering your company requires building a careers site that not only provides the information job seekers are looking for, namely, the ability to easily search and apply for open positions, but also, a quick, easy and painless way to do so from any mobile device, anywhere.
Remember, candidates are researching you. A great career site is the easiest and most effective way to start closing top talent even before they apply. Which is kind of the entire point of marketing, really.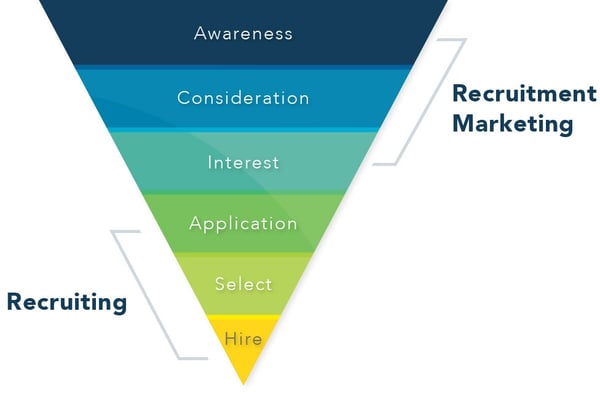 YOU CAN'T MANAGE WHAT YOU CAN'T MEASURE.
Employers traditionally have a difficult time measuring the relative impact of their recruitment efforts, which is why so many of us still struggle with even basic baselines like cost per hire or days to fill. By augmenting your recruitment analytics by measuring marketing performance, you will have better insight into where your candidates are really coming from, which sources of spend are delivering the best return on your recruiting investment and which tactics or tools might be worth reconsidering when allocating resources.
It's important to remember recruitment marketing is a marathon, not a sprint; having real marketing data in real time, all the time – from cost per qualified applicant to top performing traffic sources, from social media reach to digital influence – allows employers to effectively continue to iterate, experiment and enhance their ongoing efforts.
The data these programs generate should provide the sort of insight – and impact – that traditional talent metrics simply cannot provide. Which should come as welcome news for a function that's long struggled at providing quantifiable results instead of simply qualitative and largely observational outcomes.
For example, best in class recruitment marketing programs can save up to 40% in total talent costs, with a strong employer brand leading to an estimated 50% more qualified applicants. If you're looking for a reason to consider recruitment marketing, just do the math.
While the concept of applying advanced marketing tactics to recruitment strategy is nothing new, the relative importance of recruitment marketing to talent acquisition success only continues to grow. This essential function isn't just a best practice; it's an indispensable and inextricably intertwined component of every core recruiting strategy.
Even if you haven't already starting to develop your own recruitment marketing strategy yet, chances are, your competitors are. After all, the competition for tomorrow's hires starts with recruitment marketing today.