What You Need to Factor into Your Talent Acquisition Tech Stack
November 20, 2019

By Vishal Gupta (Everest Group)
Recruitment Technology
Since the advent of modern business, enterprises have recognized that talent is their most powerful competitive advantage. However, because of the large and increasing gap in demand and supply in the current business environment, today's hiring managers are struggling to find the right talent, with the right skills, at the right time.
That's why many organizations are turning to technological tools that can significantly boost their ability to attract, hire, engage, and retain the best talent. But when evaluating these tools, they often fail to consider their ability to integrate with other systems for ease of use, the extent to which they can generate valuable, actionable insights, and where and how they can enhance both their and their candidates' experience.

In tech-speak, they fail to consider the bigger picture in terms of their tech stack – which is the combination of all technologies, programming languages, frameworks, and underlying databases and libraries. And without the right tech stack, making huge investments in talent acquisition tools may still result in sub-par results.
So, here are three critical aspects you should factor into your talent acquisition tech stack, before you start building it.

• Business case creation and process identification: Create a holistic business case that not only evaluates efficiency gains but also business impact (better quality candidates, superior stakeholder satisfaction, etc.). Identify your organization's unique requirements while evaluating the processes to be covered as part of the technology stack. It is important to remember that no two technology stacks are identical.

• Technology/tools selection: Start by identifying if you want to build the tech stack in-house or outsource it to a third-party, including your Recruitment Process Outsourcing (RPO) provider. Consider the maturity of your organization's current technology ecosystem, legacy systems in operation, and your investment and risk appetite when making your decision. Then, look at the wide range of broad-based and stand-alone next-generation solutions in the marketplace to identify what will satisfy your unique needs.

• Integration and risk management: As with any new technology implementation, it is important to anticipate and plan for data security and internal change management concerns. To address data security issues, make sure you establish data privacy rules and adhere to industry best practices and compliance standards such as GDPR when integrating different systems and technologies. Throughout the process, engage all internal and external stakeholders to create a sense of ownership and delineate clear roles and responsibilities.
The typical talent acquisition tech stack
Most talent acquisition tech stacks consist of three layers, as depicted below.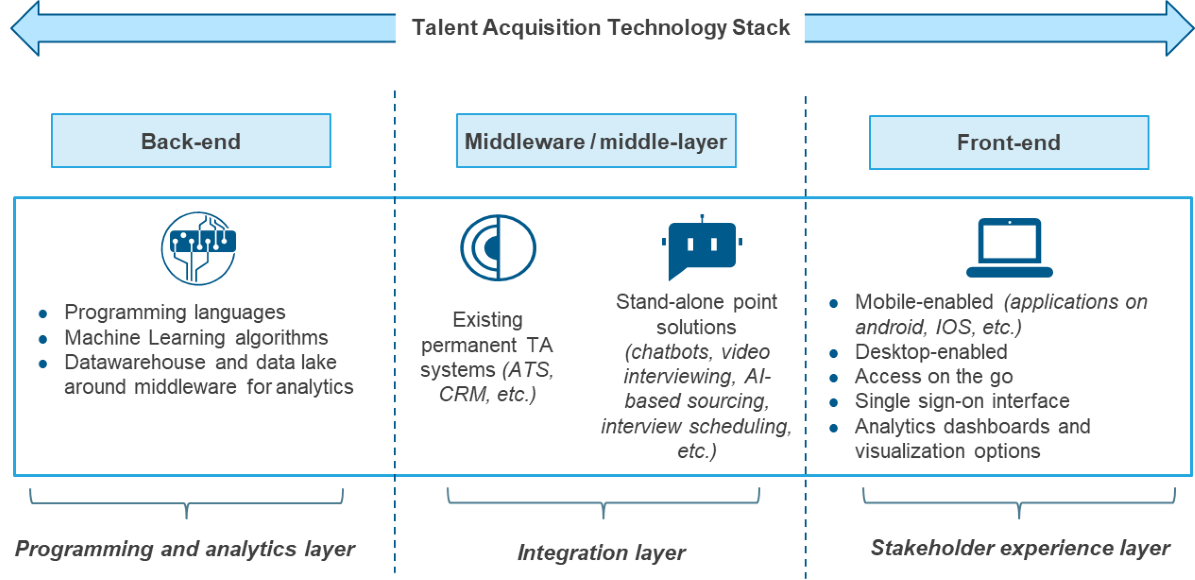 • Back-end: This is the most important layer, as it serves as the system of record that binds the technologies in the middleware layer. You need to make sure you identify the right programming languages and frameworks to ensure all required functionalities and features work. You also need to have a data warehouse and data lake to assimilate information from the different systems in the middleware layer and to perform analytics. While optional, you might also consider incorporating machine learning into the back-end.

• Middleware: This is the integration hub, or plug-and-play layer, that integrates all existing talent acquisition systems and third-party/proprietary point and broad-based solutions. The majority of third-party tools come with APIs that enable easy integration into different middleware platforms. Flexibility is critical here, as it will help ensure the easiest integrations and customizations.

• Front-end: This layer is all about the end-users, including candidates, hiring managers, and recruiters. You need to make sure that they can all interact with the technology on any device, and, ideally, access all the related systems, databases, libraries, etc., through a single log-in.

There's no question that building a tech stack for talent acquisition is a cumbersome and time-consuming process. While you go through each stage, from business case creation to planning to approvals to implementation, you'll encounter internal/external resistance, technology limitations, security concerns, and other roadblocks. But having a strategic roadmap and using a phased execution approach will help you create the most efficient tech stack for talent acquisition. And most importantly, it will help you compete effectively in the war for talent.