The Future of Talent Acquisition
February 25, 2020

By Dan Cave
Industry Trends, Talent Acquisition
Last December talent acquisition leaders gathered in London for the latest in our series of roundtables to discuss the future of talent acquisition and find out how they perceive their own talent acquisition function's ability, where the pressure points lie, and how it could change for the better.
Importance of talent acquisition
Talent is increasingly seen as the core foundation of success in the business sphere. In fact, organisations consider getting hold of the right talent to be so important that according to a recent PwC survey of CEOs, 80% are either extremely or somewhat concerned about getting access to the skills their business needs. This has rocketed up from just over 50% in 2012. But why the anxiety?

It could be that businesses know if they cannot get the right talent then they will not be able to innovate nor pursue market opportunities, resulting in delays to overall strategy. They also might be aware that the talent acquisition space is rapidly changing with, as Deloitte's 2019 Human Capital report lays out, 'recruiting becoming harder than ever'. Half of respondents to a separate HR survey noted that competition for the best applicants is fiercer than ever.

The above is compounded by changes that are happening within the talent acquisition function itself. New choices of technology, the rising prominence of data and analytics, the importance of communication, community and networks and better understanding of the impact of branding means that the function now finds itself at a critical moment of change whilst also being seen as critical to business.
This is why Allegis Global Solutions (AGS) and HR Grapevine recently hosted a roundtable of senior HR and talent acquisition leaders from a broad cross-section of different industries.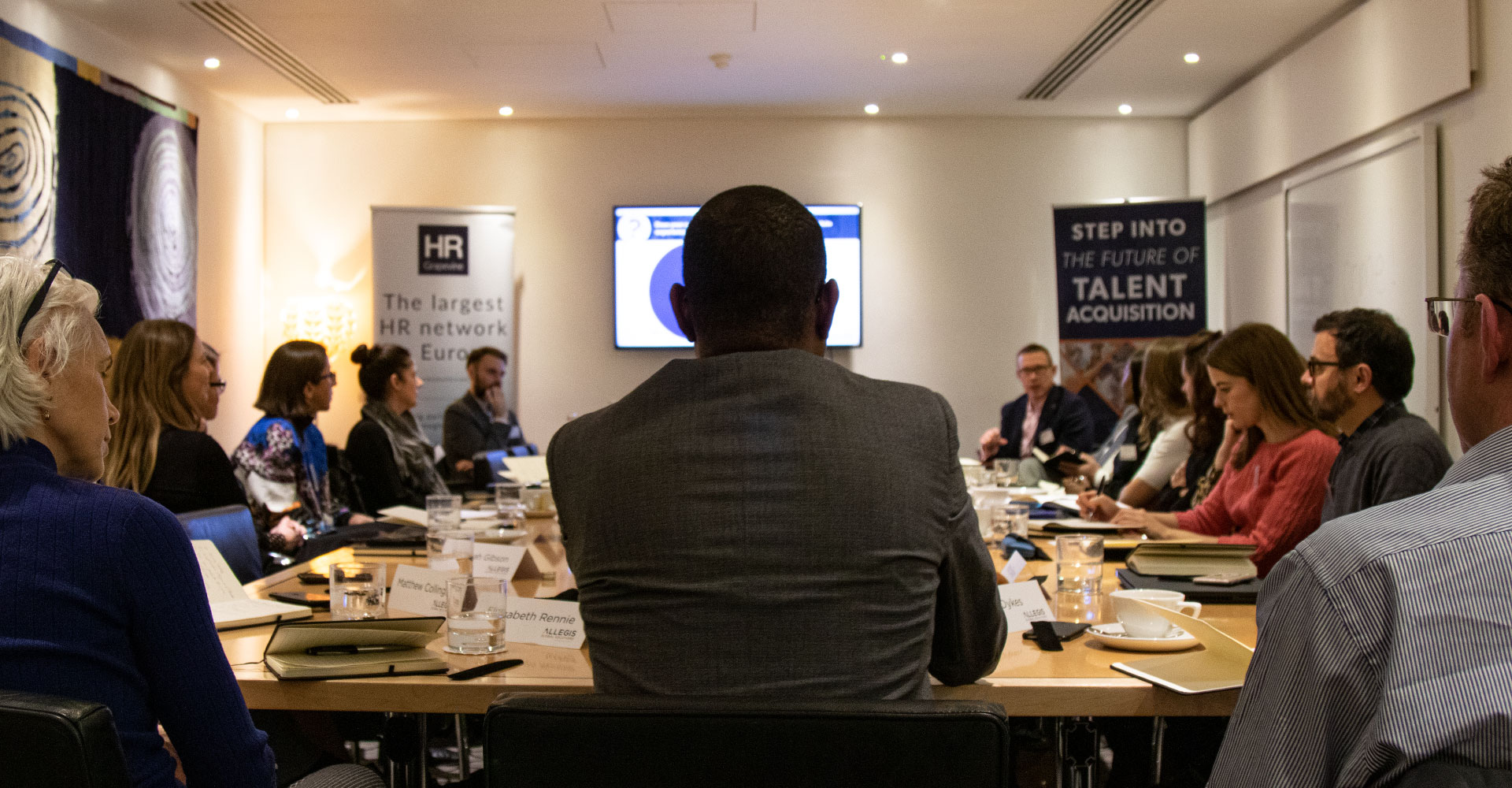 Chaired by Ewan Greig, Talent Solutions Analyst at AGS, the leaders discussed why and how they measure their talent acquisition process, how important managers are to the process, as well as the importance of branding, networking, data collection, vendor support and leadership.
Measuring talent acquisition
"In theory, running a project to capture hard metrics and experiential data across the hiring process before deciding on an improvement plan seems like common sense," explains Greig. His words were corroborated by the roundtable attendees, many of whom agreed that a good place to begin assessment would be whether talent acquisition strategy matches overall organisational strategy, before delving into measuring specific parts of the process.

However, whilst there was an agreement that collecting measurements after each stage of the hiring process would be useful – as well as surveying candidates on their hiring experience – there were questions of how often measurements should take place, with worries over whether too much measurement might cause candidate fatigue. Yet, consensus was that not all data needs to come from candidate feedback. In fact, high-performing talent acquisition functions could be collating data from the performance of everything from their career site to time-to-hire; it's whether they had the resource to do anything with this data afterwards that most seemed to worry about.
Managerial capability
A recurring theme to the roundtable discussion regarded the importance of line managers to the talent acquisition process. Many believed that talent acquisition should be a supporting function to many hiring processes, creating best practice documents and development programmes for managers to drive their own hiring. As the leaders in the room saw it, talent acquisition cannot carry out every aspect of hiring due to lack of resources; therefore, it makes sense the function should better align with managers to drive better hiring behaviours. The danger is, as one or two in the room stated, that if they do not clearly communicate and develop best practice hiring behaviours then poor managerial capability will hurt everything from the success of talent acquisition to employer branding and the bottom line.
Branding
One company who attended the roundtable laid out that it treats its employer branding – branding is a crucial part of talent acquisition, as found by an AGS and HR Grapevine research on The Shape of Talent Acquisition Across Europe – like a marketing function, who are tasked with selling the company and the role. Its talent acquisition is interested in 'selling' the candidate 'more than a job'.

Yet, there was a heated discussion over whether employer brand should be left to grow organically or push the brand to grow, what the best way to use social media to grow the brand is, how branding efforts turn into an actual hire and whether it is possible to know if branding engages with the right talent personas. Regardless, branding was seen as crucial. "The employer brand is the image and representation of what it's really like to work at an organisation. From a consumer and B2B perspective, having a compelling brand is critical to driving business success," explains Kristin Shulman, Global Director of Marketing and Brand at AGS.
So, where is the talent?
With so many considerations, it can be difficult to understand where the talent is, let alone how to acquire it. As one roundtable attendee says: "How can we hire for future talent if we don't know what it will be?" Of course, there are many ways to get around this, including understanding the organisational strategy, better understanding the shape of the market and incubating specific communities of talent with key talent personas within this. It's how they go about this that will be crucial.

Will organisations use technology, data and external partners to drive these necessary changes? Responses from within the room suggest a mixed approach but any change was considered good. As Jade Clifford, Executive Director and Head of RPO EMEA for AGS, explains: "Each change to improve talent acquisition will make an incrementally positive impact on the chances of success, where key differentiators will fundamentally link back to how easy, fast, and enjoyable the process is."
Download the full AGS report.
This article also featured in the February 2020 edition of HR Grapevine's magazine.