Staffing Companies - 4 tips for success: What are the benefits to suppliers of being in a MSP program?
May 17, 2017

By Erin Hough
Contingent Workforce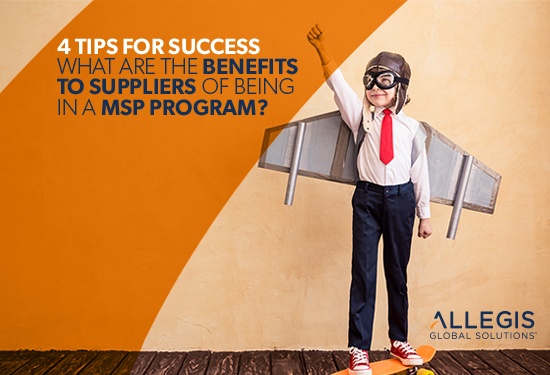 We all know that in any contingent workforce management program, suppliers are an integral part of the success of a managed services provider's (MSP's) efforts to improve the contingent hiring process.
Therefore, suppliers should experience numerous benefits when participating in a MSP program where the relationship between supplier and Program Management Office (PMO) is strong.
Benefits suppliers are able to see from their working relationship with a MSP include:
Suppliers no longer need to 'sell' in order to receive the business, their focus can change to delivery

Use of the Vendor Management System (VMS) tool which is the book of record for the program and the ability to run robust reporting and benchmarking

Exposure to more roles and departments within a client which promote more business opportunities
To unlock these benefits and experience success, at Allegis Global Solutions (AGS), we look for suppliers who strive to make themselves top performers. They can do this through leveraging some of our top tips.
Top 4 tips for success for suppliers working with a MSP
Follow the rules of engagement - Every MSP comes with policies and procedures the suppliers need to abide by. For example, it's important that suppliers are building strong relationships with the PMO of the MSP and directing all questions regarding requisitions, interviews, on-boarding candidates or active contractors to the PMO. To ensure success in this regard, it's important to understand the rules of engagement for each program, reference the supplier manual when in doubt and stay in close contact with the program office.

Have open communication with the PMO on market intelligence - Any MSP program works best when the two-way communication channel is utilized to its full potential. Having open, honest communication between the program office and suppliers will be beneficial to both parties. Understanding how a program office works, what they look for when shortlisting resumes and how they want to be communicated with are all important and vital to the supplier's success. As suppliers working in the industry every day, it is important to share market intelligence with the program office specific to the type of roles the program is recruiting for, the industry or MSP in general.

Stick to the functions and skill sets you know you can overachieve in and meet or exceed SLAs to become a top performer - All of our suppliers are measured on service level agreements (SLAs) within our programs which they must adhere to and our suppliers receive a scorecard on a quarterly basis to review their performance in each AGS program against the SLAs. The SLAs include a number of measurable metrics, including how long it takes suppliers to respond to requisitions, the quality of the candidate at submission and throughout the assignment, bill rate management and compliance. We find that successful suppliers are those who not only meet, but continually exceed SLAs, placing them among our top performers.

Foster collaborative partnerships with staffing specialists - Traditionally, suppliers want to get in front of hiring managers to present their own candidates. However, we encourage suppliers to think differently. As the staffing specialists from the MSP are leading intake calls with hiring managers, reviewing resumes and shortlisting candidates, they are also the people the suppliers need to be in front of. Becoming a trusted partner of the staffing specialist means suppliers are able to ask them specifics about what they are looking for in candidates and resumes, improving their chance of success. In return, the staffing specialist may rely on the supplier to share information about niche skill sets or current market conditions.
When suppliers become part of a contingent workforce program, there are many benefits that can be unlocked. By successfully harboring a strong working relationship with the PMO, following the rules of engagement within the program, exceeding SLAs and submitting quality candidates, suppliers can find themselves gaining more market share within programs.

To find out about how AGS works with our supply chains, read more about

building the best possible supplier community

.