Should you have an MSP or self-manage your contingent workforce?
January 04, 2017

By Bruce Morton
Contingent Workforce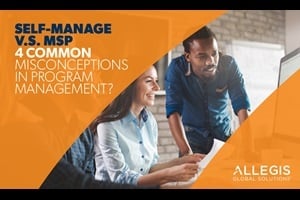 To engage an MSP or not to engage - that is the question.
Managing your contingent labor workforce must be a high priority if you wish to operate with peak efficiency and ensure you are continually able to fulfill your labor needs.
It therefore begs the question of whether it is better to manage this workforce yourself or to partner with a professional Managed Service Provider (MSP). Here at Allegis Global Solutions (AGS), we believe it is important for all organizations to consider this question and understand what it takes to manage a contingent workforce effectively.
6 ways to gauge readiness for managing your contingent workforce
If you believe you have what it takes to follow the self-management route, you must consider the factors that come into play when overseeing the contingent labor workforce. It is therefore imperative that, before any decision is made, you must be confident of having the necessary resources and know-how to excel in the following areas:
Program transformation and implementation - Having the required knowledge of best practice and critical contingent workforce guidance to ensure proper adoption of the program
Program delivery and operational excellence - Ensuring processes and sufficient resources are in place to provide consistency in operations and oversight to deliver long-term global operational excellence
Talent technology leadership - Understanding the importance of the vendor management system (VMS) and having the correct experience/technical expertise to manage system integrations, configuration, application, utilization and system updates
Supply base management - Allocating responsibility for your staffing supplier community, including supply-base assessment, performance management and metrics, supplier optimization, vetting and sourcing
Business intelligence and market trends - Ability to access program data and formulate comparative program analytics, as well as to evaluate the market to ensure access to the right talent
Mitigation of risk - Having processes and resources in place to determine the appropriate classification for your contingent workers. How do you ensure and track compliance for contingent workers and proactively mitigate the overall risk associated with the use of contingent labor?
Ultimately, to properly manage contingent labor force, organizations require significant expertise in each of these fields. It can therefore be both daunting and time-consuming to maintain these processes in-house, and this is where understanding the benefits of the MSP come into play.
So, what are the advantages of having an MSP?
When taking on dedicated support services from AGS for contingent labor workforce management, our clients can be assured they will receive support in both their day-to-day operations and in a range of strategic aspects involved in the long-term undertaking of this complex task.
The advantages of MSP support include:
A full spectrum of technological support to ensure up-to-date analysis of all aspects of contingent workforce management
Business intelligence offering labor market analyses, rate card consultation, talent mapping, and comparative analytics
Specialist oversight to conduct operational audits and monitor contractual obligations
Supplier assessment, optimization, sourcing, vetting and performance management
Liaison between VMS technology teams supporting system integrations, data governance and operational support
An operational excellence advisor to identify potential gaps in processes/performance
Thought leadership, strategic program support and innovation
Indeed, figures published in Ardent Partners 2016-17 State of Contingent Workforce Management Report showed that only half (53%) of best-in-class organizations are currently able to convert contingent labor data into usable intelligence. However, for organizations that leverage a professional MSP, these are benefits that are part-and-parcel of the service.
The measure of an effective MSP is therefore not simply in the cost and resource savings through the streamlining of these essential workforce management processes. It also comes in the form of reassurance that all of a company's contingent labor workforce needs are being met, and will continue to be met, both today and in the future.
John Thornton, Director of Human Capital Solutions, and Deana Svoboda, Director, Sales Support at AGS also contributed to this blog.