Self-manage vs. MSP: 4 common misconceptions in program management
May 12, 2017

By Erin Moore
Contingent Workforce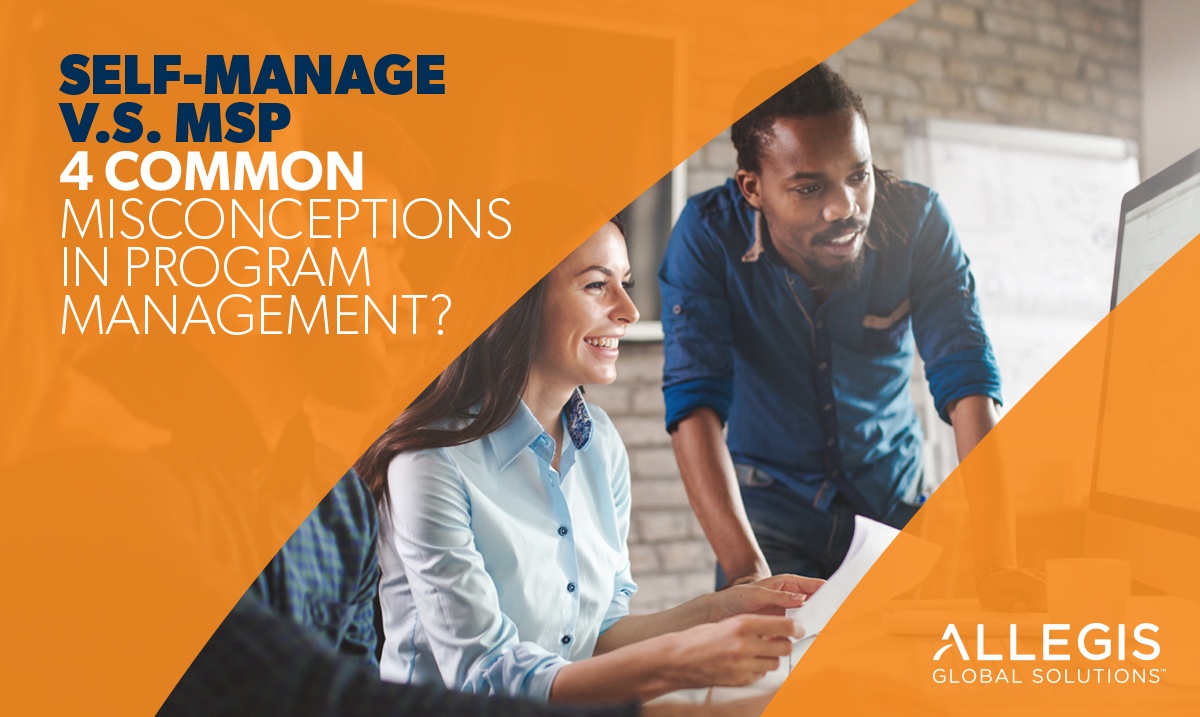 Contingent labor is a pressing concern for companies, more now than ever before, with project-based hiring and short-term specialist roles becoming increasingly common.

However, as contingent labor becomes more prominent in the workplace, so does the need for a discussion about how this hiring process is managed. As we discussed previously, company leaders must decide between managing themselves or outsourcing their contingent workforce management to a managed services provider (MSP).
Deciding between self-managing and MSP
The main challenge that comes with making the decision on whether to self-manage contingent labor or use an MSP is overcoming misconceptions present in the marketplace. One of the challenges we commonly see is when businesses place the people and technology together and let the whole program tick over, but there's so much more to an MSP than this.
We take a look at a few common misconceptions to help you decide if self-managing or an MSP is the right strategy for your business.
1. Technology is the solution
While technology is an important aspect of any contingent labor program, it's important to remember that software itself is not the entire solution. It still takes many people to facilitate the required activities rather than just relying on the software itself.
Technology alone cannot answer all the questions in hiring, standardize job titles, create talent pools, re-evaluate the positions of people coming off assignment to lower brain drain rates, or ensure program rates are in line with the goals and needs of the program. Essentially, technology is the enabler, but without the people working behind it, it cannot possibly be the entire solution.
2. Supplier bases handle themselves
The sheer scale of supplier numbers that exist within larger companies means that internal contingent workforce management is difficult to handle. For example, Fortune 500 companies can be dealing with hundreds of suppliers at one time, making it impossible to have just a few people and a piece of software running the show.
Software may be able to advise on when supplier contracts and insurance certificates, for example, are expiring. But to be able to act on such notifications, optimize spending and efficiently partner with and coach suppliers effectively, is an impossible ask without having an MSP on board.
Even when the supply base has been established and optimized, there is still a critical need for a strong supply base team, which ensures suppliers are engaged and mentored to drive a continuously improved service.
3. Data tells its own story
Technology will not give you the market data you need in the right way. It's almost like expecting an Excel spreadsheet to balance your check book; it helps, but it'll never give you all of the data required to hire successfully.
With an MSP from Allegis Global Solutions (AGS), businesses have access to workforce intelligence programs such as ACUMEN, which enables the monitoring of key performance indicators to set out a narrative with data, and provide insights that can be acted upon, enabling reasoned and logical decisions to be made.
Another key component of the AGS Business Intelligence solution is the market analytics team. This team helps the program analyze data and adjusts strategies accordingly.
4. We don't need expertise
Success in contingent hiring comes from realizing how many people it takes to make a program work beyond the tech side of things. It's not just the on-site person you see every day, but the range of expertise that exists behind them.
When looking for a program that goes a step further than a spreadsheet, companies should be prepared to bring in a supplier that can provide this. Success comes from being able to visualize contingent hiring goals, and aligning these with a provider who can help make them a reality.
Case Study: How an AGS MSP delivers more effective contingent workforce management
When an airline company came to us after their incumbent vendor management system (VMS) and MSP provider went bankrupt, they were self-managing their contingent labor, using spreadsheets to manually get the job done.
Our client was looking for an MSP provider that was technology neutral and provided the expertise that would allow for improved visibility, technological improvements, and compliance in IT contingent hiring.
Upon being awarded the contract, AGS quickly implemented an MSP program that showed the value of working with a provider. The positive work included:
The implementation of a supplier optimization program post-merger, which optimized more than 20 suppliers and saved the company over $1.5 million in 2015

Use of data to drive cost savings with regard to rate cards. Effective management meant suppliers coming in at 10 percent below rate card value

Incentives and changes to workplace rules, bringing significant reductions in time to fill results, which fell 26 percent from the self-managed program

To learn more about how an AGS MSP solution can improve contingent hiring results, visit our website to learn about how we work with you to

implement an MSP

effectively.