Putting the 'Total' in Total Talent Management
October 04, 2018

By Bruce Morton
Talent Acquisition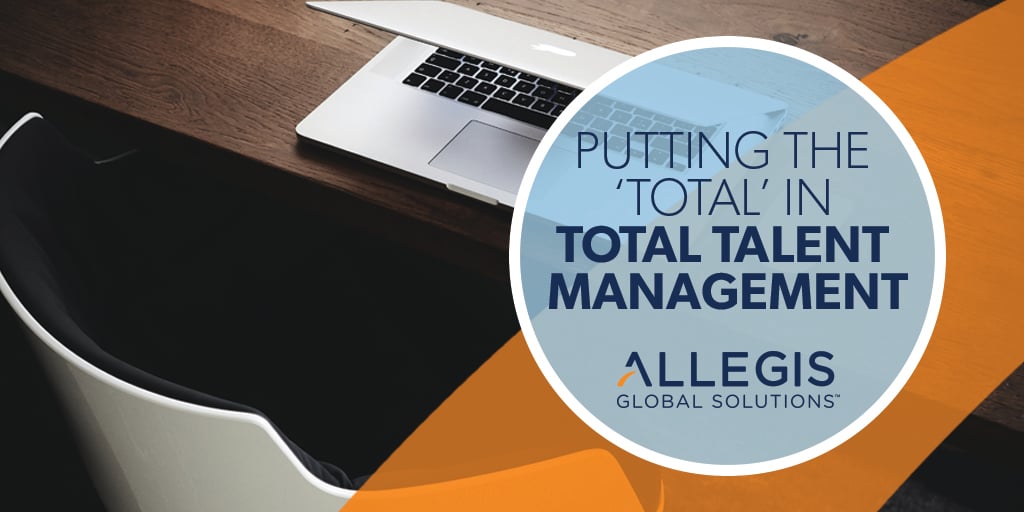 We all know the biggest disruptors of the last ten years were; globalization, demographic changes and speed of technological advancements but what's next?
The globalization movement is summiting, and many maturing enterprise service buyers and providers are struggling to find and add incremental value from what has become a traditional delivery model, such as accessing more meaningful data, deploying true end-to-end process provision, and driving down operating costs to a minimum.
Add to this the ongoing challenge of implementing and maximizing globally accessible technology platforms based on common standards enabled by the cloud and you start to understand that we need a shift in thinking.
In the transitioning world economy, that some call the 'As-a-Service Economy' everything that can become a platform will become a platform. The opportunity to develop a new way of thinking about how 'work' works and to move from workforce planning (that not many companies actually succeeded in) to workforce design is where we see organizations creating the next competitive advantage.
Hiring planning and demand forecasting have traditionally been separated into full-time employees managed by Human Resources, and contingent workers managed by Procurement. This silo-based approach leaves companies unprepared for the impending skill shortages and changing dynamics of today's marketplace. Attracting a quality workforce increasingly requires an approach to hiring that reflects a more integrated view of talent and informs decision-making about the right blend of "build versus buy" skills in a just in time marketplace.
Put simply, we believe this means our industry and the procurement profession needs to become talent and work advisors, as in 'don't just give me a job requisition to fill, let's talk about the work that needs to be done, and let's agree on the very best way to get that done, based on empirical data and analysis'.
We are on this journey of disruption and the starting point is what we are calling our QUANTUM Strategy. We are building a platform that sits across the enterprise to capture all work requests and has a channel agnostic approach to finding the right talent to complete the work, regardless of where that talent resides.
For example; the right priority may be to look internally first (that means having up to date, meaningful data on your employees, including availability), then look at those people currently working inside your company through a non-employee channel, as a temp, contractor, consultant or through a Statement of Work contract, then tap into your ATS and talent communities, through your in-house team or RPO Partner, or staffing agency supply base – imagine doing all of that with a click of a button through a Talent Portal!
The Roadmap to achieve this successfully includes:
Talent advisory skill set that acts like a quantity surveyor for the organization and provides the insight and guidance into the most effective and efficient to get each piece of work done.
The ability to capture the right data points to be able to measure the success of each piece of work and allow the technology to learn from every activity to increase the accuracy of the predictive analysis.
Technology that takes unstructured data from multiple sources in multiple formats and, through machine learning, creates structured data that can be compared side by side.
The ability to stop the 'squeezing of the balloon' and make sure the right work is being done by the right type of worker.
The ability to engage and contract with the 'talent' in the way the talent wants to be engaged.
The motivation and desire to turn your company into a 'Talent Platform' that enables, motivates, rewards and allows talent to do their very best work while at your company better than your competitors.
Benefits of a total talent approach:
Focusing on talent as a whole rather than its constituent parts gives the benefit of experienced resources applying advanced technologies to the entire talent spectrum as well as knowledge of the technologies best suited to manage each. Such knowledge shapes an integrated approach, which in turn provides the following benefits:
Efficiencies through unified processes
Improved analytics and visibility with advanced technologies
Better workforce planning and demand management
Broader talent reach with branding and social media
Greater workforce flexibility
Best practices for the whole workforce
Continuous improvement and value generation
Action Plan - Making the Case for Total Talent Management
To create a robust business case for a total talent approach it is important to undertake the following steps:
Begin with workforce design - The essential first step for an organisation is to define the needs and gaps in its workforce planning and design capability. Once this is done, it may be clear that there is a need to acquire specific skills, or perhaps more talent is required to achieve your goals and objectives.
Build a comprehensive fact base across existing operations, covering both centralised and decentralised spend
Understand the dependency between Procurement, HR and other business units
Identify opportunities for value beyond the immediate cost reduction related to business objectives.
Align and create balance between the objectives of cost versus quality and short-term benefits versus longer-term payback periods.
Build diagnostic tools and framework methodologies to help articulate the value of an integrated approach.