6 Reasons Every Employer Should Invest in MSP/SOW.
August 23, 2018

By Steve Tolen
Contingent Workforce
Australia is a unique market for talent. If you think that highly skilled or experienced candidates are at a premium in, say, Silicon Valley, just know that you could really have it worse. From Sydney to the Swan River, from the Sunshine Coast to Saint Kilda - and everywhere in between - the Australian labour market has become one of the world's toughest places to recruit, hire and retain both permanent and contingency workers.
Let's break down the numbers: the World Bank estimates the total population of Australia in 2016 (the most recent year for which official figures were available) at 24.13 million. The entire New York metropolitan area, by contrast, had a 2010 population of 20.3 million (according to the US Census); Los Angeles-Long Beach-Anaheim came in second, with 13.4 million residents in 2017.
That is to say, the entire country of Australia has a lower population than the combined total of the two largest metropolitan areas in the United States (and by quite a significant margin, at that). Similarly, Australia is estimated to have had a total workforce of 10.6 million in 2017; this is a fractional amount of the total talent available in the US market, which boasted a whopping 125 million workforce participants that same year.
While many global businesses struggle with scale when it comes to hiring, one can argue that scarcity is the more complex business challenge talent organisations have overcome. And if there's one thing about the increasingly cutthroat competition for top talent in Australia, it's that scarcity.
This growing skills gap has becoming endemic and entrenched throughout the market, and it has forced Australian based businesses to get creative when it comes to tackling their total talent challenges. For services and procurement leadership, knowing where to start, and how to maximise the return on organisations' recruiting related investment, can often seem daunting.
That's where AGS comes in.

In a region where there are a lot of questions, but relatively little answers, direction or even experience navigating the complexities of total talent, Allegis Global Solutions has quickly established itself not just as another MSP or RPO vendor.
Instead, AGS has emerged as an essential resource for thought leadership, strategy, best practices and, most importantly, creating an engaged community of practice for the burgeoning, rapidly maturing and constantly evolving Australian MSP market. Of course, a critical component in our market leadership is creating meaningful conversations and connections, too.
This is why AGS and SimPPLY, a leading procurement services consulting firm in Australia, recently partnered to cohost a series of leadership luncheons specifically designed to bring together key stakeholders, decision makers and experts from across the market for an afternoon of professional development, personal networking and procurement best practices.
These two events were held at the Bottega Restaurant in Melbourne, Victoria (described as "elegant," "sophisticated" and "warm and inviting," with a world class wine list) and at the STUDIO at Sydney Tower, the highest event space in New South Wales, offering "breathtaking views" of such Australian iconoclasts as the Harbour Bridge, Hyde Park and the Rocks.
These were fittingly inspiring venues for the latest in our series of interactive luncheons focused specifically on helping employers solve some of their biggest MSP and SOW challenges. Leading things off was our own Paul Gartland, Executive Director for Service Procurement at AGS; with over 20 years of experience in staffing and procurement, Paul consults with companies to determine whether or not there are better solutions to how they are currently managing their Services Procurement Business.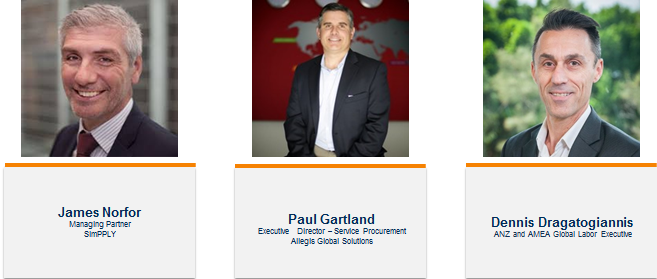 This has given him wide exposure to what's working, what's not and what's really important for MSP and procurement leaders at organisations in a variety of industries, functions and geographies across the Australian market.
Joining Paul was James Norfor, Managing Partner and founding member of SimPPLY, where he specialises in organisational transformation, procurement technology deployment, procurement strategy development and implementation as well as major change management initiatives to improve procurement performance across a wide variety of private and public sector companies across industries throughout both the ANZ region and internationally.
These two experienced services procurement leaders partnered to discuss various strategies by which organisations of all sizes and across all industries can realize real bottom line savings on contingent labour spend while maximising the productivity and value of consultants and non-traditional talent by utilising a MSP as part of the services procurement process.
They discussed best practices for selecting, implementing and designing MSP solutions, how to incorporate statements of work (SOWs) into organisational procurement processes and provided deep data & use cases to highlight the real impact these solutions are really making at real organisations throughout the ANZ market (and beyond).
Needless to say, when it comes to achieving better business outcomes and improved cost savings, to implementing a MSP, the math always adds up. Turns out, for procurement professionals and leaders tasked with managing total talent, MSP selection and implementation is one opportunity cost no company can afford - in Australia, and otherwise.
Underscoring this point, Paul and James were joined by Dennis Dragatogiannis, ANZ and AMEA Global labour Executive at DXC Technology, one of the world's largest IT and consulting services businesses in the world - and the key stakeholder at one of AGS' most sophisticated and cutting edge MSP clients. Dennis also serves as the APAC and Japan Global Procurement GM at HPE.
During this interactive Q&A session, Dennis offered a firsthand account on what going through a MSP implementation was really like as an actual client. He revealed how to develop and drive procurement strategies across a broad stakeholder community in diverse organisations and cultures; how leveraging an MSP has helped DXC deliver high achieving results to business operating profit and total cost of ownership (TCO) as well as high achieving, results based teams and a strong business ambassador brand in the Australian market.
While they may be the two most populous cities in Australia, the fact is Sydney and Melbourne provided the perfect locations for bringing together the best and brightest procurement leaders from some of the biggest employers and brands in Australia together in one place, a rare opportunity for interpersonal interaction in a MSP market that's relatively mature and extremely highly productive.
The events represented something of a microcosm for the increasingly diverse, increasingly sophisticated Australian MSP market. Each event drew 70 attendees from across industries, with disproportionate attendance from the banking, IT, professional services and energy sectors, respectively.
Similarly, these companies were all at different stages in contingent workforce management; while many had fully deployed MSP solutions in place as well as the processes and procedures to properly manage their contingent workforce, still others were just beginning their quest to build a more efficient, effective total talent function. This made it the ideal audience for sharing ideas, personal experiences, professional opinions and lessons learned, both in success and in failure.
Throughout the event, much of the discussion was an open conversation on the talent management solutions landscape, where services procurement (SOW) fits in and what it has to offer, along with the benefits, direct and indirect, realised by organisations who have successfully adopted and implemented a MSP/SOW program.
6 Reasons Every Employer Should Invest in MSP/SOW.
While the leadership luncheons were designed to be as interactive as possible, with the agenda determined as much by attendee conversation as presenter content, there seemed to be a few themes that continually reoccurred throughout these two sessions.
Here are some of the key takeaways:

Greater visibility - Full visibility into SOW spend allowing for ongoing improvements.

Freed time and resources - Outsourcing full responsibly for SOW allows procurement to focus time and resources on other priorities.

Robust governance - AGS is able to establish a strong governance framework, ensuring compliance and reduced risk.

Enhanced decision making - Procurement is able to make and justify decisions based on real data.

Shorter cycle times - Improved efficiency means projects are completed faster.

Cost savings - AGS' experience, expertise and scalability in the SOW market allows for a high-quality service to be implemented.
While these lunches were an unqualified success (at least according to our most important constituent, the procurement leaders in attendance), they represent only a fractional amount of what AGS is doing to not only build and enable its existing MSP client base, but also, to educate and influence the direction of this mission critical, yet often overlooked, business function in markets all around the world.
A
GS wants to make MSP and SOW easier for everyone, whether or not those procurement leaders happen to be clients. See, we believe that the key to winning is by adding value and gaining as much exposure and experience as possible; the best way to sell, after all, is by being the smartest person in the room.
And we don't mean to brag, but the continuous, in depth and profound thought leadership conversations AGS facilitated at these two recent lunches provided an unmatched level of personal engagement, and professional passion, that you won't find from many other companies.
That's because the more we learn from actual end users and procurement leaders, the better we can actually deliver real solutions that solve real problems today while anticipating what's new and what's next tomorrow.
They say the only way to create the future is to invent it, and that's why AGS is trying to redefine what's possible when it comes to MSP/SOW and recreating what consultant value really means with every engagement we take on, and with each of those engagements, we gain experience and expertise so we can continue to do what's best for our customers, our candidates and the contingent workforce industry, all around the world, ANZAC or otherwise.
Yeah, we know that sounds like hyperbole. But turns out, analysts and industry groups have been singing our praises, too. In 2018, AGS has been named a Leader i
n Everest Group's Managed Service Provider (MSP) Landscape
with PEAK Matrix TM Assessment for Asia Pacific in recognition of both our market momentum as well as the significant value and insight to MSP customers.
If you couldn't make it to Sydney or Melbourne, no worries, we have a packed calendar of interactive events scheduled all over the world. So head on over to the Allegis Global Solutions website for a full list of events in your region.
We'd love to meet up and talk shop someday soon.
Because no matter where in the world of work you work, we've got the MSP/SOW solution to make that work, work better.
AGS will be hosting our next thought leadership luncheon on Tuesday, 13 September in Singapore at the Coriander Leaf Restaurant. To get more details or to register, click here.