Key challenges to address in measuring diversity for contingent hiring
May 15, 2017

By Rob Marley
Inclusion and Diversity, Contingent Workforce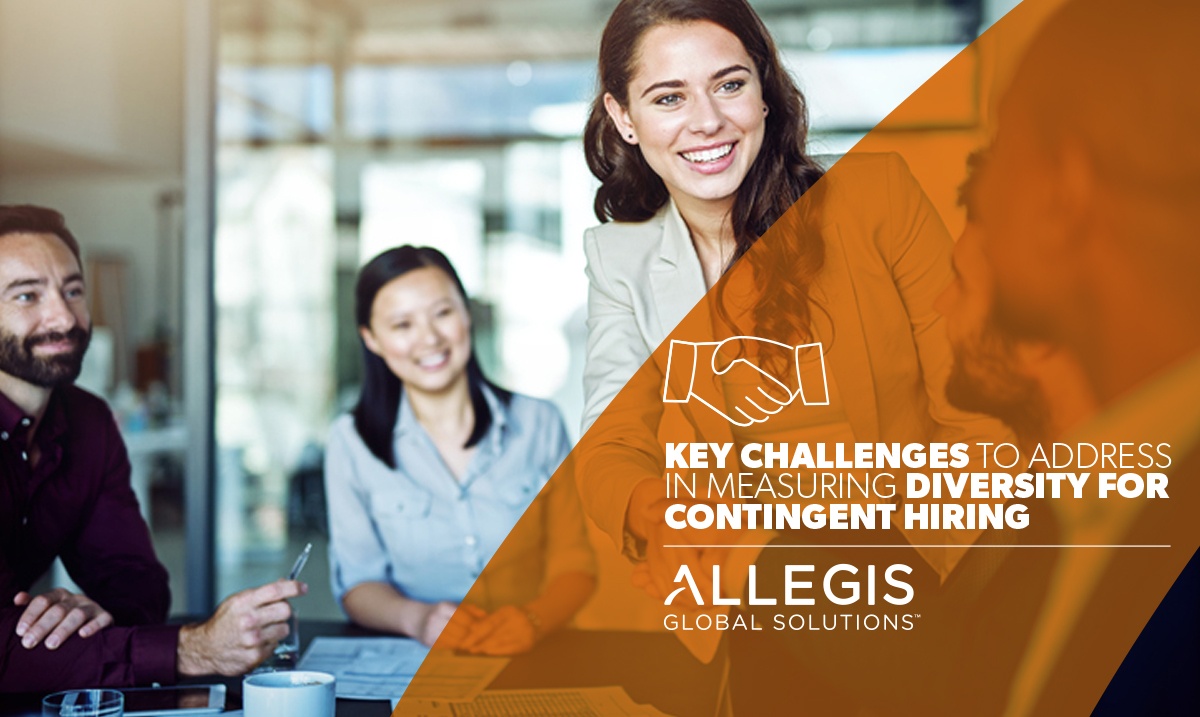 A major trend for businesses is a focus on diversity hiring. More than ever before, companies want to ensure they are hiring from a diverse and inclusive talent pool of skilled individuals.
In recent years, this is a trend that has become more prevalent for the contingent workforce. A growing number of businesses are now keen to align their contingent hiring strategies with their full-time tactics.
With this trend, clients are turning towards their managed services provider (MSP) partners for help in tracking and improving their contingent hiring diversity efforts.
4 challenges faced in aligning contingent hiring with full-time diversity efforts
Although companies increasingly seek the assistance of their MSP partner to make diversity a priority in their contingent hiring, there are a number of challenges they can face, including:
The volume of people working in the contingent market. With almost half of all workers employed in the contingent landscape, the scale of any diversity project is going to have to take this into account.

A history of not tracking contingent diversity stands in the way of making a difference. Even if a company, for example, intends to improve its female contingent hiring, hiring managers likely don't know the current landscape, as it's not something they've tracked previously, making it difficult to identify a starting point.

It's not all about functionality; there are legal issues in terms of data protection restrictions, which need to be considered before a plan is laid out.

The challenge of who takes responsibility for the data collection and collation that would formulate a starting point for diversifying a strategy.
How an effective MSP can make contingent diversity a reality
While there are some challenges to overcome with regards to tracking and collecting data around contingent hiring diversity, there are ways to make it a reality through the right MSP solution.
In 2016, a home appliance client came to Allegis Global Solutions (AGS) with a strategy that involved improving diversity in their managed services provider (MSP) solution. Even though we were faced with a number of challenges, we successfully began to track data and implement a plan for making diversity in their contingent landscape a reality.
Working in partnership with the client and the vendor management system (VMS) partner, we were able to capture diversity information for candidates when they submitted their application to job postings. This information came in the form of a range of mandatory drop-down responses at the log-in stage, with the option for candidates to input, 'I choose not to answer'.
The in-depth and wide-ranging data that was collected meant that when it came time to carrying out our annual meeting, the reporting was described as both "robust" and "meaningful" in terms of uncovering levels of diversity within the company's contingent hiring program.
Indeed, the application of this process proved such a success that the client now formally uses this contract headcount information when filling full-time internal positions.

To learn more about what benefits your company can find from working with AGS to manage your contingent workforce, read our whitepaper on

developing a business case for MSP

.