Global Employment Trends: How Hiring Models Are Evolving.
January 08, 2019

By Matt Charney
Industry Trends
Given the talent shortages across North America, and the EMEA and APAC regions, companies are feeling the pressure to improve their ability to secure the workforce they need, and employers will continue to engage talent solutions partners to better acquire and manage talent across all work models.
Talent acquisition solutions providers offer several approaches to help companies address the challenges, with solutions ranging from staffing services to managed services provider (MSP) solutions, recruitment process outsourcing (RPO), and integrated talent solutions.
The demand for these solutions has grown, and will continue to expand, with global and regional implications.
The Sun Never Sets on Staffing Solutions
The market for staffing solutions is expanding and maturing as employers look to staffing providers to tap into the non-permanent workforce and address talent needs that vary over time.
The staffing industry generated an estimated global revenue of $461 billion in 2017, with the largest portion of that activity taking place in the U.S., Japan, and in the U.K.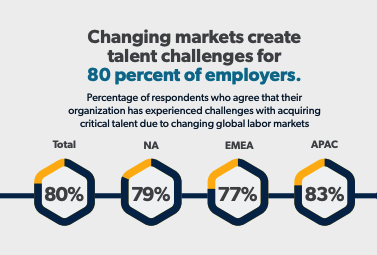 Steady growth in demand will continue, with a projected seven percent rise in revenue in 2018, and notable strength in parts of Europe and APAC, according to Staffing Industry Analysts (SIA).
There are two main contributors to the demand for staffing solutions. First, the services are increasingly being adopted in markets where they have not been as widely accepted in the past.
Notably, as the economies in China and India continue to develop, staffing is being used as a solution for addressing talent shortages in those countries. The other contributor to staffing growth is a changing regulatory landscape in EMEA.
Germany is tightening its labor policies, and Italy is currently undergoing employment policy reform. Both countries are expected to experience growth in staffing, with Italy growing by a projected 16 percent and Germany by seven percent.
France is also increasingly using the staffing model as the practice becomes more accepted and talent scarcity creates more demand for solutions beyond traditional permanent employee models.
MSP In Developing Markets.
For companies committed to a more strategic approach to managing their talent, MSP solutions provide an effective resource. The MSP manages all staffing spend by an enterprise under a single model for governance. T
his is important because without the MSP model, multiple hiring managers in multiple locations use different staffing agencies to meet their needs, often paying widely differing rates for the same talent and delivering an inconsistent candidate experience for the worker.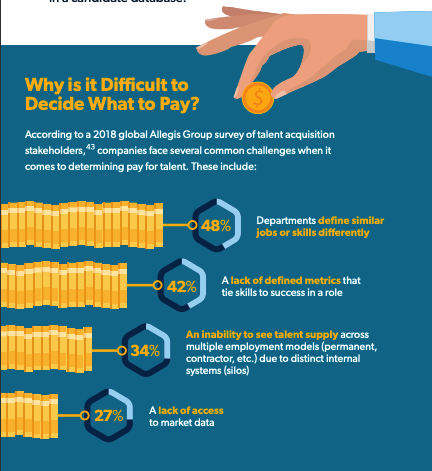 The MSP enables consistency in engagement, quality, and cost, typically yielding significant savings and a more strategic talent acquisition capability for the employer.
The MSP market size has continued to grow in recent years, with studies collecting data from prior-year records on revenue, growth trends, and areas of development.
Recent estimates from SIA tracked an 11 percent growth in 2016, slowing slightly from an earlier pace in 13 percent. The U.S., the U.K., and Australia represent the largest users of MSP, but a significant portion (25 percent) of MSPs covers multiple geographic regions.
Today, the growth trend is likely to continue although the rate of expansion remains to be seen. Key industries utilizing MSP are financial services, IT, and healthcare.
The Rise of Recruitment Process Outsourcing, Explained.
RPO solutions give companies the advantage of a dedicated talent acquisition resource that leverages technology and applies best practices that may be difficult or impractical to develop and implement in-house.
In addition, companies see value in the ability of an RPO solution to scale to meet changing talent demand, and, in more mature solutions, to provide strategic guidance and shared ownership of outcomes.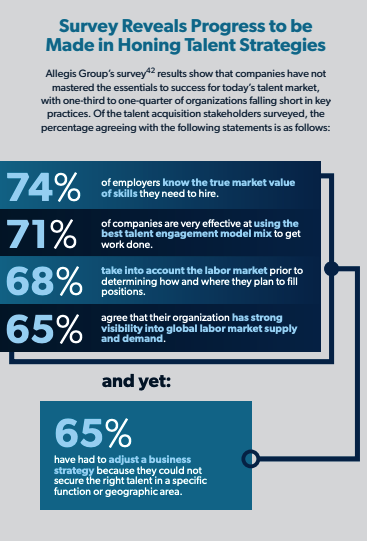 Global RPO value has been estimated at roughly $5 billion in 2017 and is expected to grow at an average rate of 14.4 percent through 2025.
Moving forward, the growth of RPO will hinge on the leading providers and their global capabilities, as well as their ability to serve niche markets and secure the recruiting talent to apply best practices in a highly competitive environment.
No matter where in the world of work you happen to work, RPO and MSP solutions work better than ever before. The way we hire is changing. That's why it's so imperative to ensure that your processes can keep up with your people.
If that sounds hard, that's because it is. But don't worry. With the right partner, you can hire the right talent at the right time, all the time. Which is why it's time to take another look at MSP and RPO solutions.
Editor's Note: The following is an excerpt from Allegis Group's research report, "Global Workforce Trends." Click here to download your free copy today.