From a contingent workforce to the gig economy: How employment is shifting
June 09, 2017

By Bruce Morton
Contingent Workforce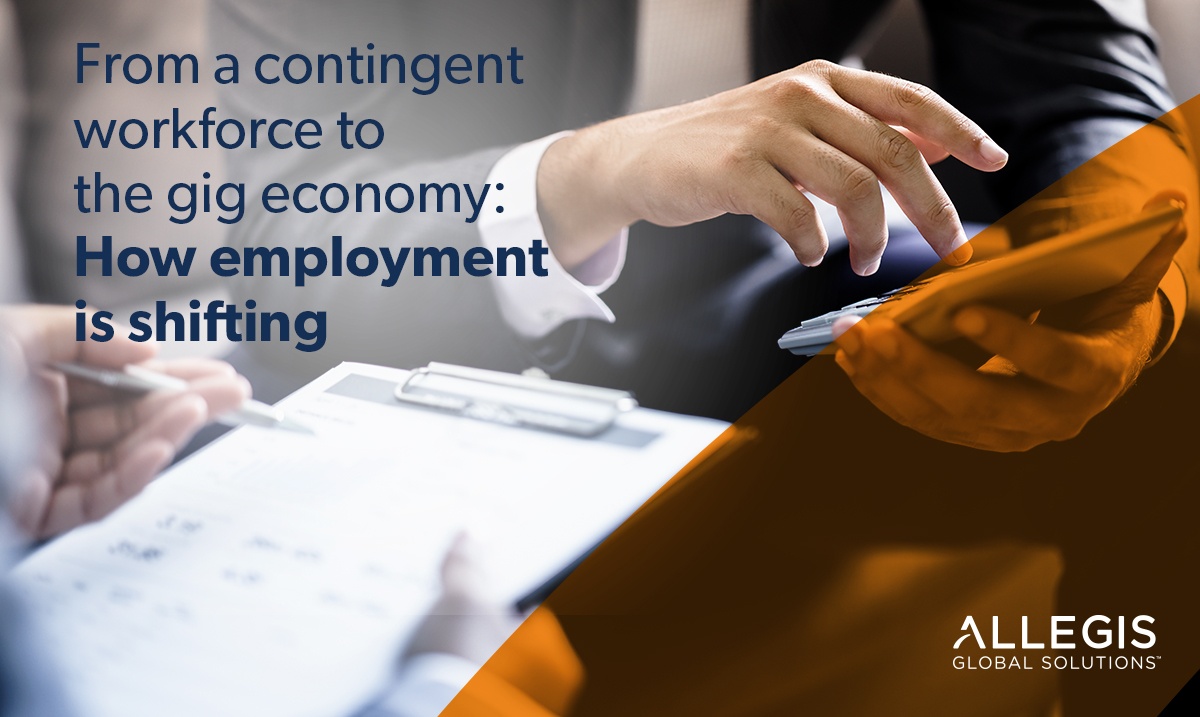 The staffing landscape has shifted in recent years, with a growing trend for self-employment in response to the pressures of a changing labor market and a volatile economic climate.
We've seen more people enter the workforce through what has become known as the 'gig economy,' with businesses reacting to this change by increasingly looking for ways to gain benefits in this growth in contingent labor.
Contingent hiring and the gig economy - what's the difference?
The gig economy is broadly defined as an online marketplace for services offered by freelance or self-employed individuals, and there has been a rapid growth in this type of employment since the turn of the decade. Indeed, figures published by Upwork place the number of freelance workers across the U.S. at more than 53 million.
At the same time, growth in the use of contingent labor among U.S. firms means that contingent workers in 2017 now make up an impressive 45 percent of the American workforce.
Overall, contingent labor can be defined as individuals operating on a non-permanent basis for your business. This could be independent professionals, temporary contract workers, independent contractors or consultants. The benefits of this approach to talent management include enhanced flexibility and cost-effectiveness for the employer.
It is therefore unsurprising that contingent hiring continues to increase throughout the country.
Contingent hiring is changing the landscape
In late 2016, research published by Ernst & Young (EY) revealed a growing appetite among business leaders to embrace the benefits of a more flexible approach to staffing that gig economy employees and contingent hires can bring.
Indeed, based on the responses of U.S. firms with more than 100,000 employees, the results showed how almost half (49 percent) of the nation's biggest businesses have invested in taking on more contingent labor during the last five years. At the same time, 40 percent of respondents to the study expect their use of contingent labor will continue to rise in the years ahead.
Tony Steadman, principal in EY's People Advisory Services, stated: "The survey responses suggest that organizations are welcoming gig workers as a part of their growth and change management strategies."
Why is this change important?
From the point of view of the employer, the upturn in contingent hiring and the growing use of gig economy workers has delivered some significant benefits in recent years and continues to do so. EY describes these as:
Aid in controlling labor costs
Providing access to new expertise and skills
Ability to rapidly respond to changes in demand for labor
Helping to overcome resistance to change within a business
As a result, businesses that wish to develop a more agile talent management strategy and position themselves for future growth are adopting a more adaptable and fluid approach to recruitment, with contingent hiring at it its core.

You can find out more about the rise of the contingent workforce and the benefits your business could reap in the process by reading our whitepaper, 'AI and automation: The future of recruitment and talent management.'