Celebrating Pride and Committing to Action: Inclusion & Diversity at AGS
July 19, 2019

By Elizabeth Maldonado
Inclusion and Diversity
We are committed to fostering inclusion in the workplace at AGS. This year, AGS President Chad Lane joined more than 700 CEOs and Presidents as part of the CEO Action for Diversity and Inclusion. AGS is one of more than 600 companies in 85 industries that have pledged the following three core commitments:
Continue to cultivate workplaces that support open dialogue on complex, and sometimes difficult, conversations about diversity and inclusion.
Implement and expand unconscious bias education.
Share best known- and unsuccessful-actions.
The CEO Action for Diversity & Inclusion™ is the largest CEO-driven business commitment to advance diversity and inclusion in the workplace. It outlines a specific set of actions companies will take to cultivate a trusting environment where all ideas are welcomed, and employees feel comfortable and empowered to discuss diversity and inclusion. 00:12
"Taking the CEO pledge for Diversity & Inclusion puts AGS at the forefront of these efforts around the globe while reaffirming our commitment to driving innovation and providing unique value to our customers. We're dedicated to building an inclusive environment where everyone is empowered to seize opportunities, these initiatives will help us accomplish these goals."

— Chad Lane, President, Allegis Global Solutions
You can join Chad and the team at AGS by taking the "I Act On Pledge" to check bias, to speak up for others and to show up for all.

Throughout the month of June, AGS employees across the globe took part in celebrations together for Pride Month and have shared here what Pride means to them.
"I have celebrated Pride with my friends and coworkers in the past 4-5 years. As a member of the LGBTI community and the I&D Council leader of AGS China, June is always special. AGS employees are participating in the Pride Parade in different countries, and our clients also celebrate along with us."

— Yu Lin, Recruitment Operations Director of APAC, Allegis Global Solutions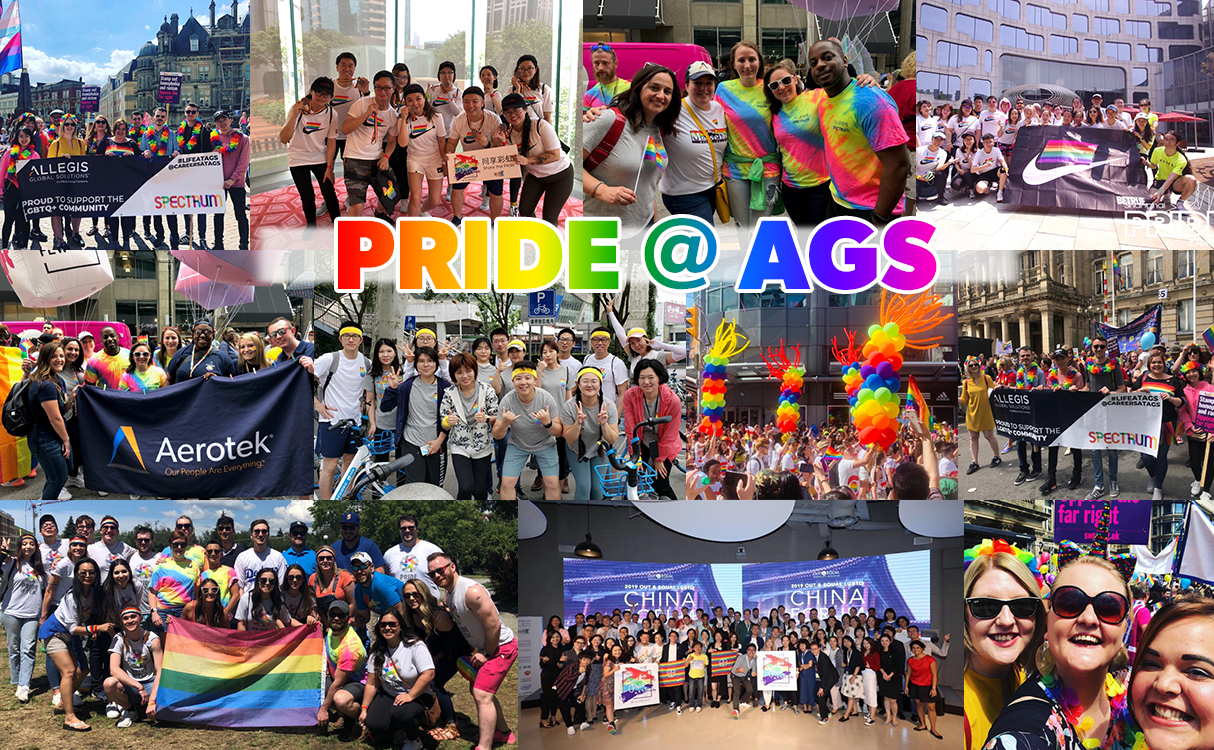 "As an ally, I believe it is important to support equal civil rights, gender equality and LGBTQ social movements. I challenge homophobia, biphobia, and transphobia and I believe that LGBTQ people still face discrimination today, despite the progress that has been made in LGBTQ rights. The gay rights movement has won numberous legislative victories in the UK in recent years: the right to marry, to adopt, to be protected against a hate crime — and these are all incredible achievements. But while legislation can be passed in a matter of days, the underlying attitude will take much longer to dissipate. The fact is, in some countries, it's still illegal to be gay and I am not okay with that."

— Cat Halliwell, Executive Director of EMEA, Allegis Global Solutions
AGS employees participated in Pride Month events in Shanghai, Seattle, Toronto, Birmingham, Detroit, New York, St. Louis, and other locations all over the world. Our commitment to Inclusion & Diversity goes beyond the month of June and beyond a pledge into everyday action by fostering teams who are supported in working to build a more diverse and inclusive workplace.
"The beauty of standing up for your rights is others see you standing and stand up as well"
– Cassandra Duffy, Author