Agile talent management can be improved with contingent labor
May 26, 2017

By Bruce Morton
Contingent Workforce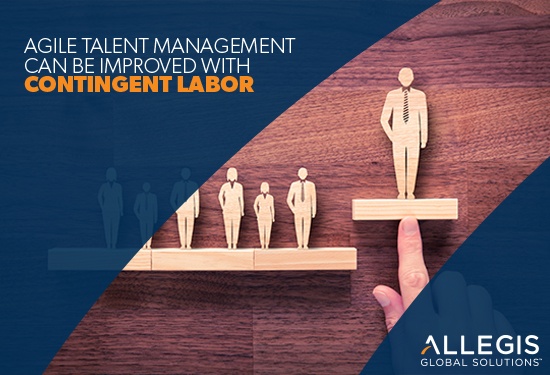 Pressure to attract and retain top talent has never been greater for businesses than it is today. Companies need to ensure they are doing all they can to bring in talented individuals who can make a difference to their business.
The uptake of contingent labor could therefore provide a welcome opportunity for businesses to enhance their skills in key areas, but how can contingent hiring keep up with the demands of a changing talent landscape?
Why agility matters for improved talent management
Published by Fieldglass in partnership with Ardent Partners, the State of Contingent Workforce Management 2016/17 report highlights the main issues faced by businesses in effectively managing their talent at present. These factors include:
Transforming executive thinking - Understanding whether traditional hiring practices (permanent full-time staff) are the best way to adapt to the rise in 'gig economy' staffing and the wealth of talent this change can provide

Embracing on-demand staffing - Embracing social networks, online talent platforms and other new avenues of recruitment. Utilizing new resources to increase the depth/quality of the talent supply chain

Improving the 'talent experience' - Addressing how businesses engage with potential recruits and understanding how the real experience of contingent workers (interaction, support, management, exposure to business culture, etc.) can influence overall hiring results in the future
Adopting an agile approach to talent management is therefore key to addressing these core issues. As such, many organizations are developing a new approach to recruitment that incorporates the key concepts of agile talent management:
Enhanced speed of talent engagement and onboarding (61 percent of firms see this as a priority)

Collaboration between internal functions - HR/procurement (56 percent)

Levels of compliance to non-contingent staff (51 percent)

Seamless access to new and traditional talent sources (46 percent)
Understanding how to achieve these improvements is essential to ensuring organizations remain at the forefront of attracting top talent. Overall, the Fieldglass research showed that 61 percent of businesses are now committed to formalizing a company-wide 'agile talent' acquisition strategy.
This comes at a time when businesses are increasingly turning to contingent labor to help offset shortages in talent in key areas. Indeed, research published by Deloitte has revealed how many large organizations are now dedicating upwards of 30 percent of procurement spending on contingent workers.
Enlisting technology to enhance contingent hiring
New technologies are helping in the development of these agile talent strategies, with organizations that embrace the use of contingent staffing able to react more swiftly to changes in the wider talent market. They are also able to address many of the concerns that are listed above.
Vendor management systems (VMS) can be used to streamline the processing of all aspects of recruitment, from the screening of applicants to engagement with candidates throughout the recruiting process. These systems help to bring together the myriad functions of HR and recruitment into a single place and ensure all areas of a business are 'in the loop' when hiring new contingent workers.
The development of new data analysis tools is also helping businesses to focus more closely on key staffing metrics and highlighting areas where further improvement can be made. At Allegis Global Solutions, we've developed ACUMEN - our interactive enterprise workforce intelligence platform - which is designed to enable clients, suppliers and program leaders to more effectively monitor key performance indicators.
From time-to-fill to contingent worker satisfaction, delving into this key data is helping businesses to make clearer and more considered decisions on how to manage their flow of talent.

You can find out more about the wealth of technological innovation that we are pursuing to better support our clients in today's fast-paced world of business by reading our whitepaper '

Changing Landscape of the Technology Environment

.

'