5 Ways Employers Can Compete Against Unemployment Benefits
July 30, 2020

By Erin Hough
Contingent Workforce
Many organizations have discovered that a recent spike in unemployment does not translate to cheaper or more available labor. Particularly in light industrial skill sets, those organizations face obstacles that may actually make talent less accessible than in the past.
Obstacles Between Employers and the Workers they Need
For example, some states require a two-week quarantine for people crossing state lines, which restricts access to available talent in neighboring cities. In addition, workers understandably have anxieties about the risks of working onsite in highly populated facilities, so they are reluctant to take those risks for low returns on compensation.
At the same time, federal CARES Act unemployment benefits provide an alternative to lower-paying work. Even as Congress considers replacing the expiring $600 per week payment to as low as $200 as a part of the proposed HEALS Act legislation, the impact on wages is significant. Some people are even forgoing job offers because they earn more money collecting unemployment benefits.
Apply Sound Workforce Strategies to Address the Challenges
If your organization faces challenges in bringing talent to work, particularly as it relates to contingent workers, you are not alone. The good news is that these new obstacles can be overcome with the right approach.
In collaboration with our strategic supply chain and labor market experts, we've pulled together five approaches to help you secure the workers you need. These are great conversation starters with your internal HR and procurement leaders, and staffing partners.
1. Adjust Pay Rates
To compete against CARES Act unemployment benefits, an employer must make a compelling offer. We did the math, and while the results vary, the overall threshold for attracting workers away from unemployment is $15 per hour. That figure adds up to $600 gross pay for a 40-hour week, but even if the new and lower $200 federal stipend goes into effect, the $15 rate will continue to cause problems in retaining talent. Beyond that level, one should note that for rates up to $18 per hour, the difference in pay, while favorable for work, may not be large enough to coax someone back to the workplace (see table below).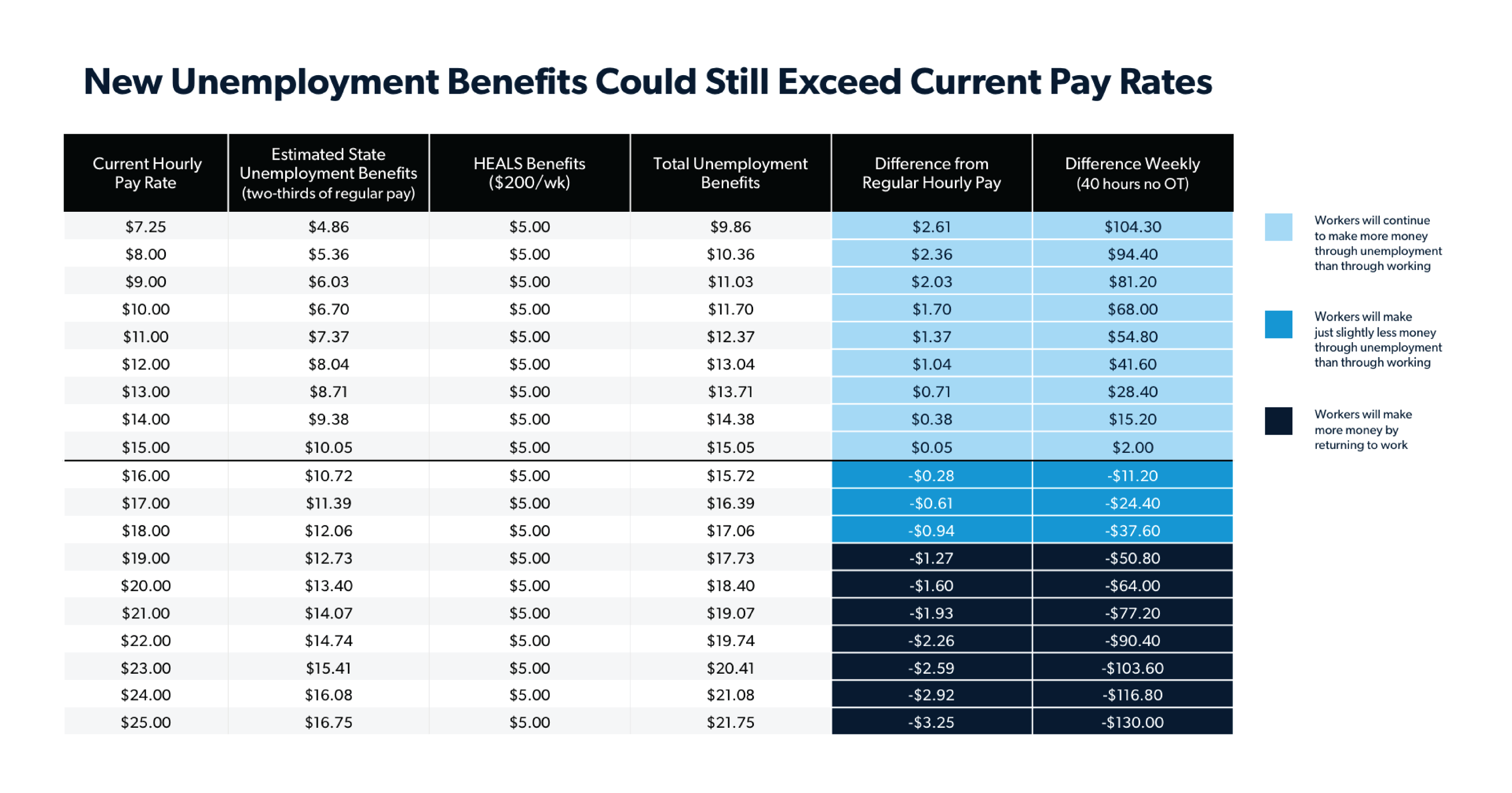 When adjusting rates, consider what staffing suppliers are paying or recommending in the location at play. Today, many suppliers do not want to support clients who do not pay at least $15 per hour. Remember, a low pay rate is not only under pressure from the competing federal payment; it also makes the candidate easy to entice away for a company with a more attractive offer. Many suppliers believe that COVID-19 will be the tipping point that finally forces a higher, more livable, minimum wage.
2. Pay Out Retention Bonuses or Monthly Incentives
Attracting workers away from CARES Act unemployment benefits is only part of the challenge. Keeping them onboard is just as important. Even if the rate being paid is above $15 per hour, workers will be increasingly subject to potential job alternatives that may offer better rates. Or, workers may simply be tempted to drop back out of the workforce if the logistics and risks of attending work become problematic.
To boost retention, consider supplementing the base rate with a bonus. For flexible workers, monthly bonuses can provide that extra incentive to stay on board. Attendance bonuses for defined stretches of time and even offering referral bonuses to current candidates can also boost retention.
3. Take Safety to a New Level, in Communication and Action
Is it worth the risk to leave home? Pay alone will not always answer that question. Even as organizations open more physical workspaces, the conditions of work are anything but business as usual, and candidates entering a facility have anxieties about their safety.
To alleviate these anxieties, companies should consider amplifying their message to their talent. Overcommunicate the processes and actions being taken to ensure safety. Saying that the organization is meeting all regulatory requirements is not always enough.
Show that you are going the extra mile, whether expanding the physical distancing capacity, creatively scheduling shifts to reduce interaction, or adding extra cleaning protocols. In keeping workers engaged, security and confidence are essential — make safety a priority.
4. Be Creative and Flexible with Work Arrangements, Shifts, and Schedules
More than ever before, family commitments and childcare are major concerns for workers. Staffing suppliers stress that navigating workers' family demands will be one of the most pressing needs for companies to address.
Everyone in the family is likely struggling to coordinate their work schedules with the time needed at home, and with the additional uncertainty about school openings, childcare becomes a prime consideration. The solution is to be as flexible as possible. Part-time work, job sharing, full-time with flexible hours, and second and third shifts can go a long way toward giving workers a viable option for their schedules.
5. Waive Drug Testing for a Temporary Time Period
Finally, drug testing touches an overlooked source of anxiety that can give a worker second thoughts about following through on a job opportunity. Specifically, workers may be scared to go into clinics for drug tests out of fear of contracting COVID-19.
To address this challenge, some of our clients proactively suspended drug testing for workers engaged through their suppliers, with a successful result. The suspension does not have to be permanent, and organizations can revisit the requirement as cases stabilize and drop across locations. Meanwhile, the action demonstrates a good partnership with suppliers and good citizenship on the part of the hiring organization.
You Can't Eliminate Uncertainty, but You Can Show Good Faith
None of these five strategies alone will completely solve the candidate attraction and retention issues caused by today's uncertain economic and social environment. Candidates will always need to weigh competing concerns when considering whether to work for an organization. By taking action to sincerely put worker well-being at the top of the priority list, companies can address those concerns and gain a lasting advantage in competing for the talent they need, both today and in the post-pandemic future.
Rethink Your Talent Strategy
For more ways to drive positive business outcomes and apply data-driven insights to inform your workforce decisions, check out our latest US Labor Market Insights report. Based on data from the Bureau of Labor Statistics and our own requisition data, the report uncovers which industries are recovering from pandemic-influenced job losses, and factors that could put recovery at risk.