5 Signs You Should Change Your Staffing Managed Service Provider
January 17, 2023

By Jenny Triaca
Contingent Workforce
So... you're thinking of changing your managed service provider (MSP)? While there are many reasons a contingent workforce employer may consider switching MSPs, the top reasons are likely that you're not achieving your return on investment (ROI) or key performance indicators (KPI) from your current MSP.
To determine if making this change would benefit your organization, you first need to take a deep dive into your organization's values and what you hope to gain from an MSP (that you are not currently realizing with your incumbent), and then align that with the capabilities and attributes of a potential new provider.
Why Do I Need a Staffing Managed Service Provider?
When contemplating switching MSPs, it is critical to go back to square one and examine why you sought out an MSP solution in the first place. Traditionally, a staffing MSP is a third-party business that manages your temporary worker recruitment and manages your contingent talent.
Allegis Global Solutions' (AGS) MSP offering, for instance, utilizes contract workers, consultants, freelancers, service providers and other extended workforce options to help manage distributed resources, channels of activity and costs through one program. AGS' MSP solution provides custom technology and proven best practices to empower organizations to achieve extended workforce capabilities in our ever-changing workforce.

Why Switch to a New MSP?
Recognizing the benefit of having an MSP, organizations that have a staffing managed service provider may at one point consider moving to a new provider. If you decide to take the leap – and it can be relatively painless if done properly – it's critical that you select a provider that has solid experience in transitioning and optimizing managed service programs. It may seem obvious, but if you are going to switch MSP providers, you want to transition to one with the methodology and experience to do it right. You also want to select a new MSP partner that will deliver the best ROI.
As an industry-leading MSP provider, we've worked with many organizations who have switched from an incumbent provider to AGS over the years. Here are some of the most common signs you may want to change your MSP:
1. Your incumbent program is struggling to gain adoption.
Often when MSP programs are not well-adopted across a client organization, a typical complaint is lack of customer service from the PMO of the MSP. Another culprit is that some programs become stagnant when MSP providers are not elevating or enhancing the program and not capitalizing on the value they could bring. Overall, poor customer service and change management strategies are the main reasons incumbent programs sometimes fail.
2. You want better data – business intelligence and market analytics.
Data-driven decision-making is critical when managing your extended workforce. Having accurate, timely data is important to effectively solving business challenges. Look into whether your MSP is providing these key business intelligence and market analytics services:
> A program management office team versed in industry knowledge and data insights to make program-specific recommendations.
> Analytics and consulting services that use program and market data to identify insights and trends in the areas of business intelligence, business analytics, market analytics and
supply chain management
.
> Regular reporting of insights and recommendations that includes:
Trending – Monitoring utilization of different labor types and usage over time
Predictive analytics – Preemptively solving for issues or identifying opportunities
Prescriptive analytics – Solving an issue or capitalizing on an opportunity
Strategic alignment to overall company hiring goals – Determining how your AGS program factors into holistic company hiring goals (FTE, project work, etc.)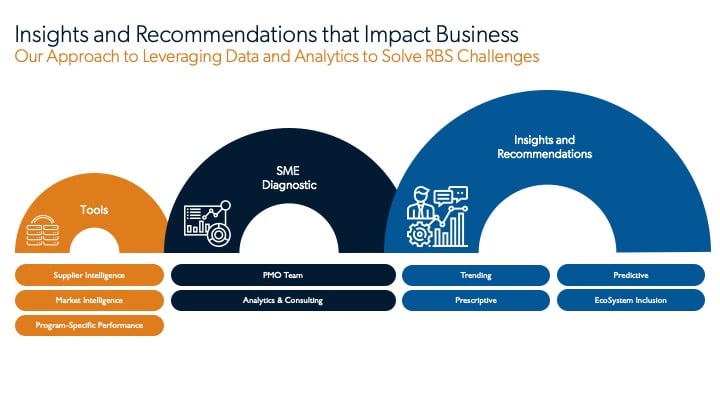 3. You're looking for procurement solutions expertise.
Overall, many MSPs have struggled to get procurement solutions as part of the program. Managing services spend alongside contingent workforce spend enhances visibility into a significant amount of enterprise spend, and it can help you realize new opportunities to improve performance, control costs and reduce risk. Ultimately, enlisting this type of data-driven approach can help you make better buying decisions.
4. You want consistency in delivery and global expertise.
Choosing an MSP partner with a global footprint can help you gain knowledge of local legislation, market conditions and sourcing strategies to improve quality while lessening cost and risk. In addition to offering global visibility, having a global MSP partner can provide access to international talent pools, expanded ability to capture cost savings via performance management and increased capabilities around global sourcing solutions.
5. You're seeking a true strategic partnership, innovation and thought leadership.
To meet disruption and competition head on, you must be able to reshape your workforce capabilities quickly. It is critical that your MSP brings a high level of knowledge to help you rethink your workforce strategy. Partnering with clients to understand their business goals and customizing strategies for accessing talent through innovative approaches to workforce planning, such as the Universal Workforce Model™, are paramount to AGS' culture. Further, AGS is at the forefront of providing our clients with thought leadership that delivers additional insights to help them reach their business goals.
Making the Switch to a New Staffing Managed Service Provider
With experience in transitioning dozens of staffing MSPs over the past two decades, AGS is committed to not simply enabling clients to "lift and shift" to a new provider. Instead, AGS is all about getting to know their customers and what they truly need. For example, an organization recently looking for another MSP partner indicated that the innovation that was brought to them wasn't relevant to their program. Various ideas were getting dumped on them rather than addressing how those ideas would apply to their organization specifically.
AGS knows you "can't just dump the briefcase," you have to know your audience. How do they accept new ideas, such as direct sourcing? Just telling prospective or existing clients about new ways of working isn't enough. As you're looking to switch managed service providers, are you able to visualize the ideas they're giving you within your environment? Are they able to meet you where you are with change management and help you apply the ideas to your program, and actually implement and drive the change? If you answer "yes," to these, you may have found your new MSP.