You've made the Amazon HQ2 shortlist. Now what?
January 29, 2018

By Chad Lane
Industry Trends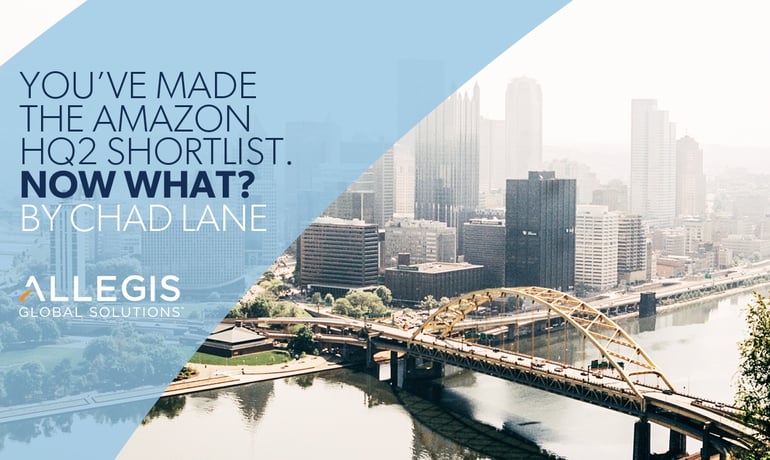 What do Chicago, Toronto, Los Angeles and Atlanta have in common?
They have all made the shortlist as potential sites of HQ2, Amazon's plan for a 50,000-employee North American headquarters. This is already a huge accomplishment given that 238 cities responded to the RFP, many with theatrical public relations stunts ("Birmingham, Alabama, erected a massive Amazon shipping box outside a new hip food hall to announce the city's bid," according to Bloomberg).
And why wouldn't these cities want in? Amazon estimates its investments in Seattle from 2010 through 2016 resulted in an additional $38 billion to the city's economy – every dollar Amazon invested in Seattle generated an additional $1.40 for the city's overall economy. This is the economic development win of the decade; a Mayoral Super Bowl.
Amazon's HQ2 requirements list is lengthy: it wants incentives, potential building sites, a population of more than 1 million, proximity to an international airport; these factors will all play a huge role. But the biggest factor in this fight may be what's often talked about the least: the health of the winning city's labor force.
As a workforce planning leader, I have a first-hand understanding of the challenges companies are facing to attract top-talent. The war for talent is real, and it may well be the biggest challenge companies face as they look to expand both domestically and abroad.
You're in the home stretch
Now that you're a finalist, you've shown that you can meet many of Amazon's requirements. But what is going to get you across the finish line? I'd argue it's your workforce.
For a corporate expansion of this scale, cities must have a labor force that can accommodate thousands of highly skilled workers. With Amazon estimating the average compensation for the new 50,000 jobs at more than $100,000, the winning city will need a highly educated, diverse and experienced professional population. Most of these employees will need technology industry expertise, making these positions even harder to fill.
There are currently six million open jobs in the United States, a staggering statistic you don't often hear on the news. Companies (and recruitment partners) have to work harder and smarter than ever before to attract top talent – and location plays a huge role in winning that war. Presenting Amazon with a thorough understanding of the local workforce's make-up will set apart the city that finally lands HQ2 from those that don't.
To make Amazon confident it can rely on your city's residents to fill key roles, you'll need to dig deep into your data. Amazon will need to know details such as how long it takes to fill professional positions in your city. Now break that down by industry and skillset. Highlight the local higher-education system. But don't just list how many graduates your city produced in 2017. How many of those are now employed? And what percentage works in the technology industry? Moreover, how many graduates in 2018 are coming out of school with a skillset grounded in tech? Get granular.
My advice for mayors who've made it this far is simple: Yes, drive home incentives and cover the basics, but the winner will be the city that best demonstrates the health and growth potential of its labor force. Amazon will need to scale its workforce like never before – and they'll need ample evidence that your residents can meet its one-of-kind workforce challenges.