Total Workforce Solutions: Talent Strategies for Success
February 05, 2019

By Matt Charney
Industry Trends
In an industry whose relative priorities are often driven largely by product promotions, content marketing hype and "thought leadership" trending topics (think: candidate experience, employer brand, etc.) instead of actual business impact, it's not surprising that one of the most critical trends shaping the future of talent acquisition has largely remained under the radar for most recruiting professionals.
Total workforce solutions might not be as sexy or buzz-worthy as some of the shinier new technologies and trending topics out there in the world of work, but it's becoming an increasingly integral component of recruitment and staffing strategic success.
Total workforce solutions are not only shaping the way employers of all sizes think about their workers, but also, fundamentally changing the way that work itself gets done.
If you're not familiar with the concept of total workforce solutions, it's pretty simple, actually. If you think about the traditional ways employers have approached workforce design and management, there has historically been a ton of structural complexity.
A lot of this comes from the fact that talent organizations have largely leveraged distinct strategies, different systems and divergent processes for different classifications of workers.
Often, the divide between how companies recruit, hire and manage full time employees, independent contractors and contingent labor has been impenetrable, with each classification existing, more or less, in its own hermetic silo.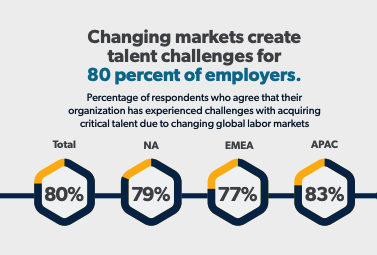 The differences between temporary staffing and high volume FTE recruitment, for example, can seem nearly imperceptible, and yet, so many employers approach these concentric concentrations using completely different strategies, baseline metrics and even individual recruiters of record. For some reason, structuring talent organizations around worker classification was considered the simplest and most straightforward strategy.
The truth of the matter is, in terms of the bigger business picture and bottom line results, this has created a ton of complexity and unintended challenges in workforce optimization and recruiting related efficiencies and efficacy.
That's why companies are increasingly looking to integrate and streamline their approach to talent strategy and selection through total workforce solutions.
Prepping for Total Workforce Solutions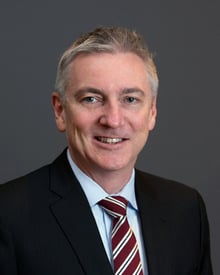 Data from both RPO and MSP providers, as well as direct employers across industries and markets, suggest the trend of bringing together these different platforms and processes is moving from the recruitment margins to the talent mainstream.
The adoption of total workforce solutions looks like it will continue to accelerate in the months and years to come.
According to survey data from HRO Today, in 2016, 22% of employers said that they utilized the same provider for MSP and RPO; the next year, that number jumped to 33%. That 50% YoY growth rate in the market is one of the most significant trends, statistically speaking, impacting talent today.
To discuss this holistic approach to talent management, HRO Today's Elliot Clark recently sat down with Andrew Grant, Global VP of Allegis Global Solutions, for his insights and expertise on total workforce solutions and what this emerging trend means for the future of talent acquisition.
The following is a transcription of their conversation, with some slight edits for clarity. Watch the full video here:
Elliot Clark, CEO, Shared XPertise:
As we look at this incredible market growth and given the speed of the combination of the two services into what we're calling the Total Workforce Solution, there is really very little information out there about how a client decides if the Total Workforce Solution is right for their needs, or how they go about working with a provider to design a solution.
So from the perspective of AGS, and you do a number of the largest Total Workforce solution programs in the world, when should a company consider the Total Workforce Solution and what are the top 3 or 4 signs that its time for them to look in that direction?
Andrew Grant, Global VP, Allegis Global Solutions:
You know, I think we come across and work with a lot of multi-national companies that have the typical signs that they're not filling jobs fast enough, that are not finding the quality of talent or candidates in the right categories or the right markets for them to be able to grow their business.
There's a shortage of talent in these categories and in different markets; that's one. Two, the workforce is too expensive for their business, so they benchmark the cost of their workforce in different categories and different markets as well against their competitors, and they know in terms of improving their net operating margins and their gross profit margins they are going to need to be thinking about not only moving work to lower cost markets potentially which is the mobility play, which is really part of the Total Workforce Solution as well.
But the second component of that really is how do I get work done in the same market, but with a different category of worker. And you know as you do outline there are many categories.
There is contingent, there is independent contractors or freelancers as we call them, there's the full time employees, there's statement of work (SOW) consultancies, and obviously their current employees as well.
And they are typically the signs that it's time to start thinking about a Total Workforce Solution.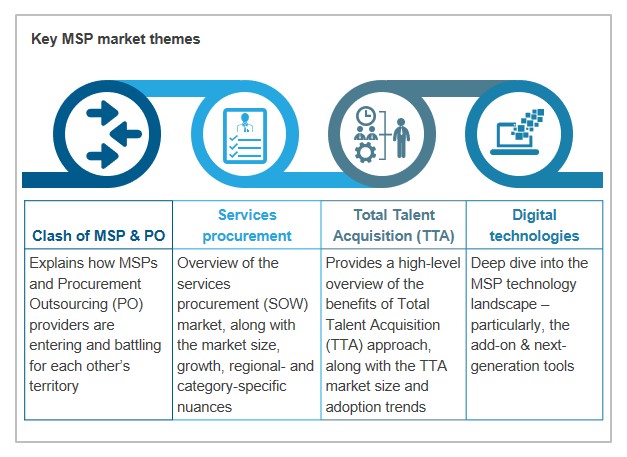 EC:

So when they have this pain, workforce is too expensive for their business model or they can't find the right candidate, how much of what you do is the consultation of helping them think through, in the old days of RPO, and people came to you and said 'I have so many jobs to fill.'
In the Total Workforce Solution more like is it they are coming to you with 'we have these 4/5 problems and what can you do to help us solve it?'
How different or how consultative is the service compared to let's say what RPO or MSP was a decade ago?
AG:
Great question. You know I have to say, if I look at the MSP industry and RPO industry they still tend to work together very separately serving companies today and its very much these are point solutions, very tactical generally and they're not about solving a business problem. They are about filling a job or finding contingent workers to staff up a project. So its just not strategic.
So, to answer your question what we're talking about here is a paradigm shift, this is where hiring managers are not actually thinking about 'I need to fill this job because I need to grow my business; I need to fill this job because this person has just left the company'.
It's 'I've got to get this work done, what is the optimal way for me to get this work done? What's the optimal category of worker and what's the best market to get this work done?' as opposed to the traditional way of thinking which is 'I've got a full time employee that's left the company in corporate head office'.
It might be that that job is not a full time job anymore. It might be very project based and that role could be filled by an independent contractor or a contingent worker.
Equally, it may not be relevant anymore to have that individual sitting in corporate offices in a major city in the US. You could equally have that person potentially running in a lower cost location either in the same country, or in a different location in another part of the world where labor costs are lower.
EC:
Let me ask you this: if you're a large multinational corporation, and previously we talked about mobility plays, then it's really part of that solution set that really lines up to the multinationals.
And if you look at one of the problems and the complexity of the Total Workforce Solution, you're trying to do it across multiple classes of labour, or you're trying to do it across multiple countries and different regulatory environments.
It requires a significant amount of technology and the tracking of tasks, results and trends. So only recently are we starting to see any technology platforms that have that capability.
When you start engaging with a new perspective client, what should they expect from you as a provider in terms of a technology platform that can actually manage the Total Workforce Solution program on a global basis? What should they be asking from you?
AG:
The technology is not a silver bullet solution. The technology platform is a key component, but there are some other factors which go alongside that technology platform that are equally important.
Typically procurement and HR historically have run contingent work force and permanent workforces as very separate silos. Quite often, we find multinational companies don't have their stakeholders in alignment around procurement and HR.
So, that's the first thing that we look to understand, whether that alignment is taking place and that there is that collaboration, that transparency around achieving a single objective.
Access to the data and the systems, whether it's a VMS or a HRIS system or an ATS end of finance system – I think doing discovery to really understand how the resource strategy sits today with a particular client and aligning that with their business objectives, how that mix of categories needs to be reshuffled and changed potentially to realign to their growth strategy and their margin cost containment strategy is critical.
So, again as the service provider, it's critical that we have access to all the data that sits inside the clients environment. The branding piece is critical too; what are the traction strategies, the employment brand for a company, for example.
If we only focus on permanent employees and that company is not positioned in the marketplace as the best place to come and do a job as opposed to an employer of choice for pursuing a long term career as a permanent hire, that can present some pretty big challenges.
We seek to understand how companies are thinking philosophically about their branding to market, so they're not missing out on opportunities to attract different categories of workers to their organization.