The growing MSP market and Japan's temporary workforce culture
June 30, 2017

By Phil Cooper
Contingent Workforce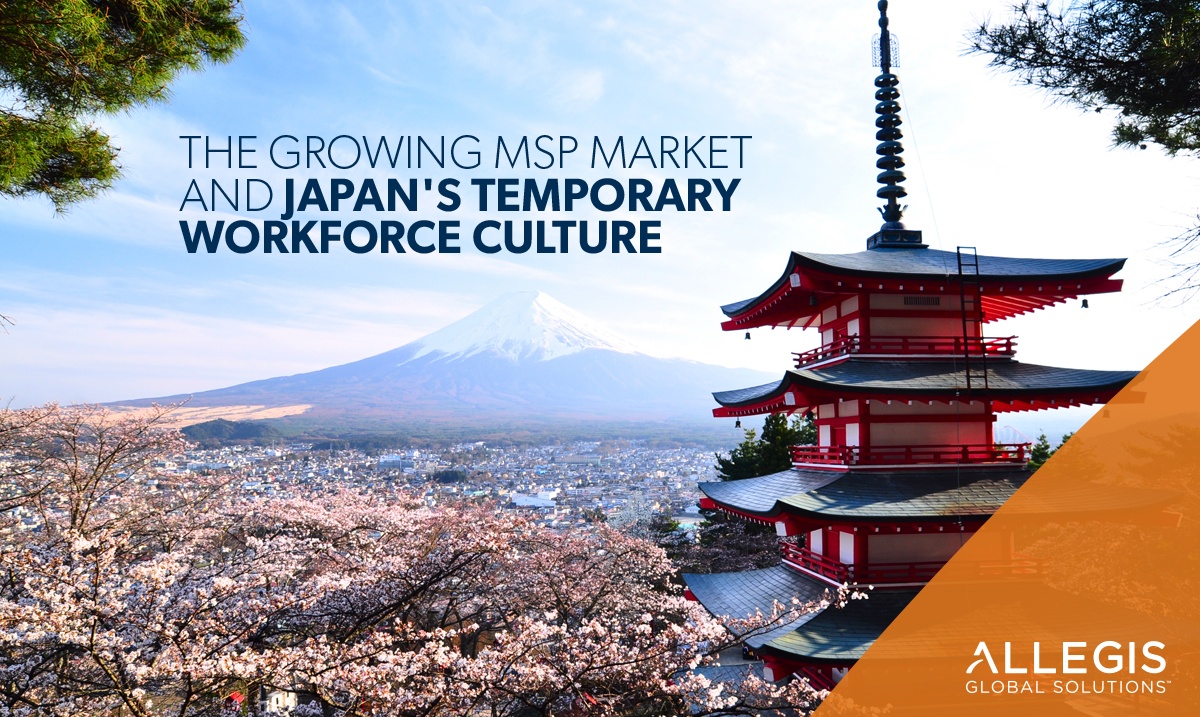 Rolling out a new workforce management solution for companies on a multinational scale can be a challenge, especially in areas of the world like Asia-Pacific (APAC), where there are different cultural approaches to hiring and strategies from country to country.
This is especially true when it comes to nations like Japan, where the potential for managed services provider (MSP) solutions to be used can be greater than in other APAC countries. This is thanks to the larger proportion of contingent and fixed-term employees working in Japan.
However, when rolling out an MSP for companies in Japan, there are challenges that require a modification to the standard program. We take a look at Japan's employment market and the key factors affecting contingent services.
Contingent labor in Japan
The contingent labor workforce in Japan is one of the largest in the world. The number of non-permanent roles in the nation exceeds a lot of countries seen across the globe, as employers increasingly look to fixed-term contracts and project-based hiring over full-time hires.
Estimates suggest there are somewhere in the region of a fifth of all roles in Japan currently filled by contingent hires. This shows just how popular temporary work has become over the last few years.
The Japanese labor market in general is also highly competitive, with an unemployment rate of around only three percent, which is the lowest it has been in over a decade.
The culture at present is for job creation in highly skilled positions such as IT, and last year alone Professional and Technical Services created 20,000 new roles, making the sector a prime candidate for contingent hiring.
With such a high proportion of companies hiring temporary workers, it stands to reason that an effective MSP to streamline the process and create smooth sourcing, hiring, on boarding and off boarding channels would be a necessity. However, there are some challenges that mean a standard MSP cannot be used.
Challenges of MSP rollout in Japan
The Labour Standards Act and the Worker Dispatch Act in place in Japan make the use of an MSP a challenging prospect. For example, these mean an MSP itself cannot be involved with the selection of suppliers or hold a contract with the company, unless licensed.
Allegis Global Solutions(AGS) is a licensed MSP provider, which means we can source and engage temporary workers for clients under employment contracts where others may not be able to. However, even AGS faces restrictions because of Japan's stricter laws.
AGS operates, with the use of a VMS system, a flexible MSP service as opposed to a full MSP because, in order to abide by the Labour Standards Act and the Worker Dispatch Act, we cannot:
Engage workers from a staffing company to perform MSP services before entering into a subsequent engagement with a client for the provision of such workers
Engage in the selection of workers for or with a client in connection with an engagement between the client and a staffing company for workers to perform MSP services
Provide contractors to clients for the performing of MSP services
The Labour Standards Act and the Worker Dispatch Act also mean that an MSP is restricted from:
Managing or supervising workers engaged by the client from a staffing company or issuing any directions to those workers
Particular workers to be engaged by the client from a staffing company, including reviewing resumes, recommending hires or interviewing



And as laws continue to change in Japan to protect the growing number of contingent workers in an evolving culture, it's important that MSP providers are adaptable and open to consistent change in order to make sure they're always complying with law.




As well as legal challenges in Japan, there are cultural hurdles that need to be overcome for successful MSP implementation. These include language barriers, which can complicate launches, and the fact that Japan has traditionally been a market where MSP has been overlooked in favor of HR generalists.




The culture of Japan also makes buy-in to the service a challenge. As an immature MSP market that has not previously used such services, it can be difficult to get suppliers to understand the concept. This means there's a need for constant support when rolling out an MSP to reaffirm the value and keep suppliers engaged.


To find out more about workforce management in Japan, read our APAC blog series article on

RPO in Japan

.