The Class of 2017: Our next generation of data scientists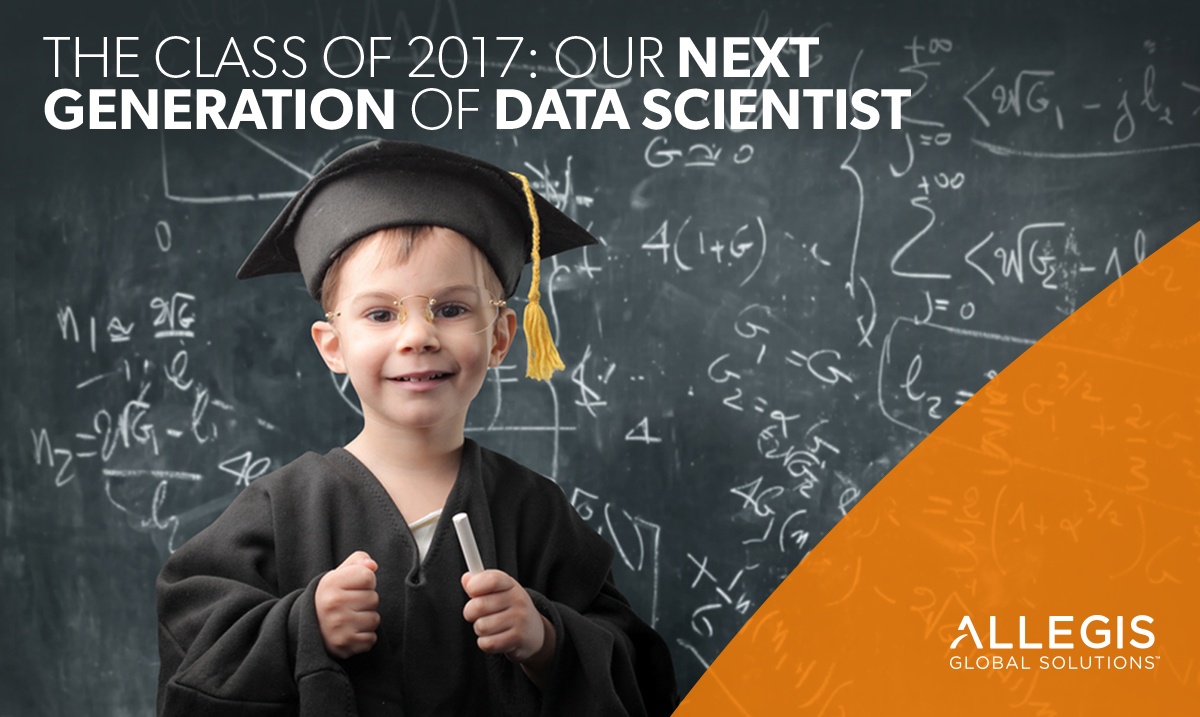 Growth in the uptake of artificial intelligence (AI) and machine learning technology has helped to provide new resources for the modern recruiter, with a wealth of insights now available into the swathes of big data that businesses collect.
That said, the rise in technology has meant HR teams must adapt, and this means investing in new skills that can make full use of the technologies that recruiters now find at their disposal. The real question is, will the younger generation be equipped and have the appetite to become machine experts?
Data scientist demand will only increase
With such a wealth of information now at the hands of businesses, it remains a high-priority task to turn this raw data into usable insight, and this is where the role of the data scientist is increasingly coming into play. HR teams will therefore need to invest in securing more essential talent in this area, as the volume of information that can now be drawn upon to inform better business decision-making will only continue to grow.
We already know that Silicon Valley is packed with data scientists and organizations are competing to recruit professionals with the right profiles. Statistical backgrounds help, but a really successful data scientist must have an insatiable desire to learn, innovate and make things better. As a result, creativity and being able to communicate across all business departments and decision points is equally as important.
Data scientists need to be able to unlock what may look like complex analytics and make this information real, relevant and digestible, and visualization techniques are of great help. For instance, an analogy I use is that 'a picture is worth a thousand words ... or lines in an Excel spreadsheet'.
But what does the fourth industrial revolution look like? With the rise of robotics, AI and machine learning technologies creating demand far ahead of the supply of qualified talent, technological advances and software will impact and remove some of the work that a data scientist currently performs.
Successful data scientists will therefore evolve from their current role to become machine learning experts, or some other new category of expertise yet to be given a name. This change is coming and we should embrace and be excited about it, as new jobs and new skills will be created.
Earlier this month, IBM published its report 'The Quant Crunch: Demand for data science skills is disrupting the job marke' and in it projected that data science openings at businesses across the U.S. will rise by 15 percent from their current levels by the end of the decade. This means a further 2.7 million new data scientist and analytics job openings per year by 2020. This is a trend that is also likely to be replicated in nations around the world
However, it is not just data scientists that will be increasingly in demand in future, businesses will also require the expertise of skilled machine learning specialists, programmers and data optimization managers, who combined will help to enhance the recruitment function for firms through a focus on collating and interpreting key data.
The insight gained through these additional appointments will help businesses in myriad ways. Organizations will be able to secure benefits in the following areas:
Enhanced quality of hire via more targeted/in-depth candidate screening
Improved talent pipeline by ensuring organizations plan effectively to meet future demand for skills
An improved candidate experience by providing key insight into the factors that impact job seeker satisfaction at each stage of the recruitment process
Increased market intelligence that can help businesses to position themselves as the most attractive employer in their field
Overall, IBM's report suggests businesses will witness a combined increase of almost 40 percent for data scientist and data engineer positions by the end of the decade, yet the quantity of candidates available is unlikely to rise by such significant levels during this time.
As a result, organizations must be prepared to offer greater enticement to these individuals, and therefore average salaries for this group are forecast to rise by up to ten percent for top professionals.
Meanwhile, IBM revealed that 81 percent of businesses will be seeking to employ candidates with between three to five years experience (as a minimum) for the foreseeable future. However, the pipeline of talent may take several years to catch up with the increasing prominence of data analytics in the HR function. Businesses must therefore be planning now as to how they will increase their data-driven resources in the years to come.
Find out more at HR360
I'll be hosting a deep dive workshop session at this year' HR360 European Summit in Vienna later this month and it promises to offer a range of insights into the evolving use of data within recruitment.
My session will focus on the key emerging technologies of AI to source big data, predictive analytics and the increasing digital footprint of businesses and candidates alike; it will examine how we can harness these innovations to streamline and enhance talent management for the benefit of our clients.
If you wish to attend this upcoming event please contact our RPO experts for a discounted pass.
In the meantime, for more information on the emergence of new technologies within the recruitment sector, you can read our recent whitepaper '

AI and Automation: The future of recruitment and talent management

'.