Superior sourcing: How to nail job descriptions
September 13, 2016

By Fara Rives
Talent Acquisition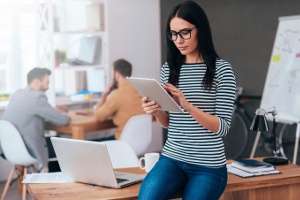 More than eight in ten candidates believe that a well-written, informative job description is vital when looking for their next role. However, only 36% feel employers actually provide such information.
Are your job descriptions up to scratch? If not, you could be missing out on your dream candidate.
The above statistics come from Allegis Group's yearly research survey, which discovered that while most candidates feel job descriptions are normally lacking, almost three-quarters (72%) of hiring managers believe they always provide clear information in their advertisements. HR professionals are also less convinced, with only just over half (52%) agreeing that job descriptions are fit for purpose. What's more, just 31% of candidates feel job descriptions tend to provide enough detail on the technical aspects of a role, and only 27% are of the opinion that adequate information on cultural fit is always supplied.
These stats indicate that someone, somewhere along the line is getting it wrong, and you could be missing out on talent as a result.
Why is nailing a job description so important?
Detailed and informative job descriptions are a must-have for organizations that want to attract the best-quality talent and must accurately reflect their
employer brand
.
Our research shows that candidates are much more likely to report higher levels of satisfaction if a job description is clear, provides in-depth detail on technical requirements and explains the desired cultural fit, with applicant satisfaction up 48% on average when each of these factors is apparent.
It's not just candidates that you want to keep happy with your job descriptions though, as HR managers also need to know exactly what you're looking for in order to ensure metrics such as time-to-fill, cost per hire and time-to-productivity are in line with your overall expectations.
In fact, we found that when job descriptions are clear, the satisfaction of HR managers increases by an average of 25%, further highlighting the importance of nailing that job description first time.
What should the perfect job description include?
To start with, every job advert needs a captivating, engaging title that draws prospective candidates in straight away. It's great if you've got the level of detail that HR managers and candidates are looking for, but they aren't going to read it if the title of the ad doesn't grab their attention.
When putting a job description together, it's important to have a picture of your ideal candidate in mind at all times, or it is unlikely to attract the type of talent you need. Our research showed that detailing the exact skills and qualities you are looking for is essential for increasing candidates' satisfaction and interest. However, it is important to keep this detail to a minimum to ensure that only the information that is absolutely necessary is included on the job description, as anything over a page long is unlikely to capture applicants' attention and won't be read thoroughly.
Remember that you have to sell your business to potential applicants too. You need to create a strong sense of your employer brand in a relatively small space, so make sure to include information on your corporate values to provide candidates with a good idea of the type of person you're after. While summarizing your company culture can be hard in such a small space, by directing candidates to online assets (e.g. videos and blogs) they will be able to find out more for themselves about what it's like to work for your business.
You could also use a specific employer branding hashtag on your social media channels, such as #lifeat… or #...culture. Include this in the job description so that candidates can search for your hashtag and see first-hand what it's like to work for your company.
Why you should take another look at your job ads
In order to improve candidate - and HR - satisfaction, job descriptions need to be spot on every time. If this isn't the case, you run the risk of losing precious time, money and the chance to hire the best-quality talent.
At Allegis Global Solutions (AGS), our
Recruitment Process Outsourcing (RPO)
teams look over clients' job descriptions as a standard, helping to rewrite where necessary. This is part of a wider focus on ensuring recruiters are positioned to carry out the most effective intake sessions possible.
As part of the AGS Way – our talent acquisition roadmap that focuses on finding impactful candidates – all RPO program recruiters receive extensive training on intake sessions. This ensures they are able to develop a detailed understanding of the job on offer and the key information candidates need to see in a description.
For one financial services client, this approach saw engagement with its job descriptions and subsequent application rates increase by 27%. By capturing candidates' attention in a new, innovative way, success rates could improve even further.
Find out more about how AGS can help you nail job descriptions and improve your wider
talent acquisition strategy
. And to learn what it's like to work at AGS, search #lifeatags on any social network.