SIGMA MSP: A simple solution to meet contingent hiring needs
May 24, 2017

By Mike Moxie
Contingent Workforce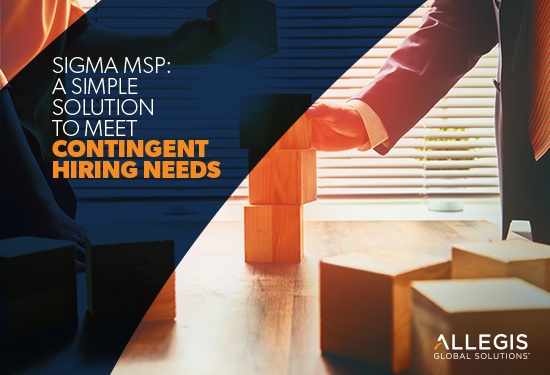 Placing simplicity at the heart of contingent hiring is the driving force behind Allegis Global Solutions' (AGS') SIGMA MSP (SIGMA) solution. SIGMA is AGS' next-generation, purpose-built solution for the small to mid-size MSP market.
As the use of contingent labor continues to evolve, organizations are seeking an effective means to better manage this growing talent population.
SIGMA is ready to deploy simplicity and efficiency
SIGMA is built on the premise of delivering an agile, affordable and client-focused MSP solution for organizations traditionally reliant on multiple supplier relationships for candidate fulfillment. The old adage of bigger is always better, is no longer a sustainable theory in terms of managing a mid-sized contingent labor supply chain.
Our solution is tailored to meet the needs of companies spending between $5 million to $50 million annually on contingent labor. It places an emphasis on speed of delivery, with full implementation completed within just eight weeks.
Why simple means better quality for your contingent hiring
SIGMA combines the benefits of a traditional MSP program with the expertise of a preferred supplier partner. As such, there are a range of advantages SIGMA can provide to evolve your temporary staffing program, including:
Improved efficiency through faster implementation

Rapid deployment leading to faster time to productivity

Leveraging key data and reporting capabilities to ensure smarter, more strategic decision-making through ACUMEN business intelligence
Our goal is to deliver a solution that is specifically tailored to meet the needs of those with smaller volumes of contingent hiring. Far from being too small to have an MSP solution, companies that utilize SIGMA will find they have a simple and affordable answer to their contingent hiring needs.
Cost saving results for biotechnology client
SIGMA clients have the ability to leverage our Labor Market Analytics team to review current-state rate structures to ensure best practices are within their SIGMA program.
After reviewing a biotechnology client's supplier contracts and pricing, based on market intelligence, we found the rates they were paying fluctuated across role types to be both lower and higher than industry benchmarks. The solution proposed was to use market benchmark rate cards that utilize maximum and minimum rate limits. After implementing this simple and efficient model, AGS has been able to provide our client with approximately $2 million in cost savings annually.
Each component of the SIGMA solution leverages best practices and process efficiencies to drive cost savings, improve the candidate quality and mitigate risk for your organization. To learn more, download our recent SIGMA MSP whitepaper for more information.
Contributions to this blog were also made by Mike Danczak, Director - Human Capital Solutions at AGS.