Recruiting for Tech Diverse Talent in a Noisy World
July 11, 2017

By Jennifer Sutton
Inclusion and Diversity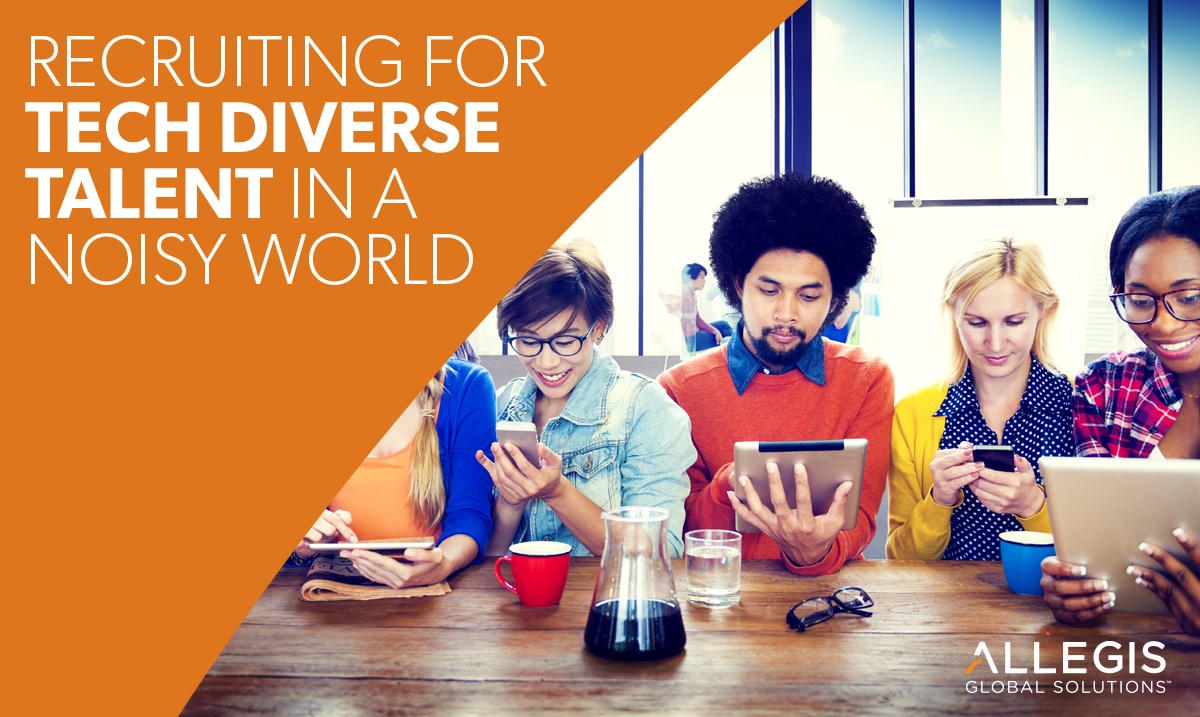 I've written in the past about how to measure whether your diversity initiatives are working and how to convert a diversity recruitment strategy into measurable results. But like anything in talent acquisition, especially the recruitment portion, it's harder when you narrow down the field. Diversity recruiting, already a focus of considerable dollars and attention, gets even harder when you're recruiting in one of the most competitive verticals, namely tech.

Note: Before you begin any diversity initiative, it's crucial to be willing and ready to change structural and institutional dynamics inside your organization. If you refuse to do this, or cannot work with an organization who can guide you through the process, you will be churning your wheels towards things that just "sound good" rather than becoming a truly inclusive workplace and reaping all the benefits that can create for your company.
Fortunately, throughout my career, I've had the opportunity to watch experts assemble diverse teams and build some of my own. While technology has gotten no LESS competitive (and while every company's talent needs are different), here are some methods that seem to pop up, time and again.

Stand By Me (Candidate Empathy and Attraction)
If you've ever worked in a third party environment, or as I have in university recruiting, you understand just what I mean by this. Often, you're recruiting for a similar persona and a similar job. For some reason, we don't build personas for hires much outside of those two groups...and it makes one wonder WHY.

When companies truly get diversity attraction right, it's because they've taken the time to understand their target and what they want and need from a company. Usually these companies build out detailed candidate personas that not only describe the demographic of their ideal candidate, but what that person likely wants from an employer, what their tenure might look like, what career messages are likely to resonate and where they are spending their time online.
You might ask... with 41% of managers reporting they are "too busy" to implement diversity initiatives, why would I insist on slowing down to create personas?
Diversity recruitment is first and foremost about research (sourcing), which is a fancy way of saying "looking in the right place". With the advent of advanced technology, many recruiters have forgotten more traditional sourcing techniques, like professional associations, meetups and groups that specifically cater to diverse groups like Lesbians Who Tech or Grace Hopper, the premiere organization for women in computing science. While one association connection does not a diversity strategy make, if you make a Venn diagram of your desired demographic and the roles you need to fill, there's probably an organization (or several) that should be part of it.

Because diversity and inclusion is ingrained in our DNA at AGS, we train our teams to discuss diversity recruitment priorities and strategies, at the onset of the recruitment process during a requisition intake discussion. Sourcing is about more than just one source, as any sourcer worth their salt will tell you. Instead you need to attract from multiple places in order to fill your talent funnel, pool, pipeline, what have you. So, put yourself in their shoes. Where do you go when you're online? In the real world? Now adjust that for a technological whiz. Go there.

Of course, methods like recruitment advertising, social media recruiting and employer branding all flow into your sourcing river as well. For each portion of your overall recruitment strategy, you should find out how (and if) to alter it for your diversity recruitment initiatives.

(Don't) Say Anything: Candidate Outreach and Common Sense
You've found them! You have a great pipeline of diverse candidates. So what do you do? Write up a mass email and blast them all immediately.

NO! This is not volume recruiting and that is not how you achieve authenticity. Companies with the highest ethnic diversity levels generate sales revenue 15 times higher than those with the lowest, and ethnically diverse businesses are 35% more likely to outperform their competitors. For those kinds of numbers, you can afford to use your research to customize your approach. So what does it tell you?
What they are looking for in a company: If you've done your job, your candidate personas will tell you what your prospect wants from a company, so you can turn your pitch from company-centric to candidate-centric and increase your chances of a response.

How to approach them: Think about it, if you know where your candidates are hanging out online, then it stands to reason they might welcome a personalized approach on that network or community. If it's a strictly personal community and you're in doubt about approaching your target, try finding them on a professional network and approach there.

What they're interested in: I don't care who you are, finding out someone has given thought to their approach is flattering. Check out their work, view recommendations, view their twitter profile or note their sorority or fraternity affiliation (I'm a proud member of Delta Sigma Theta Sorority!) to show them you're serious about offering them an interview.
Use all this information and whatever else you've gleaned from internal surveys, research on your demographic, industry standards, regional norms and more.
Pretty in Pink (Show, Don't Tell)
You had to know employer brand would come up at some point. At Allegis, we begin each diversity recruitment strategy with a hard look at the employer branding, assessing gaps and delving into market research. If you're doing employer branding right, it trickles down into every facet of recruitment, from your university career fair collateral to the pictures and verbiage on your career site. Your recruitment marketing takes a nod from your EVP as well.

If none of that has inclusivity as a priority, then neither will all the areas that talent acquisition relies upon to recruit and to fulfill diversity initiatives and increase the innovation in their companies. Everything from your verbiage to your site layout, your imagery to your job descriptions, should be addressed to ensure it is inclusive and isn't unintentionally driving away the very audiences you're trying to attract with diversity recruitment initiatives. For instance:
Both women and men are more likely to hire men over women, and it's likely what leads to a lack of gender diversity in the workplace, as well as problems with women in leadership positions. (Pew)
Your job posting could be to blame. Researchers compared over 4,000 job ads, then they asked women to respond to the postings. They found "that masculine wording in job advertisements leads to less anticipated belongingness and job interest among women." (Quartz)
The odds of hiring a woman are 79.14 times greater if there are at least two women in the finalist pool. And the odds of hiring a minority are 193.72 times greater if there were at least two minority candidates being considered.
When orchestras switched from auditions where they could see the candidate to blind auditions, the percentage of women members in the orchestra jumped from 5% to 25%. And institutions using a double-blind method to review scientific studies increased the number of women who get published in journals.
In fact, this is one of the reasons many companies partner with AGS to manage their recruitment strategy and diversity recruitment program. It almost immediately increases the objectivity of the hiring team and allows for additional resources to go towards assessments, blind auditions, job advertisement and descriptions rewrites and more. AGS builds a robust diversity recruitment roadmap that helps to structurally package a client's diversity recruitment strategy to drive accountability and ownership to achieve long-term success. Clients and recruiters clearly understand their deliverables, milestones and guardrails (eliminating the "blame game" from the equation).

Realize It's a Never Ending Story: Always Be Innovating
Chloe Rada of Sodexo does an incredible presentation comparing employer branding to the popular 80s movie. While oversimplified, her message is that the branding battle never stops and talent acquisition pros need to be ready to revamp their messaging, address pieces that are not working and build out new strategies to address the shifting workforce.

The same holds true for diversity recruitment. What worked tactically a few years ago may shift with the rise of the contingent workers and the shifting demographics of workers stateside and globally. Universum Global, a global leader in Employer Branding works with top universities, alumni groups, and professional organizations to determine what candidates want from companies. In just the last two years, diversity and inclusion has risen to the top in their popular World's Most Attractive Employers and Employer Branding Now surveys, which survey university students and employer branding professionals at organizations of all sizes globally.

As Gen Y becomes the largest segment of the workforce (as it will in just 3 years) and Gen Z begins its own entry into the world of work, diversity recruitment becomes more important than ever. And like many other facets of recruiting, it will shift and change as the landscape of employment does. Recruiting studies suggest many groups traditionally affected by diversity recruiting efforts are "more highly skilled and more likely to have advanced degrees".

56% of college graduates in 2016 were women, according to the National Center for Education Statistics, a number that increased for over a decade. Other diverse groups are getting their degrees as well. In just ten years, the number of Hispanics graduating with postsecondary degrees has increased by 95%, African American college graduates have increased by 47% and Asian Americans by 36%, respectively.
There are many factors that cause shifts, some of which are internal. AGS' recruitment strategy roadmap accounts for the changes, slight and grand, by including data analytics as a powerful tool to affirm or restructure tactics that aren't working.

Diverse workers bring more experience, education, talent and skills to the workplace. And they want to work for diverse employers and companies that value inclusion. As talent acquisition specialists, we must shift diversity recruitment know-how from a nice to have, to an essential part of our skillset.