New College Grads: The Untapped Talent of the Millennial Workforce
August 18, 2017

By Krista Palmisano
Inclusion and Diversity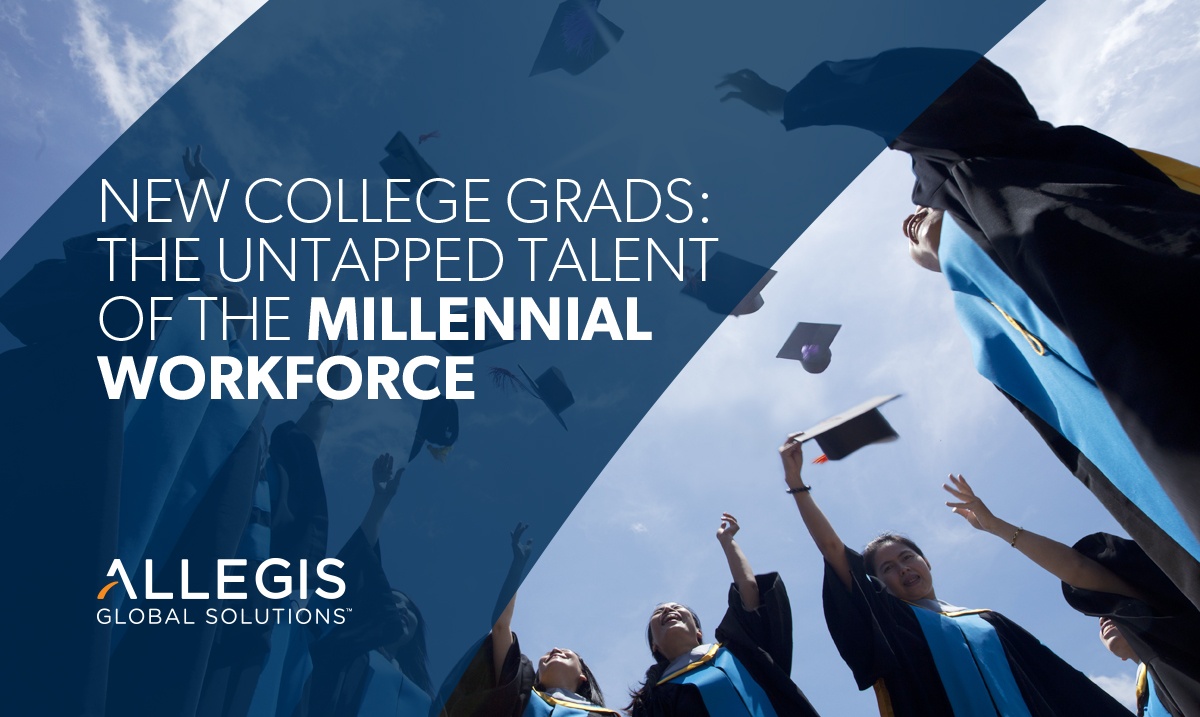 The labor market and new college grads
There are currently six million open jobs in the U.S.; with the country adding millions of new jobs every year and up to 10,000 baby boomers retiring daily, the U.S. labor market has reached what most economists consider full employment.
At the same time, nearly two million millennials have graduated from college as of May this year. With tight labor market conditions, millennial college graduates make up a key segment of the labor force that can't be ignored - employers are going to have to make use of this new talent to build their company's workforce.
What does the pool of new grads look like?
The current landscape of new grads is highly concentrated in five key degree programs. Fifty percent of all college grads right now have degrees in Business, Social Studies, Health Professions, Psychology and Education. These degrees have seen considerable shifts in the past several decades:
| | | | |
| --- | --- | --- | --- |
| Degree | Annual Graduates | 30-year trend | Job Prospects |
| Business | 367,000 | Large increase in this degree | Good - very low unemployment |
| Social Studies | 179,000 | Large decline in this degree | Poor - higher than average unemployment |
| Health Professions | 163,000 | Large increase in this degree | Good - very low unemployment |
| Psychology | 109,000 | No change in this degree | Poor - higher than average unemployment |
| Education | 106,000 | Large decline in this degree | Good - very low unemployment |
Outside of the top five degree programs, the other 50 percent of the graduate population is highly fragmented across 27 different types of degrees. Interestingly, despite a focus on STEM (science, technology, engineering and mathematics) degrees in the past decades, these degrees have shown little change in terms of the portion of graduates pursuing them.
What are employment outcomes of new grads?
Given the state of the labor market, college grads have tremendous opportunity as shown by the current unemployment rate for college grads - just 2.5 percent, a level we haven't seen since before the Great Recession. There are mixed reports about underemployment of college grads, but this is also highly dependent on the type of degree they have pursued.
The good news for employers is that it is still taking new college grads anywhere from three to nine months to find their first job. That means that employers that are first to the market to scoop up this talent will win. And employers should focus on speed - once a grad has just 1-2 years of experience they can expect a ten percent to 20 percent increase in their salary when moving to a new job. Employers who get this talent first will have the greatest opportunity to control their costs.
What do millennial grads want?
Although speed to securing this talent is important, working to retain this group is also critical, as 60 percent of millennial grads report that they expect to stay in their first job for less than two years. If employers fail to focus on key drivers, they can expect to see these grads move on and then spend far more money to replace them.
According to Gallup, millennials are currently the most detached group of professionals in the workplace, with only 29 percent being engaged at work; they do, however, report increasing levels of engagement when their managers provide frequent feedback and build personal relationships with them. Overall, 87 percent of millennials say professional development or career growth opportunities are very important to them in a job.
In addition, 75 percent of millennials consider a company's social and environmental commitments when deciding where to work, and 64 percent won't take a job if a potential employer doesn't have strong corporate social responsibility practices, so employer programs around social responsibility are extremely important in retaining this talent.
Balance and flexibility are also critical to millennials, with 75 percent of millennials saying they expect opportunities to work remotely, as found by Deloitte's annual Millennial study. Millennials believe working remotely will increase job satisfaction and boost productivity, and as the first generation to be born in the technological age this is often all they have ever known.
How do companies get ready for millennials?
With millennial grads soon making up significant parts of the workforce it is critical for employers to be prepared for this next generation. In many ways, this will continue to be a work in progress for companies, but here are a few things to consider planning for:
Offer growth opportunities - not just promotions, but the opportunity to work on new, challenging projects and gain recognition for it
Provide regular feedback throughout the year, not just once a year during performance reviews
Create a culture of open communication and feedback, both up and down the organizational structure
Create a culture that drives to make a difference, not just do a job
Plan for the fact that some level of remote work is the future expectation of the workforce
How do we get new millennial grads career-ready?
According to PayScale and Future Workplace, 87 percent of recent graduates feel well prepared to hit the ground running after earning their diplomas, yet only half of hiring managers agree with them on that.
Given the profile of a typical millennial, here are some key factors to consider when building training programs:
Make training technology based. As a generation who has grown up with technology, millennials want training to be available on demand and via a variety of platforms
Make training brief. With information moving faster than ever, millennials are adept at taking in a lot of information quickly. Minutes-long video training is ideal
Promote continuous training. This will help millennials reach their goal of continuous movement in their career
Use predictive analytics. Training should operate like Amazon or Netflix, knowing what a person wants to learn even before they know.
Conclusion
With the U.S. labor market reaching record levels of labor shortage due to employment growth, retiring baby boomers and a lack of skilled workers, new millennial college grads are a segment of new labor force entrants that companies cannot afford to miss out on.
The key to capitalizing on this talent is to be fast to get to market, plan for change in your organization to build engagement with millennials, and use training intelligently to get these labor force entrants career-ready. Companies who do this fast and well will see the payoff in future-proofing their workforce.