Is the Australian market set for rapid growth in contingent workforce management?
April 21, 2017

By Phil Cooper
Contingent Workforce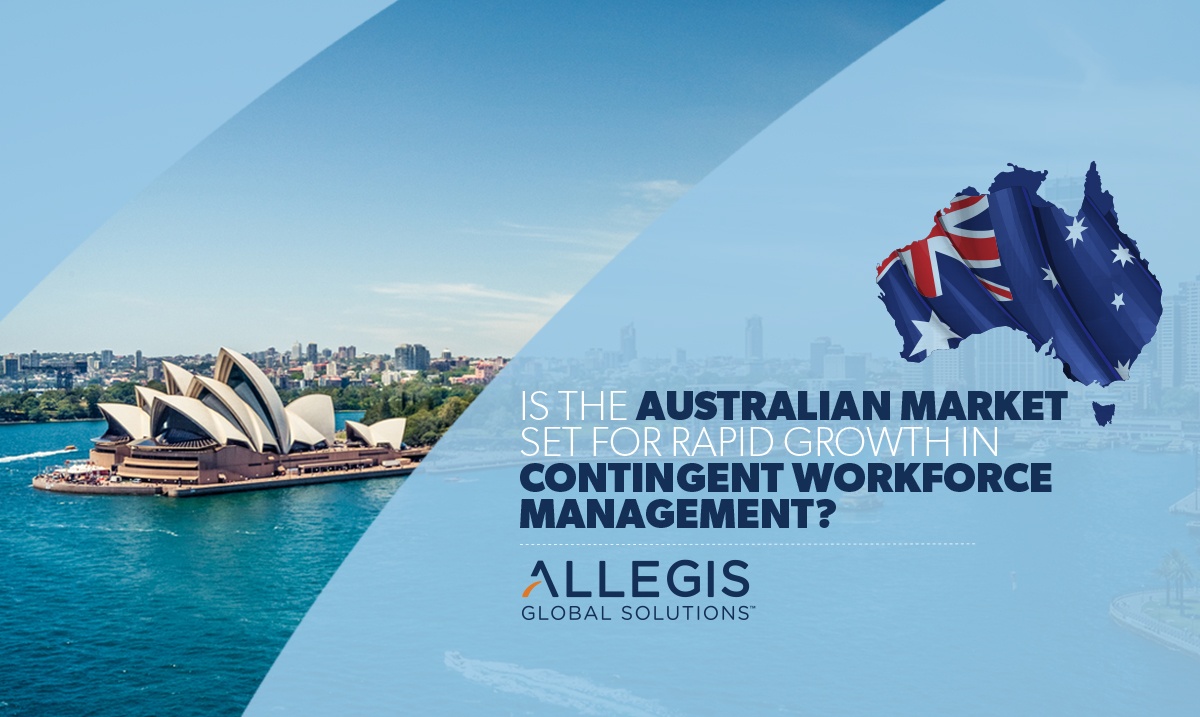 In today's global marketplace, talent acquisition and management should know no boundaries. I recently traveled to Australia to spend time with organizations to gauge their perceptions on talent management solutions and look at whether the market is ready for widespread take-up.
At Allegis Global Solutions (AGS), we've witnessed an increase in appetite in recent months for a shift towards services procurement (also known as SOW) among our Australian clients. With this change in attitude, we are also seeing an interesting impact on the managed services provider (MSP) market.
A closer look into Sydney, Melbourne and Brisbane
During my time in Australia, I visited three of its major cities where AGS was hosting one-day events in Sydney, Melbourne and Brisbane.
Since this was my first time visiting the country, the first thing I picked up on was how different each city felt. Here are a few of my initial impressions:
Sydney - with its globally-recognizable landmarks and skyscrapers, was very much a business center and had a strong feeling of affluence

Melbourne - in contrast, was much more laidback, in keeping with its reputation as the country's sporting and cultural capital

Brisbane - had a strong governmental and corporate presence
Such differences are to be expected in a country as sizeable as Australia. However, they highlight one particularly important point - it's crucial that services procurement offerings are tailored specifically to different markets within Australia. AGS is a global business, but we always ensure our services are delivered in a manner that capitalizes on our local expertise.
Rapid growth potential in a bustling marketplace
During our one-day sessions, I met with 60 companies and one thing was clear - the market for services procurement is still relatively immature, especially when compared to other regions.
The good news is there is a great potential for the market to see rapid growth. With the right nurturing, we could see services procurement solutions take off in Australia, mirroring the benefits that our clients in other regions are already experiencing.
AGS is in pole position to demonstrate the value of services procurement solutions to our Australian audience. We recently delivered a standalone services procurement solution to one of the largest financial services providers in Europe. Part of our partnership was to provide a wider market for a view of best practice for outsourcing its services procurement function. At the same time, our client was looking for additional supplier governance and operational efficiencies across its indirect procurement services.
In the third quarter of 2016 alone, we managed more than $34 million of annualized spend with an average of 80 open projects at any one time. During this period, we were able to provide key best practice support to our client's service users and vendors, delivering average cost savings of $6,500 on first competitively-tendered SOWs.
Good news for Australia
Australian businesses should therefore take heed and many are now keen to learn more about what MSP solutions can offer beyond administration services for businesses and into talent acquisition - something they haven't historically relied on a third-party provider for.
Many customers are hesitant to be the first ones to take the leap and embrace services procurement on a full-service level. AGS is confident that with our expertise and track record in growing the EMEA and other regional markets, we will see services procurement mature much quicker in Australia - even exceeding other markets in the years to come.

You can find out more about the myriad benefits of services procurement and MSP solutions and how an all-encompassing approach to talent management can benefit your business by reading our whitepaper, '

Developing a Business Case for MSP at Your Organization

.

'