HR Generalists vs Recruitment Process Outsourcing: Who should manage the recruitment function in APAC?
August 29, 2017

By Kristy Sidlar
Talent Acquisition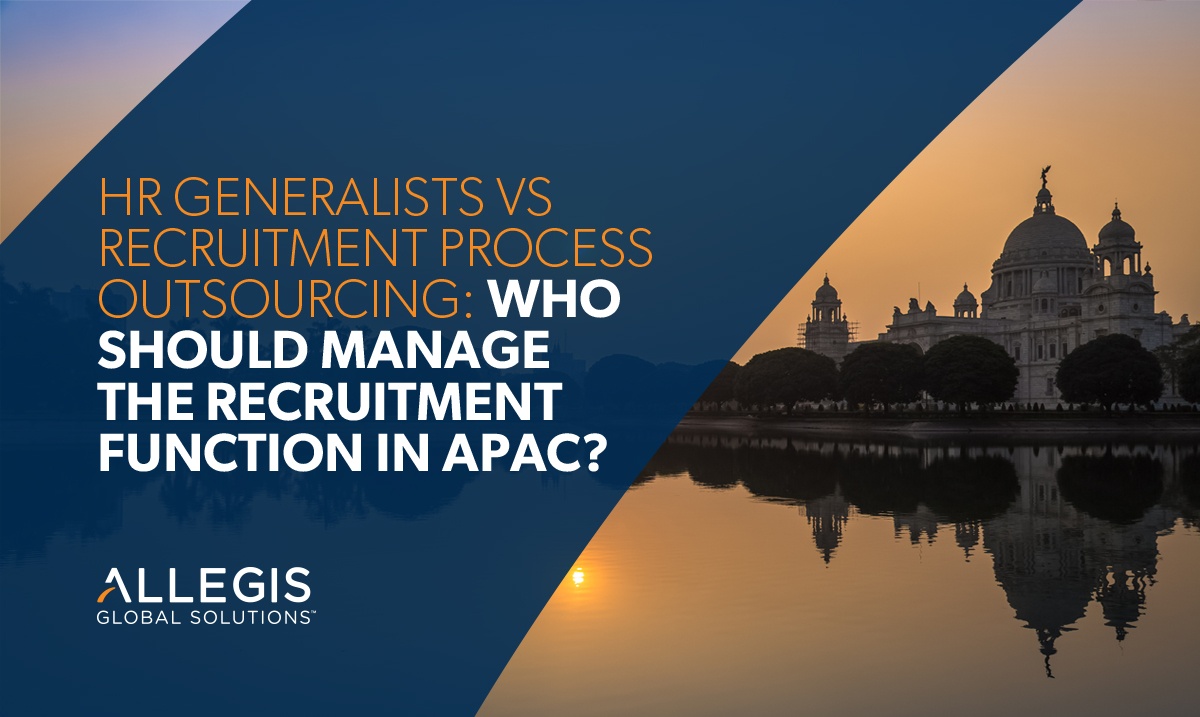 HR generalists have developed something of a love-hate relationship with the recruitment sector in Asia Pacific (APAC), which is partly due to the rising number of applications they have found themselves dealing with in the last few years.
Since the HR generalist's role demands that they manage a variety of HR tasks – such as administration, employee relations and the control of policy and procedure – and since most HR generalists are not specialists in recruitment (and many of them just don't like recruiting) it can present them with additional challenges when candidate volumes are particularly high.
As a result, many HR generalists are delegating tasks – like resume review and initial phone screening – to hiring managers so they can cope with the increased demand, but we are happy to report that there are other, more effective solutions.
Developing a more strategic approach to talent acquisition can deliver benefits for not only hiring managers and HR, but also candidates. Take Recruitment Process Outsourcing (RPO) for instance. RPO allows organizations to entrust a provider to manage the entirety of their permanent hiring, bringing in expertise in everything from sourcing and interviewing to onboarding and training, using the latest technologies and techniques.
Companies are thus able to reduce operational costs and improve both productivity and ROI, while reducing the strain on HR generalists within the organization.
9 common problems faced within an HR generalist recruitment model:
Businesses operating an HR generalist talent acquisition processes can come up against a number of challenges that a more effective and fully dedicated approach like RPO can help them tackle. Common problems that can creep up in this type of an in-house recruitment model can include:
Reach: Inability to proactively identify the hidden talent. It can be difficult to unearth the people with the best skills and talent for your company if they are not specifically coming forward for a role that has been advertised. HR generalists are not typically as proactive in sourcing as professional recruiters.

Cost:Having an in-house generalist HR department managing recruitment can be a costly venture, particularly at times when the ideal candidates aren't actively pursuing your company. Ultimately many roles may end up going out to agencies at high fees.

Operational inefficiencies:Inefficiencies in day-to-day operations can occur when HR generalists are forced to step away from their other duties to conduct interviews and screening as part of the recruitment process. They could also be involved in chasing hiring manager feedback, managing the offer details and onboarding, in addition to conducting employee orientation or certain training sessions, which reduces the time they can spend on core HR activities.

Time: The recruitment process can be a lengthy one when you have to post adverts, screen resumes, bring people in for interviews and prep hiring managers and candidates for a positive experience. In many cases the HR generalist finds himself with an increasing workload, resulting in an increase in time to fill.

Pipelining:When an employee leaves a skilled role within the company, having a new candidate ready to step quickly into the role is vital for efficiency. But maintaining this pool of skilled talent can be challenging for any HR department.

Sourcing: There can be real challenges with headhunting and recruiting people for specialty roles when you don't have people within the company with the expertise and a nose for pinpointing the right employee, which can make for a long recruitment process.

Knowledge: Inexperience with the finer points of recruiting and the finesse required to wow a candidate, as well as having multiple priorities means that there is often a less than ideal candidate experience.

Application volume:Although unemployment is generally low across APAC, many job posts receive high volumes of applications. HR departments thus have to deal with increasingly high applicant numbers and work their way through piles of resumes.

Tunnel vision:There is a risk of HR generalists developing tunnel vision in their approach to recruitment, which can lead to them providing subpar advice. When there isn't access to continual training and the latest sourcing and attraction techniques, your company can become a stale recruitment machine.
Alfonso Nunez, Executive Director of Solution Design at AGS, spoke of some of the problems our clients in the postal industry had when recruiting in this way, saying that before they moved from their HR generalist model to an AGS RPO they experienced:
Average days of open vacancies amounting to 120 days

90 percent of roles being filled by agency staff

An NPS of -40
In addition, this recruitment work took Australia Post's HRBP's focus away from their strategic work.

How RPO partnerships can help overcome these common challenges:
A well-crafted recruitment process outsourcing (RPO) program provides better alignment of your workforce planning and business strategy to give you a competitive edge in your market. RPO can:
Create greater efficiencies

Reduce direct and "hidden" talent costs

Improve recruitment processes and results

Evolve recruitment from a tactical to a more strategic endeavour

Support a strong, positive candidate experience
These benefits, you'll note, are not limited to Human Resources. They are shared organization-wide.
As we have seen, using an
to outsource your talent acquisition has the potential to make a tangible impact on your recruitment performance and bring real optimization to your hiring strategy. You can learn more about AGS' RPO solutions by visiting this link.