How Talent Tech Labs are helping us meet client talent pool needs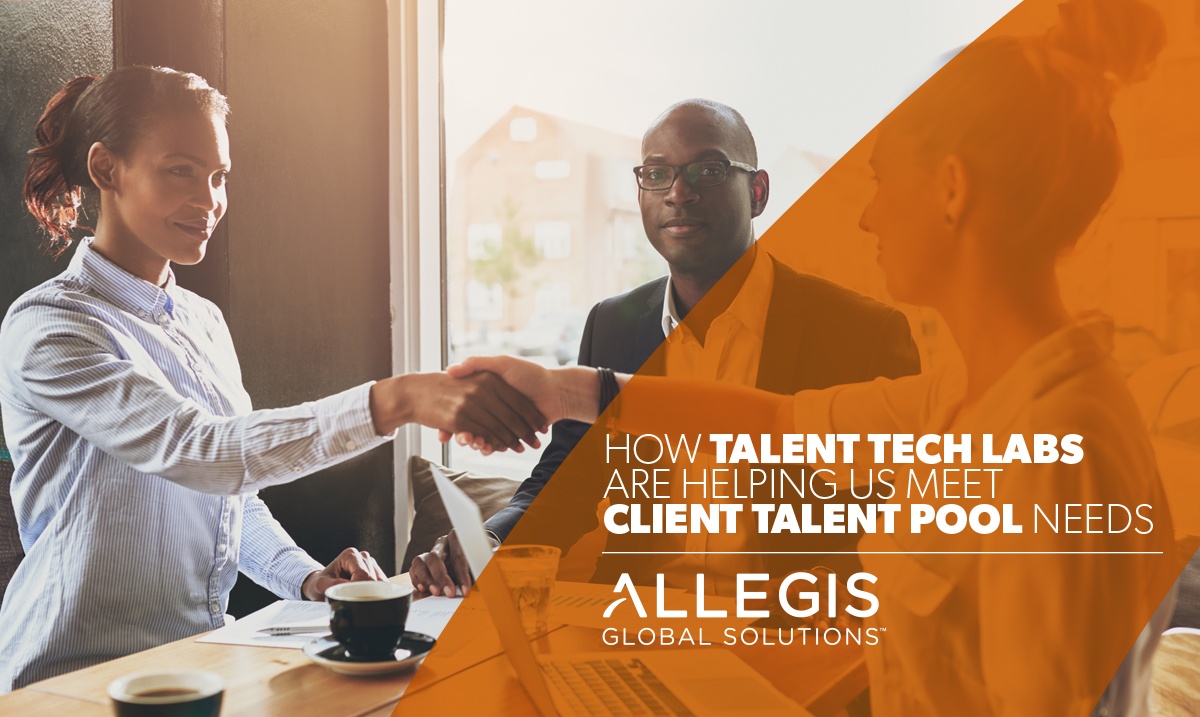 Developing a clear strategy in recruitment has never been more important than it is today, with businesses needing to ensure they are preparing not just to meet their existing workforce needs, but also to prepare themselves for the needs of tomorrow.
At Allegis Global Solutions (AGS), we've seen a rise in the number of our clients seeking a more comprehensive and flexible way to onboard new hires and to access the limited pool of talent that is available in many industries. Developing access to swift and efficient hiring therefore holds a range of benefits for all businesses, and this is where the emergence of talent pools can make the difference.
Opening up talent pools to meet business needs
Direct sourcing of candidates and the proliferation of freelance management systems has meant many businesses are becoming limited in the number of candidates they have available for new positions.
However, from faster time-to-fill roles through to associated cost savings from a more streamlined recruitment process, talent pools are helping organizations to overcome a range of disruptors to their current recruitment programs.
The benefits of talent pools are far-reaching and include:
Ability to aggregate all past hires and ensure any successful contingent labor can easily be recruited again for future roles

Access to alumni networks for a wider pool of talent to draw upon

Retaining the details of silver medalists (candidates who reached the final phase of the interview process but were not offered a previous position)

Ability to draw on a group of people who have already demonstrated a clear interest in your

employer brand

/business
We think you'll agree that the use of new products and services aligned to a talent pool approach to recruiting new hires can therefore open up a world of possibilities for businesses they might otherwise have missed.
Talent Tech Labs and the evolution of recruitment
Talent Tech Labs (TTL) is working in partnership with AGS to develop new solutions for companies to enhance not only their recruitment function, but also their wider business decision-making, planning for the future and meeting their hiring needs.
TTL helps to bring together business leaders with professionals and experts in their industry to no longer simply view recruitment as something that can be quantified through cost and the quality of hire, but examining all aspects of the recruitment process, through to defining key strategic goals for the future. It is a vibrant community of professionals all working together to fulfill the potential of businesses.
The evolution of recruitment from the finding and hiring staff to supporting wider business goals by having the right personnel in place is the future of our industry.
Indeed, AGS' Global Head of Innovation, Bruce Morton states, "As the foremost thought leader in the emerging talent acquisition technology space, our mission is to foster innovation, and thorough collaboration to accelerate technologies to adoption to improve the state of the art in recruitment."
Organizations interested in developing greater innovation within their workforce management programs should therefore expand their thinking and embrace new methods of talent acquisition, leading to better business decision-making in the process. This is something we can help your company to achieve.
To learn more about the evolution of recruitment or our partnership with TTL, you can contact our team of experts here.