How Social Media Helped Transform McGraw-Hill Education's Employer Brand
August 22, 2017

By Jade Clifford
Talent Acquisition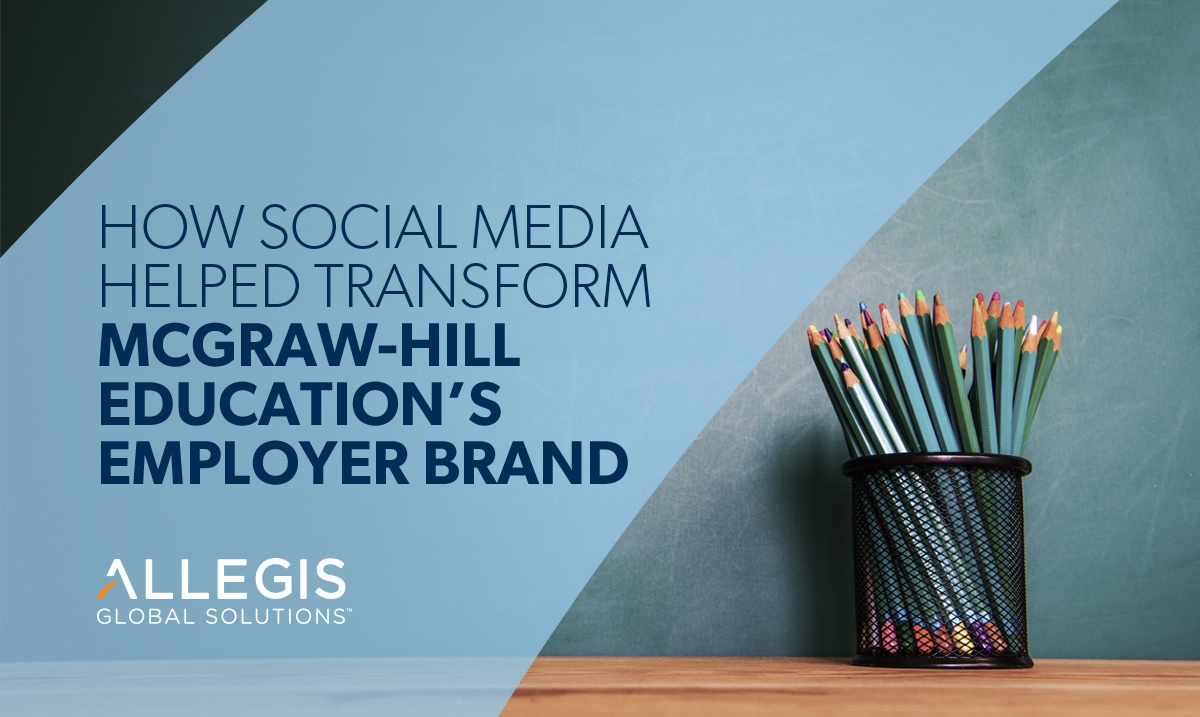 McGraw-Hill Education (MHE) is a learning science and educational publishing company with a rich history. For almost 130 years, MHE has been known for its high-quality educational materials. As technology advances and classrooms become more digital, the educational publishing sector has had to adjust. Now, even grades K-12 are integrating web-based, interactive and digital education tools, tech and content. For decades, MHE has been providing both digital and print learning programs as well as the services to help classrooms find the right balance of both.
Of course, it was still a priority to further the company's reputation as a leader in digital education, which would help the company maintain its place with customers, but would also attract the attention of the highly-sought-after tech talent necessary to drive innovation. In 2015, MHE set out to strengthen its employer brand for that very reason. The company turned to Allegis Global Solutions' IGNITE Marketing Team to realize its employer branding potential.
Establishing the Employer Branding Goal
AGS IGNITE Marketing worked to understand MHE's long held values. Built on the belief that education is in a constant state of metamorphosis, MHE's mission is to accelerate learning with engaging, efficient, effective and research-backed experiences. This devotion to knowledge-sharing is what inspired the overarching employer branding goal: leverage social media, particularly Twitter, to build MHE's legacy as a worldwide digital education leader and provide its job candidate audience with relevant content.
Social media, specifically Twitter, was chosen for its ability to provide instant communication and connections with career-aged job candidates around the globe. In fact, 79% of Twitter accounts are based outside of the U.S. with 37% of users between 18 and 29 years old and 25% between the age of 30 and 49. These users include everyone from skilled professionals to the thought leaders of multiple industries.
Employer Branding Social Media Tactics
MHE had already created a strong presence for their corporate profile and brand on Twitter with @MHEducation reaching over 42,000 followers and counting. AGS IGNITE Marketing partnered with the MHE team to build a stronger presence for the @MHECareers handle, engaging both passive and active candidates to help them view the company as an employer of choice.
MHE's primary goal for leveraging social media outlets was to facilitate conversations with potential candidates. To accomplish this endeavor, we executed a monthly chat via #MHECareersto enhance the dialogue among Twitter's community. Our chats focused on a variety of specific career development topics including content relative to diversity and inclusion and veterans hiring initiatives.These chats would also be promoted to job hunters on LinkedIn and Facebook, and each would invite a panel of experts to answer questions and provide advice and wisdom. Not only would the chats help engage the panelists' large networks, they would also provide meaningful information and tips for career development. Following the chat, members of MHE's Culture & Talent team could begin conversations with potential candidates.
"We're a learning science and digital company and we're putting a face to our business. That's what the Twitter chats do, humanize our brand and make it clear to our customers, clients and students who McGraw-Hill Education is and what we can offer them."
-Jacqui Rhoades, Manager, Talent Acquisition for McGraw-Hill Education
To provide a steady stream of engaging social posts to attract job candidates, a content calendar was developed so that candidate-focused content was shared 4 times each day so posts would align with corporate initiatives for optimal reach. And because tweets accompanied by images receive 150% more retweets than those without, the team created visual content and graphics on a regular basis. Lastly, monthly reports were gathered so that success and adjustments were backed by data.
Results of the Partnership
Attracting targeted talent was pivotal to furthering McGraw-Hill Education's legacy as a digital education leader. As in any organization, finding hires that fit the company culture as well as possess the right skills is a challenging necessity for MHE. Especially because the company is determined to be innovative and adept at advancing technology to ensure customers and users have the best educational tools possible.
Strategies like this prove successful because of the inherent company connection. The largest piece of this initiative was the #MHECareers chat series. It required collaboration internally, as well as outreach with industry thought leaders and experts. However, foundationally, efforts were direct reflections of many of MHE's values:
Learning and knowledge-sharing was at the center
Content was relevant and educational to the audience
Delivery was engaging, in real-time and harnessed the power of technology
Strategy creation and pivots were grounded in research and backed by data
The impact of that connection and new social media initiatives lead to growth over the next year. In 2016, @MHECareers attracted over 600 new followers, a more than 37% increase in channel growth. The largest organic reach from a single tweet was 211,500 people. Content attracted 33,079 people to click shared links, ultimately driving traffic back to the McGraw-Hill Education website. While the numbers tell a positive narrative, it is the meaningful connection to talent that really drives success.
"The MHE twitter chats have helped to grow the McGraw Hill digital footprint. Since we have started the #MHECareers, we have grown to over 2,000 followers in less than two years. These chats are helping us attract the right type of talent for MHE to help them continue their transformation to a leading digital learning science company."
-Matt Cacchio, McGraw-Hill Education Account Director at Allegis Global Solutions
AGS IGNITE worked with McGraw-Hill Education with the goal of empowering and accelerating recruiting and hiring with individualized strategic recruitment marketing. Together, we leveraged the world's hyper-connectivity and thirst for advice and knowledge-sharing to push MHE's twitter presence, ultimately communicating the company's values. These value-based employer brand initiatives help candidates connect with the organizational culture so they can better assess their own fit and career growth potential. Even more, the company is able to appeal to customers and industry experts alike, building better business potential and future recruiting reach.
Allegis Global Solutions was founded on a passionate culture and is devoted to transforming the way the world approaches talent acquisition. The AGS IGNITE and McGraw-Hill Education partnership is another example of how employer brand strategies with values at the foundation speak volumes to candidates.