Generation Z, contingent hiring and STEM industries
June 16, 2017

By Leslie Ethington
Contingent Workforce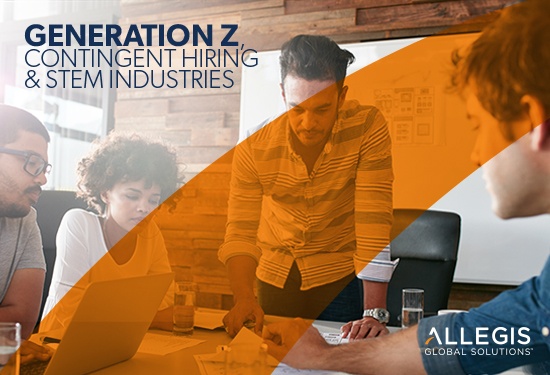 Most organizations employ staff across an evolving range of age groups, with each new generation bringing different skills to the table, not to mention a variation in mindset, over time
This was seen when Generation Y first joined Generation X and Baby Boomers in the workforce. Their arrival prompted fears about whether their new types of skills - both in practical and social terms - would cause conflict within established working cultures.

And now, with the arrival of Generation Z - those born after 1996 - the same friction may arise.One studyeven found that nearly two-thirds (63 percent) of older workers expect tension when this generation arrives at working age.
Generation Z and STEM industries
Generation Z workers are most likely to facilitate a swell of skills in STEM (science, technology, engineering and mathematics) industries, where specialist short-term talent acquisition is becoming more prominent.
As the first generation to be born with the internet and technology at their fingertips, they are bringing into the workplace innate technological skills and a deeper understanding of tech and engineering than has previously been seen in new employees.
Contingent hiring and Generation Z
It's anticipated that by 2020, Generation Z will make up as much as 20 percent of the workforce, according to D. Knight Marketing. Employers need to make sure they don't fail to recognize the useful skills and abilities specific to these workers, as well as what drives this new generation to succeed.
This means focusing on areas where Generation Z members differ from their older colleagues. Numerous studies have underlined that there are far more influential drivers for Generation Z than salary alone, including:
More flexibility in roles and the ability to move away from structured ways of working
The chance to gain experience across a range of countries and companies
Frequent feedback and updates on how their career is progressing
What the company's social mission is and what the brand stands for
These drivers make Generation Z workers perfect candidates for companies with a contingent hiring strategy, and a managed services provider (MSP) helps businesses make the right acquisitions at the right time for specific roles.
The flexibility and desire to experience working in a range of countries and sectors that Generation Z possesses makes them ideal candidates for companies looking for short-term employees to work on projects that require specific skillsets.
With the right contingent acquisition strategy in place, businesses are also able to make sure they make the most of the arrival of a new talent pool in the market.
Having an effective MSP partner on board means employers can navigate complex skills pools in a more efficient way to be sure the right people are being hired for required contingent roles, whatever generation they belong to.
With AGS MSP, companies can also promote themselves to potential candidates in all new ways. For example, Candidate Connection allows businesses to use video messages to promote corporate culture and mission statements to potential hires; increasingly important given this is an ever more prevalent driver for Generation Z.
To find out more about what an MSP can do for your business, read our whitepaper on

Building a business case for MSP

.