Equal pay: Facing up to the challenge of gender inequality
May 18, 2017

By Jennifer Sutton
Inclusion and Diversity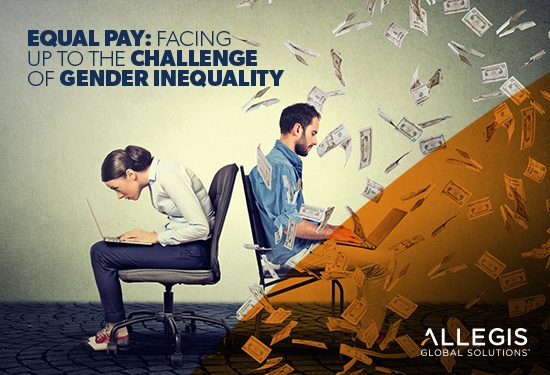 Inequality in the workplace is a difficult issue that businesses across the US are sometimes reluctant to talk about, but it remains a serious problem that must be brought out of the shadows if real and lasting progress is to be made.
In recent decades there has been a consistent push towards closing the gender pay gap that continues to exist within many US industries. However, progress has been slow and more still needs to be done to deliver true equality between men and women when it comes to how much they take home for doing the same job.
Tackling the gender wage gap
At present, women earn on average just 79 percent of that of men for doing the same job. It is a shocking statistic when examined in the cold light of day.
Indeed, figures published by the Department of Labor show there has been improvement in the pay divide during the last 50 years, but there remains a long way to go until equality of remuneration becomes the norm.
Indeed, based on estimates by the American Association of University Women (AAUW), the wage gap may have closed from 60 percent in 1960, but there has been a tailing-off of progress during the last decade. According to the latest data up to the end of 2015, at the current pace of improvement it will be 2152 by the time full pay parity is seen in the US. This is simply an unacceptable rate of change.
It is also not simply an issue of money, but also an opportunity to succeed, gender segregation remains a serious issue. For example, fewer than one in three chief executives of US firms are female - this is despite the fact that women make up 46.8 percent of the total workforce.
What's more, the issue of pay disparity at all levels of the business is also being exacerbated through the trend to ask candidates about their existing salary during the interview process - a practice that means when women earn less than their peers in their current job, there is a very real risk that this will be repeated in their new one.
Craig Fisher Head of Global RPO Marketing at Allegis Global Solutions, explains: "It bases a compensation benchmark that tries to draw a connection between two jobs that doesn't exist. "Your job pays X to Y. It shouldn't matter what candidates earn now. You should base the new salary on a candidate's skills and experience and how those align with your own internal equity."
Change in all areas of gender equality in the US business sector is therefore a must.
Continued pressure needed for change
One of the first acts of the Obama administration way back in 2009 was to sign the Lilly Ledbetter Fair Pay Act - an article of legislation deeming that an offence of pay discrimination has taken place each and every time an employee is subjected to a discriminatory pay decision or practice as a result of their sex, race, color, religion, or national origin.
Signing the bill, President Obama stated: "It is fitting that with the very first bill I sign ... we are upholding one of this nation's first principles: that we are all created equal and each deserve a chance to pursue our own version of happiness."
At the same time, the National Equal Pay Enforcement Task Force was created by President Obama to enforce these new fair pay rules. However, with a new President in the White House, it remains to be seen how this administration supports equal pay goals.
Whatever the stance of the prevailing powers in US politics, pay equality remains one of those important issues that organizations across the US must focus on as they aim to attract and retain top talent. Delivering ambitious goals will help to create a fairer society for all and at AGS, we hope to help make this happen - albeit sooner than the mid-22nd century.