Culture in the workplace: A 21st century evolution
June 27, 2017

By Craig McGrory
Industry Trends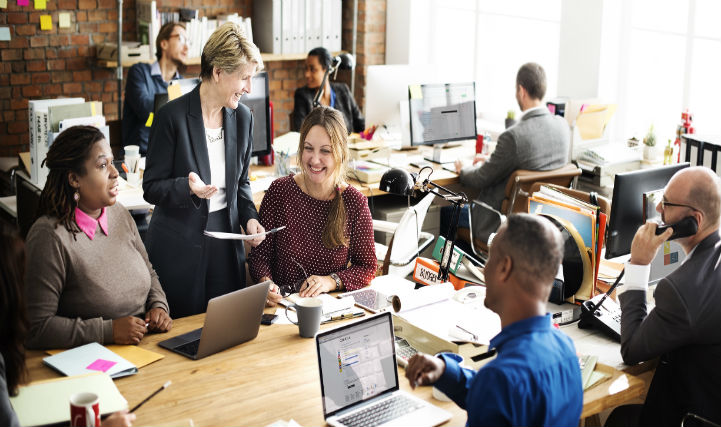 Workplace culture has seen some significant changes in recent years, with the attitude and makeup of businesses in 2017 very different to those of just ten years ago.
Organizations are evolving all the time and the culture of many businesses has seen a seismic shift, with a rise in practices like working from home, less formal office attire and a greater amount of flexibility afforded to staff.
A new approach to workplace management
Arguably, it was the rise of Google and other key innovators in the realm of office culture that have had the greatest impact on the way businesses operate in the last decade, with a shift towards a more laidback approach to day-to-day work and a trend towards placing the wellbeing of individuals at the heart of company policy.
Ensuring that all members of staff are happy and enjoy a healthy work-life balance has been shown to deliver a tangible boost to productivity, with figures published by the American Psychological Association estimating that US businesses face additional costs of up to $500 billion a year if they do not tackle issues like worker stress.
It's not only fiscal benefits that therefore come from developing a happier workforce, as organizations that demonstrate a higher level of wellbeing also tend to benefit from lower levels of sickness absence, as well as developing a more positive reputation that makes recruitment of the very best talent that much easier.
As a result, more businesses are now focusing their efforts on ensuring a positive working relationship for all of their staff, while many are keen to bring in new starters who fit into this existing culture of increased independence and a supportive, in-it-together attitude.
Attracting the best means offering the whole package
So, what is it that enables organizations to develop an inclusive and flexible workplace culture? Ultimately, it is about reinforcing this attitude from the highest levels of the business to the bottom, as well as investing in bringing in staff that excels in this environment.
Offering a comprehensive and attractive package to prospective employees is one of the most successful methods of bringing in the best and brightest to your business, but it needn't simply be through the offer of a large wage. Indeed, while research published by Glassdoor in January showed that the most common reason for people leaving their previous job was low salary (35 percent), other influencing factors included:
Needing a new challenge (23 percent)

Current work is 'too boring' (22 percent)

Lengthy commute (20 percent)
Failing to get along with boss/line manager (18 percent)
Providing the chance to work alongside like-minded individuals in a dynamic and inclusive atmosphere is therefore a real draw for many. At the same time, measures like flexible working, enhanced career development opportunities, passes for gym membership/sporting events, onsite childcare, profit-sharing, a laidback working atmosphere and freedom to innovate in their role are some of the most highly sought-after perks that can help bring talent to your business rather than seeing it go elsewhere.
Unique perks on offer right now
An array of leading organizations have already grasped the premise that the best and brightest are no longer simply looking for a big pay packet, so here are some of the most unique perks on offer right now that you might (or might not) like to consider:
On-site haircuts, laundry, dry cleaning and gym (Google)
Pre-paid pet insurance and nap rooms for staff (Zappos)
Assistance for workers hoping to adopt (GoDaddy)
Amazing social events with regular live concerts and outings (Yahoo!)
Paid sabbaticals of up to 40 hours per year to carry out volunteer work (Timberland)
On-site daycare for new mums and dads (AOL)
Regular company bike rides to boost employee wellbeing (Hallmark)
Comprehensive health insurance for all staff - including part-time (Starbucks)
As you can see, there really is no end to the type of employee perk that can help to attract talented individuals to your business. Is it time to revisit your candidate attraction and employee retention strategies?