How To Build An Employer Brand for Veteran Recruiting and Hiring
June 12, 2018

By Craig Fisher
Inclusion and Diversity
Of the United States Military's 7,000 positions, 81% have a direct civilian role equivalent. Veterans are a diverse talent pool, yet sometimes a recruitment after-thought with sporadic effort come holidays like Memorial Day or Veterans Day.
Veterans bring a formidable advantage to your workplace, but understanding the nuances and tactics to bring talented veterans onto your team isn't easy.
Building an Employer Value Proposition for Veterans
Creating a military-friendly employer brand will ensure more veterans will want to work for your workforce. From how you support veterans in their career at your company to building a positive candidate experience for job seekers, you'll want to highlight what you have to offer as an employer of veterans.
Work on developing and amplifying unique or compelling employer value propositions like:
Traveling opportunities for those who want to continue to see the world and meet new people.
Economic opportunities and benefit packages; one initiative to consider is implementing a sign-on bonus specifically for veteran talent or specific benefits targeting military talent.
Providing career paths (and better yet, associated pay scales) for veteran candidates.
Highlighting career resources within your company, such as services for transitioning veterans, interview preparation tips and a way to engage with any veteran employees or veteran recruiting specialists you might already have on your team.
Leveraging existing military networks, affinity groups and any other veteran focused employee resource group that's already active in your organization.
Of course, while building an employer brand starts with developing compelling messaging and competitive differentiation, it's important you start listening to and engaging with your target audience, too.
With so many niche media outlets and community groups dedicated to supporting veterans, their friends and their families, leveraging this built-in audience takes an interactive, and proactive, approach. For veteran recruiting, start by identifying a few target outlets, local non-profits, community support groups and other veteran-focused networks which already communicate directly with veteran talent - and as an added bonus, already have a built in audience of qualified candidates who should be receptive to hearing your veteran recruiting message.
But before just jumping in, make sure to listen - you'll want to understand any potential communication barriers or engagement challenges before rolling out your veteran focused messaging and employer branding campaigns & collateral.
Consider working with universities and other institutes with military-friendly programs. These organizations can facilitate introductions that may result in sourcing opportunities, but will definitely provide insight into what it takes to support these skilled individuals.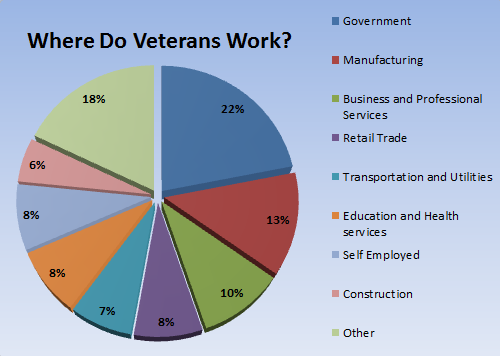 Collaborating with stakeholders in the veteran community is key to getting it right the first time.
Although Millennials account for 30% of the modern workplace, they constitute nearly three-quarters of the United States Military. Delivering your message to them through mediums they use, like social media, are no-brainers.
Identify pages that common military members like or visit for retargeting purposes or seek our should be out partnerships with military affiliated organizations to reach their follower base. However, tread lightly in your messaging.
One of the biggest mistakes an employer can make in veteran recruiting is being tone deaf or inaccurate… it's hard to recover with the veteran population as soon as they realize you're messaging is just fluff. One of the places your brand can be destroyed is on social media.
Employ the help of your internal military workers to ensure the language and communication approach will sit right with your audience.
How To Align Military and Civilian Roles
In creating and delivering your recruitment messaging, keep your veteran audience at top of mind throughout the entire process. From your career site to social media accounts, everything can be optimized for the veteran audience. The key is to focus on aligning military and civilian work in the most common language possible.
Consider implementing a military skills translator on your careers page so vets can see how their skills translate to your organization. Be sure to host that URL on any social media careers accounts your company has so it's readily available.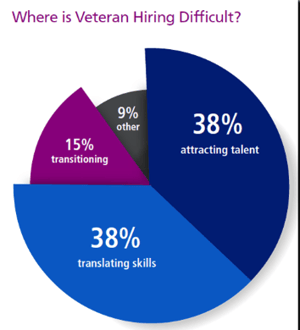 Using A Competency-Based Recruitment Approach
Military experience often equates to candidates with strong skills in leadership, collaboration, and working in difficult environments making it hard to differentiate between which veteran candidates are the best fit.
Build a competency-based interview process for veteran recruiting that assesses these key skills against the persona needed for the role to avoid hiring bias and land the right fit:
Leadership style and experience
Collaboration skill sets
Operational/Process excellence
Situational management
Communication style
Ability to delegate and work in group settings
Don't let your interest in supporting skilled military professionals be a sporadic effort. Veterans and active duty members bring experience and training that can easily be translated to various civilian roles with amazing success.
Creating and communicating these key points is at the heart of attracting and engaging veteran talent.
Want to learn more about getting military veterans excited to take the next step with your company?
Explore our award-winning recruitment marketing solutions built to improve your message, candidate experience and brand advocacy.