APAC RPO series: What you need to know about workforce solutions in Singapore
March 20, 2017

By Kristy Sidlar
Talent Acquisition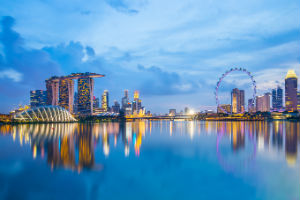 According to Everest Group research, Asia Pacific (APAC) currently accounts for between 10 to 15 percent of the global talent acquisition services market and is the world's fastest-growing region.
We continue with our Recruitment Process Outsourcing (RPO) for APAC series by exploring the maturity and shape of the recruitment landscape in Singapore, which has one of the most-developed RPO landscapes in the region, yet still one of the more complex as it further strengthens its position as the regional talent acquisition hub.
How mature is Singapore's RPO market?
Similar to Hong Kong, Everest Group research shows the development of the RPO market in Singapore has largely been driven by the presence of western multinationals, who use the city-state as a regional base of operations for APAC.
We are also seeing that many of those MNC organizations that have adopted RPO a number of years ago are more heavily focused on expansion of the partnership based around technology innovation, process optimization and strategic initiatives around employee value propositions (EVP), social media platforms and strategic sourcing innovation for niche, hard-to-fill roles.
According to Craig McGrory, Business Development Director, Singapore at Allegis Global Solutions, "Potentially, the largest growth opportunity will come from Asian-owned organizations, many of whom have already begun exploring RPO or one of its many components as a strategic solution to their talent needs. They see RPO as an attractive vehicle to achieve greater cost savings and efficiency gains in the time and quality of their hires than they are currently able to achieve themselves."
This coincides with the growth of the regional organizations as they look to consolidate their own regional talent acquisition model across the multiple challenges from a cultural, geographical and regulatory perspective.
Many similarities can be drawn between the RPO markets in Singapore and Hong Kong. Both have strong demand for talent acquisition services, primarily driven by a shortage of skilled talent. This issue is even more pronounced in Singapore, with the city-state suffering from an overall talent shortage, which is exacerbated by its small population of 5.4 million and very low unemployment of just 2.1 percent according to Trading Economics. Finding candidates with the right skill sets is a challenge for organizations, making quality of hires a key focus for RPO solutions.
How does the RPO market in Singapore compare to its APAC counterparts?
Demand for RPO in Singapore is strongest among the technology, telecoms and finance sectors.

An RPO augmentation approach based on optimizing Applicant Tracking Systems (ATS), as well as the significant growth in 'project' based RPO, is the most common way of working due to low hiring volumes in the niche skills category, while variable and outcome-based pricing models are fast becoming the norm.

The use of offshoring is limited in Singapore, although there is some scope for growth in this area, especially as more organizations are driving towards regional governance and delivery and will require significant support in achieving this position from a consistent and high-performing talent acquisition perspective.

Singapore's RPO market has medium-level scope for growth due to its relative maturity, however, the challenge will continue to be elevating the value proposition a truly effective RPO can bring beyond simply cost and scale buying decisions. Although this buying pattern is common with less mature organizations, it is increasingly more challenging as the value around best practice innovation can sometimes be lost during a price-driven negotiation process.

This growth within local Asian organizations new to an RPO business model is also driving more clients to request 'pilot' or 'proof-of-concept' models that provide them with a layer of comfort to test the model before a multi-year RPO commitment is made.

Singapore is the market in APAC that is most likely to be featured in multi-country deals as it continues to strengthen its position as a regional owner of talent acquisition.

Stay on the lookout for the next installment of my RPO series looking at the different APAC markets country-by-country. In the meantime, you can learn about

how to make the business case for RPO

at your organization by downloading our whitepaper.