APAC RPO series: What you need to know about the workforce solutions market in India
August 07, 2017

By Jagpreet Bhatia
Talent Acquisition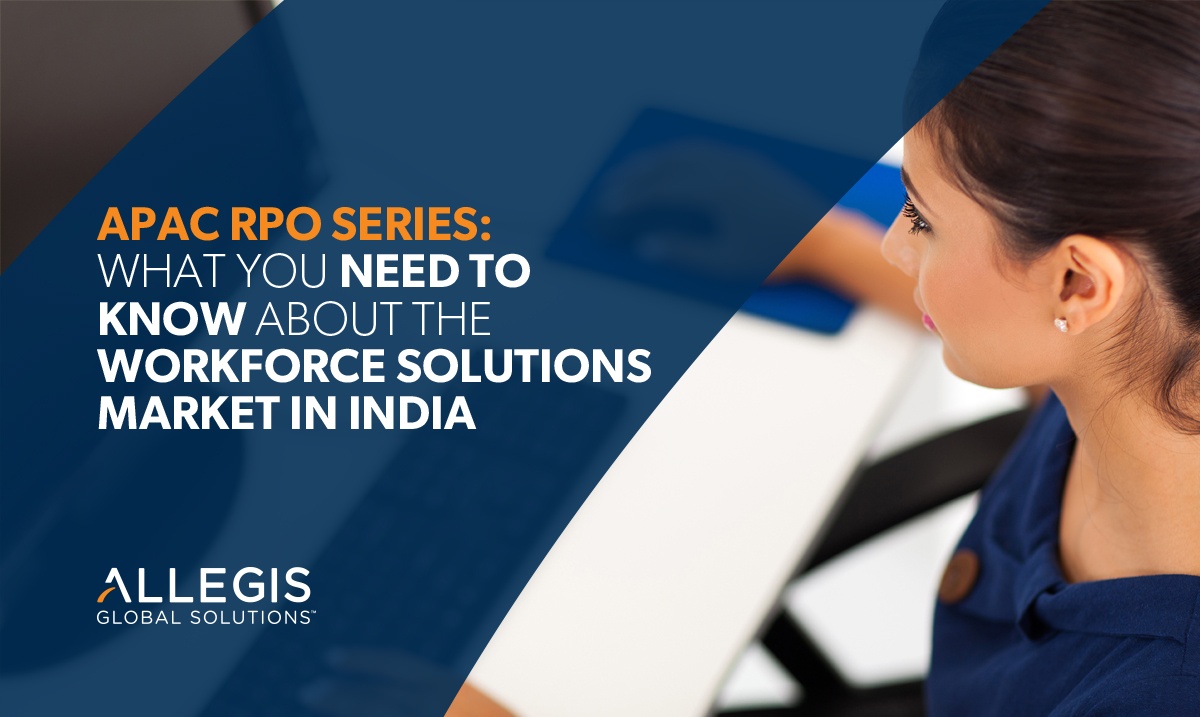 The expansion of the Asia Pacific (APAC) region in recent years as a centre for business and growth has meant a push on recruitment has become more commonplace for many companies. This has necessitated hiring with better strategic plans, and workforce management solutions have consequently become more prominent.
As we continue to look at the evolving market for recruitment process outsourcing (RPO) in the APAC region, we turn our attention to India, where RPO has been growing markedly in recent years, and arguably quicker than in any other APAC country.
How mature is India's RPO market?
India has one of the largest skills pools in the world, with a population of more than 1.25 billion people nationwide. But a need to source the right people for the right jobs means focused talent acquisition strategies are essential. And when we consider the fact that >62 percent of hires in India are permanent rather than contingent workers, the clear market gap for RPO can be seen.
It's for this reason that India is identified by Everest Group as being one of the world's most prominent emerging marketplaces for RPO. While it might not yet have reached the maturity levels seen in Australia and other APAC nations, India continues to show potential and is consistently growing in RPO engagements.
Everest said that India has previously been a market that companies would include in their multi-country workforce solutions. However, greater demand for finding skilled hires, along with the added value of employer branding, workforce planning and talented communities that are found in RPO, means that single-country RPO deals for India are becoming more common.
What shapes the RPO market in India?
RPO business in India mainly comes from larger companies looking to make improvements to their permanent hiring models. Small and mid-sized businesses also buy RPO, but on a smaller scale than seen in Australia and more mature RPO markets. Most of these still stick to blended service models or in-house talent strategies.
The sheer scale of the talent pool in India means there is a hugely competitive recruitment market, with many skilled people. Companies need to ensure they have a strategic talent acquisition advantage that allows them to attract, engage, screen and interview the right people to onboard them in the most efficient and effective way they can, and all without bringing about financial risks.
However, with many different parts and functions to RPO, it's important that companies know as much about ongoing trends in India's RPO sector before making a decision.
What are the ongoing RPO trends in India?
Ongoing RPO trends in India serving as drivers behind growth include:
Talent surplus: India has one of the largest workforces in the world, and a surplus of skilled, talented individuals, meaning effective workforce solutions are a necessity to allow companies to make the most of the surplus and source the right people for roles.
Turnover: A wealth of opportunities drives candidates to leave companies, so many businesses turn to RPO to find screening standards that can help them improve their attrition levels in their permanent workforces.
Preferred offshore location: For years, India has been thriving as one of APAC's leaders in offshoring, which includes but is not limited to call centres and shared service centres. Many large global firms have moved their operations to India, and this is still happening, bringing more skilled roles in IT and a range of other sectors that need to have the right candidates brought on board.
Sector specific expertise: It's important that in order for RPO to grow, it shows its value in more prominent sectors. In India, this means proving that it's an effective recruitment strategy for the dominant IT sector so that RPO can grow elsewhere in the country.
Proven value: Although permanent hiring has always been prominent in India, recruitment of this labour class has traditionally been managed in-house. As RPO grows, hiring managers must be able to prove its value on an empirical level, with hard facts and numbers showing shorter time to fill, more efficient sourcing and lower hiring spends.
RPO differentiation: The continued fragmentation of the RPO market in APAC means it's a competitive area to try to navigate. Providers need to demonstrate they are innovative and discovering new ways to source, engage and onboard, to show they are better than other RPO providers, as well as offering other workforce management solutions.
End-to-end offerings: Much RPO business in India comes from large projects from companies without all encompassing HR departments. These companies are looking for end-to-end RPO partners who offer everything, from sourcing, to onboarding and tracking, to provide them faster and better solutions that do not damage their hiring expectations.
Importance of quality and scale: Initially, APAC RPO growth leaned on the added speed that it could bring to hiring, but in recent times, quality of hires, scalability of the solution and cost efficiencies have all become more important.
According to Vinod Verma, AGS' Talent Acquisition Leader for DXC, "In India, AGS is seen as the strongest service provider in the enterprise solution space within the banking, technology and shared services industry verticals. Our proven ability – over the last eight years – to build long term and long-lasting solutions for clients is what makes prospective customers feel assured of our delivery capabilities, ability to scale and most importantly our service centric approach."