APAC RPO series: What you need to know about the workforce solutions market in China
December 14, 2016

By Kristy Sidlar
Talent Acquisition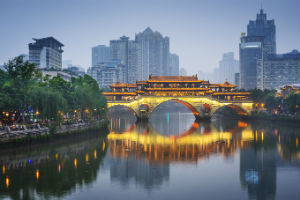 The next stop on my journey exploring the Recruitment Process Outsourcing (RPO) market in various Asia Pacific (APAC) countries is China.

Home to 1.357 billion people, China's talent pool is vast. The nation has one of the largest talent acquisition landscapes in the world, making it a key player in the APAC RPO market. But what exactly defines the country's use of workforce solutions?

1. China's emerging economy is driving the APAC RPO landscape
Everest Group research found that emerging APAC economies, such as China, account for the most RPO growth in the region. China is potentially set to move towards global economic supremacy in the near future, meaning its talent acquisition requirements are on the rise. As a result, organizations need a comprehensive workforce solution that is able to consistently generate quality results.

2. Workforce solutions are driven by buyers from the West
Western buyers drive the RPO market in China, meaning multi-country deals are prevalent. Everest Group found that the main users of RPO in the country are either clients based in the West, or Western clients whose headquarters are situated in China. In fact, research from the European Union Chamber of Commerce shows that 47% of Western companies want to expand their operations into the Chinese market.

However, the nation also accounts for 10% of the total single-country RPO market in APAC. This is partly driven by Western firms with headquarters in China, but it's also because the country's population is so diverse that cross-border talent acquisition isn't always required. China has one of the largest domestic talent pools in the world, meaning single-country packages are more than effective.

3. Candidates and businesses prefer a local touch
Another factor shaping the face of the Chinese RPO market is that local insights are preferred by organizations and candidates alike. With so many different tongues spoken in China, businesses need access to a diverse, but localized solution. At Allegis Global Solutions (AGS), our RPO programs combine our global expertise with local know-how, providing organizations with access to a diverse, 'glocal' talent acquisition solution.

4. Millennials account for 28% of China's population

Chinese organizations need a solution that can help them to attract the very best millennial talent, with 385 million members of Generation Y accounting for 28% of the country's total population. Research shows that Chinese millennials spend an average of 27 hours a week online, mainly via their smartphones. In comparison, U.S. millennials spend 21.7 hours a week browsing the web.

What's more, over two-thirds (65%) of millennials say they will leave their current employer within the next five years. Therefore, organizations based in China need a workforce solution that can help them attract this new generation of tech-savvy TalentSumers, as well as more traditionally-minded candidates.

Why should Chinese organizations embrace RPO?
In China, businesses are always on the lookout for the best results in the fastest time possible, but with more than 10,000 recruitment agencies to choose from, and a recruitment focus that is now more geared towards market intelligence and staff retention, finding the right solution can be a challenge. However, success stories in RPO partnerships show that this can often be the very best option available for businesses in this country.

Derek Yin, Account Manager of AGS RPO, spoke of the work AGS has done with our client in the FMCG industry in China: "In 2013, we started our partnership with our client to take over their entire recruitment process, which focuses chiefly on: direct sourcing, agency management and sourcing channel management. With a 1-to-1 client service approach between the onsite recruiters and HRBPs, the client will save time by shifting their efforts to engagement with hiring managers and other internal stakeholders."

Here are some of the positive results for our client:

In 2016, we have reduced agency costs by CNY 2 million via direct sourcing
Direct hiring of high-level positions by the RPO has saved a significant amount in executive search fees
We have negotiated with external third party agencies to lower fees from 25% to 20%
We have reduced the cost of reference checks for the client
Adopting an RPO module like this, clients save money and time, while they increase the efficiency and flexibility of their talent acquisition strategy.

Read more about our RPO solutions and make sure to keep an eye out for the next blog in this APAC RPO series.